Most of us go to work everyday and for many of us that means a commute. As we all know, a commute in the San Francisco Bay Area often means a lengthy amount of time on the road due to traffic, distance, parking and tolls. To avoid these things, many of us turn to public transportation to get us to our jobs on a daily basis. For some, public transportation means a boat or a train, but for many it means the bus. We wanted to take a look at that major piece of the commuting puzzle to see how it is changing to meet the needs of the modern commuter. We sat down with the staff at SolTrans, the transit operators for Vallejo and Benicia, to discover just what they are doing to help their passengers enjoy their lives just a little bit more.
Now, I have to confess that I do not take the bus on a daily basis. Much of the commuting that I do is not very structured, making it difficult to for me to use public transportation on a regular basis. Much of my previous experience on the bus was from my younger days, which, like the song goes, was a long, long time ago. So, in order to refresh my memories and see how things have changed I took a few rides to experience it firsthand. One of the first things that struck me on the trips that I took was how closely the bus was to its printed operating schedule and how clean and well maintained the buses were. My first concern tends to be my schedule so the fact that they were running so precisely brought a smile to my face; the fact that the buses seemed so nice and well maintained helped to keep it there.
I was also able to take my wife and our three very young children for a little trip as well, which they all enjoyed immensely. My children, who are 4, 6 and 9, really enjoyed the ride and the opportunity to take a trip free from their normal child-restraining systems that they typically have to endure. It was nice to be able to sit and talk with them during the journey as opposed to the occasional glance (and sometimes glare) to the back seat to make sure that they are not getting into any shenanigans. It was a very welcome change for my wife and I. Plus, since we could experience the ride as they were we did not have to engage them in a round of twenty questions when they said, "What is that Daddy?" All of which made the journey that much more enjoyable for both my wife and I as well as for my children, who are now inquiring about when they can take more rides on the bus with us! I have to admit that I was a little apprehensive at first but it was such a smooth experience that we will certainly consider ways to use SolTrans again in the future for our travels with the little ones.
Sitting down with the staff at SolTrans to learn about what they are doing in terms of technological changes was also very interesting. I had seen the biodiesel vehicles that they are switching to but it was nice to experience them firsthand. We also had the chance to take a trip in a newer vehicle that SolTrans is considering—an all-electric bus. It was interesting to ride in the "Tesla" of public transportation and to see if the ride was much different than what we're used to. It was certainly quieter and a little smoother than a typical bus, but it seemed to have the same acceleration and power. The technology that really intrigued me was their Automated Vehicle Location (AVL) system that they are in the process of installing in their buses. AVL is basically a networked GPS system for the buses, the operators and the public, that helps to improve efficiencies and eliminate the guesswork of the transit system. I had never given much thought about the management of a transit system, but when you consider it, the drivers have a lot of autonomy in their job once they leave their facility. That, of course, makes it challenging for their oversight since managers and dispatchers can only guess at the precise whereabouts of a particular bus at any given time. It is also a challenge to accurately gauge travel times at different periods of the day, due to variables such as traffic. The AVL system will allow everyone—including the public—to "see" where the bus is in real time. This level of tracking helps to eliminate the guesswork of when the bus should be arriving, but also allows for better scheduling and minimizing problems in emergencies or when mechanical failures occur. In the not too distant future, riders with a smartphone will be able to see where their bus is and also get alerts about problems and delays so that they can better plan their day as well. Integration with current technology, like Google Transit, will also help not only with the everyday commuter trips, but also with longer trips, and when using multiple modes of transportation such as the bus, train and ferry. All of this will help to make commutes smoother with less anxiety for the people that have to utilize them everyday.
SolTrans is also in the process of updating its facilities as well. After the creation of a state-of-the-art transit center and operations hub in downtown Vallejo, the staff at SolTrans has been working on renovating their operations and maintenance facility, along with upgrading an additional transit center in southern Vallejo at the intersections of Curtola Parkway and interstates 780 and 80. The staff is excited about both projects and how they will help them in their quest for improved rider satisfaction as well the improvement and conveniences it will bring for the drivers and rest of the SolTrans operation staff. The Operations and Maintenance facility renovation should be done by about the time you are reading this article. The Curtola Park and ride will be completed in the late third quarter or early fourth quarter of 2015.
All of these improvements will help build on an already pleasant experience for both the daily and occasional commuter. In an effort to help the community to discover them, SolTrans will be helping out at several community events to help the public enjoy those as well, such as the Vallejo Art Walk, the Vallejo and Benicia 4th of July parades and the Vallejo Waterfront Weekend, to name a few. The team at SolTrans hopes that they can help you with your next trip to an upcoming happening. Enjoy!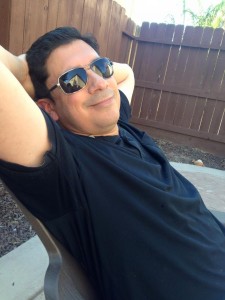 Robert Briseño – When not out writing stories for Local Happenings he always tries to relax a few minutes so he can gather his strength to have the energy to chase down his three busy children.