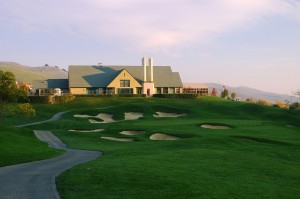 Heading out for a day on the golf links there are seemingly endless options as far as where to go. If you just can't decide, how about Local Happenings' top pick for Solano County? Hiddenbrooke Golf Club, an Arnold Palmer Signature-designed golf course, is our winner this year.
"The greens are always good, the golf course is manicured impeccably, there's no two holes alike," says Eric Thompson, General Manager for Hiddenbrooke Golf Club. "It's like a different golf course every time. You can play it every day and not get bored."
In addition to superb grooming conditions and excellent service, Hiddenbrooke is particularly designed with the player in mind. "It's a challenging golf course, but fun in the same right," Thompson says. "You don't have a bunch of blind shots out here. Tough is one thing, but being able to score is another. You can see the greens; you know where your next shot is going; you're not guessing where to hit." It's for reasons like this that Hiddenbrooke has won best golf course in the region.
1095 Hiddenbrooke Pkwy., Vallejo, CA 94591 • (707) 558-1140 • www.hiddenbrookegolf.com