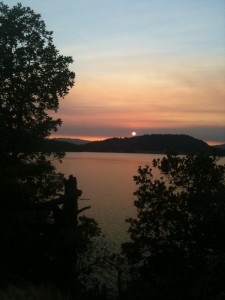 Let's start the day off right, good morning, good morning to you! We are off and running with so much to accomplish today. How can I start the day off so chipper, look at the sunset I was able to view last night and it should tell the story. We are so lucky to have this in our backyard, WOW!
New printer was set up, thanks Clint! Lunch with Dennis; thanks Dennis and Tourist meeting in Benicia. Did we solve anything? Probably not, but lots of good conversation. Ben saw so much yesterday, but we have bigger plans for today . . .
Stretches, feed Ben, latte, water the yard and I'm gone  . . .