Happy New Year!  Sorry, just practicing … Well guess what? 2014 is fast approaching, full-steam ahead, coming at us like a meteor—an Armageddon of time! (Unless you're reading this in 2014 … if not … read on!) Time. There's no way to avoid it. It keeps on slippin' into the future, and we slide right along with it.
Youth and elders alike always seem amazed at how fast time flies. Does it? Really? Sometimes it crawls, sometimes it walks, but in retrospect it always flies. In reality, it never changes. Sit and stare at a clock for 5 minutes. Try it. It's harder than you think. That's how lazy our clocks always are. When you're conscious of it, like when you're checking your watch every 30 seconds throughout the last 15 minutes of work, time actually moves quite slowly.
But here we are. Another year: gone. "Where did it go?" People demand to know. "Can you believe it's already DECEMBER?!?" Others exclaim. It seems we'll be hearing these quixotic queries and statements for the rest of our lives…
Perhaps it's better to not care about time so much. Get rid of your watch and just live in the moment! Show up to work when you feel like it. Pick up the kids from school when it feels they've had enough. Try to meet your friend for lunch when it just feels right. Can you imagine if everyone lived that way? Chaos. But we'd be much more relaxed as a society.
Time can be quite stressful. People worry about it constantly. They worry about being late for work, they worry about getting older, they worry if they'll have enough of it to accomplish their lifelong goals … Time is nothing but stress when you think about it. In all actuality, time is the most valuable thing on earth because once it's gone, it's gone forever. You can't buy it back or recycle it. It's more perishable than a banana in the fridge.
So why not just celebrate it instead? Thanks to the concept of time we celebrate birthdays, holidays, weekends … perhaps time was invented just so that we may schedule these moments to relax amidst a busy work week ..? Humans are the only creatures on earth that are aware of it on such an intricate level. Squirrels and elephants seem to get along just fine without a Timex on their wrist, but for many of us we couldn't manage our lives without it. We also use time on a yearly basis to inspire a better future for ourselves.
The earliest documented "New Year" celebration dates back 4,000 years ago to ancient Babylon. As we all know, the Babylonians celebrated their New Year in late March-ish, the night of the first new moon following the vernal equinox (a day with equal amounts of sunlight and darkness). On this day they'd hail their gods and crown a new king. Four thousand years later, we hail a giant ball dropping and crown our friends with party hats … not much has changed, I guess.
After Babylon, other civilizations adopted their own calendars, basing New Year celebrations on agricultural or astronomical happenings. In Egypt, supposedly, the Nile flooded every year at about the same time the star Sirius became visible, thus marking their New Year. The Chinese New Year was chosen to be the second new moon after the winter solstice, just because. Pretty interesting stuff, indeed. But what's with this January 1st anticipation we all know and love today?
Julius Caesar was the first to declare January 1st as the beginning of the New Year. Before he did so, it was still based on the vernal equinox of Romulus' 10-month, 304-day calendar (Romulus was the founder and CEO of Rome). Over time, the calendar fell out of sync with the sun. It was pretty embarrassing I'm sure. Finally, in 46 B.C., emperor Julius Caesar consulted with the geniuses of the world and introduced the Julian calendar. New Year's Day being January 1st was chosen to honor Janus, the Roman god of beginnings (and the month's namesake). The god was believed to have had two faces that allowed him/her/it to look both to the past and the future simultaneously. How fitting. The date moved around a bit after that, but all that matters now is champagne and kisses at midnight on January 1st!
So what's your new beginning, or, New Year's resolution, this year? Mine has always been to replace all my bad habits with good ones … I plan for the same goal again this year. New Year's Day is always such a positive event. "Happy" New Year! So hopeful. Well let's try and keep that positivity going from one New Year to the next! And what better way to do that than getting off to a fun-filled head start? It just so happens that there are numerous ways to ring in the New Year all around us. Here's a look at a few celebrations in our area:
Empress Theatre presents Tommy Castro & The Painkillers, New Years Eve 2013
A favorite to the Greater San Francisco Bay Area, Tommy Castro joins up with The Painkillers to reel in the New Year at the Empress Theatre in Vallejo. "Tommy's a very charismatic singer and performer and a wonderful guitar player," says Don Bassey, Manager of the Empress Theatre. "He's got that way of creating lots of energy in the crowd." What better act for a New Year's celebration?
They do expect this show to sell out, and getting tickets early is encouraged. Based on where you'd like to sit there are multiple tiers for ticket prices ranging from $50-$60 presale ($60-70 at the door). VIP tickets are really where it's at. For $100 you get dinner-style appetizers, premium cocktails or Champagne until 8pm, Champagne again at midnight. And, Bassey adds, "VIP gets you a meet and greet with Tommy and the band before the show." Solo food purchases are available at $22.50 a ticket.
Tommy Castro is an award-winning singer/songwriter and has been playing his signature style of rockin' rhythm and blues professionally for more than 25 years. Bassey is excited to have Castro with his new band, The Painkillers. "And we do have a special guest," he says. "Leah Tysse, a great friend of ours and a wonderful singer. She's been here at the Empress for our Ramble and other events. She's a good friend of Tommy's as well so she's going to join in the fun, join with Tommy on a few tunes and mix it up."
If you're lookin' to rock your way into the New Year, best bet is right here at the Empress Theatre in Vallejo. Show starts at 9PM. Tickets and info available online at www.empresstheatre.org; or call their box office at (707) 552-2400.
2013 Blackjack Ball on the Napa Valley Wine Train
Have you ever spent New Year's Eve on an antique wine train before? No? Well, this may be your year. Embark into the wine country for a fun-filled evening of food, drinks, laughter … and gambling!
"You'll be experiencing New Year's Eve in a completely different way," says Kira Devitt, Director of Marketing and PR for the Napa Valley Wine Train. "After guests have dinner on board the wine train they'll be able to disembark at our Napa station and play at the casino tables until midnight when they'll have a sparkling wine toast and dance to a DJ until 1 AM." How's that for a full New Year's Eve experience?
Complete with hors d'oeuvres and a photo booth, this evening offers a unique blend of that nostalgic feel you get from the antique wine train with a sort of James Bond/casino feeling at the Napa station. It's sure to be a fun-filled evening and a New Year's experience you may never forget.
The evening begins at 5pm in Napa. For reservations or more information please visit www.winetrain.com or call 1 (800) 427-4124.
Six Flags New Year's Bash 2014
Celebrate the new year at Six Flags Holiday in the Park for their New Year's Bash. It's a magical time of year at Six Flags, fully decorated in the theme of the holidays. Stay with the holiday spirit as long as possible and have one final outing with the fam. Twinkly lights, holiday decor, gigantic toys (for the kids), and special holiday-themed entertainment all night long! The park is open from 4 p.m-12 a.m. For tickets and info visit www.sixflags.com/discoverykingdom or call (707) 643-6722.
Castello di Amorosa New Year's Eve Masquerade Ball
Complete with VIP wine tasting, hors d'oeuvres, 5-course dinner in the Grand Barrel Room, dancing to live music in the Great Hall, a photo booth, sparkling wine toast, midnight balloon drop, shuttles to Calistoga hotels, oh … and a castle! Seriously, what more could you ask for this New Year's Eve? Castello di Amorosa brings it all. Festivities will be held from 7 PM-1 AM. Tickets are $265 for members, $300 for guests. For info visit www.castellodiamorosa.com or call (707) 967-6274.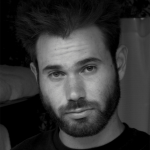 Matt Larson is a writer/actor/comedian who shamelessly promotes his Vallejo Comedy shows in his byline. He encourages you to visit www.vallejocomedy.com. Woot!