Time to Recharge?
Spiritual Retreats in Northern California
Spiritual retreat centers are like hidden treasures waiting for you to discover them. These beautiful, quiet, contemplative places are perhaps known best as destinations for conferences and group retreats. A private getaway is a gift of time away from a busy life.
A less familiar option is the solo stay, and it was by accident that I discovered the idea of taking a solo break at a religious site. While on a church retreat, I attended a lecture on convent stays in the United States.
Previously, I had no idea that Episcopals, like Catholics have religious orders, and may offer hospitality as part of their mission. It dawned on me that I could go to retreat centers on my own, so I vowed to make a regular practice of personal retreats.
Here's a look at five spiritual retreats in Northern California that open their doors to individuals seeking personal retreats.
San Damiano
San Damiano's mission-style main building is situated amid 40 oak-covered acres above Danville. The Franciscan retreat center overlooks the San Ramon Valley east of San Francisco.
I thought of my two-night stay as a time to rest, get away from my ordinary life and write for a few days in a beautiful setting. The woman who booked my stay invited me to consider an appointment for spiritual direction.
"What's that?" I asked.
I was told, "In spiritual direction, you talk with a trained listener about your life's journey."
"That's fine. Yes, I'd like to try it."  I hadn't heard of spiritual direction, but it seemed like a good idea.
On my first night, I asked the woman across from me at dinner, "What brought you here?"
The woman, a registered nurse, wife and stepmother replied, "My soul needed a rest."
The next day I sat in a small room with a woman about my age, a spiritual director. As I shared my feelings and ideas, I pondered the possibility that I was already on a spiritual journey.
Spending time at San Damiano brought me considerable serenity and reminded me that my life is full of joy as well as challenges. As I left, I walked through the doors feeling serene and ready to return to regular life with more energy.
710 Highland Dr., Danville, CA 94526
925-837-9141, www.sandamiano.org
The Bishop's Ranch
In the heart of Sonoma County's Russian River Valley, Bishop's Ranch offers retreats for individuals on a space-available basis. The place is named not for an Episcopal bishop, but the name of the family that donated the ranch land on which the retreat is situated (near Healdsburg).
Bishop's Ranch offers retreat programs that people can attend at various times of the year, such as silent days in Advent and Lent. Also, there are quiet days throughout the year. "These programs have events during the day which make them more like directed retreats," said Executive Director Sean Swift.
Swift added: "The ranch chaplain, Reverend Pat Moore, can offer spiritual direction if arranged ahead of time. She is an Episcopal priest and a trained spiritual director, though she prefers the term 'guide'." Swift noted, "It would be best to arrange a visit at least a week in advance since she has a busy schedule."
Morning and evening prayer takes place each day in the chapel and participating in these services often becomes part of individual retreats.  Swift said, "Other than those two offerings, personal retreats are self-directed."
5297 Westside Rd., Healdsburg, CA 95448
707-433-2440, www.bishopsranch.org
Santa Sabina Center
The Santa Sabina Center is an ecumenical retreat center on the grounds of Dominican College in San Rafael.  Individuals can reserve a private retreat on an "as available" basis. Sister Margaret said, "We usually find the easiest time for such arrangements is the week during which our monthly day of prayer occurs. Other times may permit private retreats, but only if it will not interfere with the groups using the center."
"There are two of us on staff who can provide spiritual direction if an appointment is made in advance," added Sister Margaret.
25 Magnolia Ave., San Rafael, California
415-457-7727, www.santasabinacenter.org
Green Gulch Farm
Green Gulch Farm is situated near Muir Beach in Marin County. A branch of the San Francisco Zen Center, it's a place of communal living for students of Zen.
For a secluded personal retreat, one may book Hope Cottage, a cabin that offers arresting views of the whole Green Gulch Valley and the vast ocean below. You can hear the surf crashing day and night.
You can choose the program called Guest Retreatants Half Schedule for a discounted stay that combines working half-days, engaging in the meditation sessions and private time. There's a three-night minimum. Stays must be arranged so that one arrives early on Sunday morning to receive instruction in Zen sitting meditation, called zazen, and walking meditation, termed kinhin.
On a working retreat at Green Gulch Farm, I swept floors, wiped tables and cored and juiced apples. The job I enjoyed most was making teriyaki sauce in the kitchen.
One morning I was assigned to cleaning the temple restrooms with a friendly partner who smiled at my apparent dismay and said, "It's not hard." It wasn't.
As we worked and chatted I learned that my workmate was a scientist using her vacation time for a retreat. Meeting intriguing people is part of the retreat experience. Another memorable person I met was a middle-aged father who was touring the world, teaching language classes and visiting retreat centers.
My stay at Green Gulch Farm ended all too soon. The scent of redwoods and eucalyptus drifted through the air as I walked to my car.  Images of woods and gardens still linger in my mind and I hope to go back soon.
1601 Shoreline Highway, Muir Beach, CA 94965
415-383-3134, www.sfzc.org/ggf/
The Community of St. Francis
The Community of St. Francis operates St. Francis House, an urban convent in San Francisco. A small group of Episcopal sisters live at St. Francis House in the Mission District. They welcome guests who wish to visit for periods of two weeks or less.
A quiet guest apartment is simply furnished with a kitchen, bathroom, living room and spacious bedroom. The kitchen is equipped with dishes and pans, and stocked with a few basics, including coffee and tea.
The apartment is on the street level with its own side entrance, separate from the rest of the house.  It opens onto a flower and vegetable garden.
What if you can't get away for a retreat? The sisters of the Community of St. Francis make available a set of three booklets on doing a retreat at home, for a suggested donation of $20. The sisters will mail the Home Retreat series to any interested persons.
Every now and then, a break from one's hectic life is not just desirable—it is exactly what's needed. There are times when what one requires most is time for renewal in a place intended for quiet contemplation.
At a spiritual retreat center, peace comes as one roams through gardens and walks along tree-lined paths. Rest is found as one visits courtyards, sits beside fountains, walks labyrinths and hikes in nature. Eating well and falling asleep in a simple room completes the experience.
Most people begin a retreat somewhat world-weary and finish the experience well rested and with a fresh attitude toward life.
3743 Cesar Chavez St., San Francisco CA 94110
415-824-0288,  www.communitystfrancis.org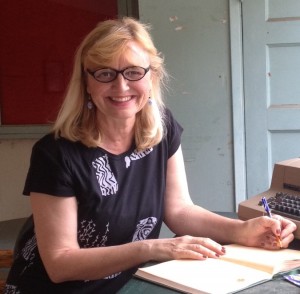 Kristine Mietzner lives in Benicia with her golden retriever Max who has no fashion sense whatsoever. She serves on the board of Benicia Literary Arts and works as a field supervisor for the Touro University Graduate School of Education. Her work has appeared in the Contra Costa Times, the Benicia Herald, and the online travel magazine, Your Life is a Trip. Her previously published work is posted at www.redroom.com/member/kristine-mietzner.  She can be reached at kristine2770@yahoo.com.