With school right around the corner, discount warehouses and department stores are practically loaded with all kinds of back-to-school advertisements and flashy displays of school supplies which, make our decades-back Pee Chees look like plain brown sacs. With all of this pomp and circumstance surrounding the back-to-school must have's, there is one other store that gets its own fair share of hype: the supermarket. Gobs of shiny, pre-packaged goodies, proximately directed to catch your child's eye. And with all of these shiny, pre-packaged options, how do we keep kids happy while wading through all the nutritional information ourselves? It's no easy task. I mean, when did the Lunchable replace the PBJ? When did PBJs come in packages with the crusts already cut off? And when did schools stop serving traditional lunches in favor of these modern conveniences?
With busy lives and tighter budgets, everyone still wants kids and families to be able to eat healthier. We would all love to have the time and inclination to make everything from scratch and make sure everyone eats an organic and nutritious diet. Let's face it—life happens, budgets happen, junk food happens. So when tasked with this article, I wanted to compile a list of tips that other mothers have used to help keep kids (and parents) healthy and happy as we get back to the fall routine.
Involve children in grocery shopping.
If no one is going to eat it, it probably will go to waste. Ask children what they would like to eat this week and incorporate those items into your weekly menu and budget. People are definitely more likely to eat what they've helped select. Sometimes children have a better grasp on nutrition than adults. Maybe your 15-year-old has given up meat and only wants tofu. What a great way to work in a couple of meatless meals a week while embracing your teen's decisions and boosting everyone's health. In that same vein, keep an open mind. My daughter loves seaweed chips (which is just thin sushi nori). I don't love them but I recognize she couldn't have a better snack in her snack drawer so I support their presence nonetheless.
Involve children in cooking and meal preparation.
Ask our friends, the Briseño's: kids love to cook. But aside from kids, just learning to prepare more nutritious meals and being able to apply those lifelong skills, cooking teaches other things too such as reading comprehension, math skills and creativity, while engaging all the senses. Children also feel more valued and appreciated when their dish is a hit at the dinner table. There is no more common thread between humans than the consumption and sharing of meals.
Encourage kids to prepare their own lunches.
With schools' ever-shrinking budgets and parents' ever-shrinking time, it's easy to adopt the "eat-what-is-served" program. The truth is the modern school lunchroom is a far cry from what we remember. Long gone are the friendly ladies in hairnets, serving up lasagna, salad, Jell-O and sloppy joes. I think most parents would be surprised to learn, just as I was, that many schools serve food that is the rough equivalent of heat-and-eat food you could get at your local mini-mart. Even with federal standards for school lunches, and children receiving fresh fruit and vegetables as options, it still comes pre-packaged, pre-prepared and is frequently microwaved. Having kids make their own decisions in lunch preparation helps build confidence and good nutrition at the same time.
Get involved.
Know your school's snack policy. Many teachers will allow time for children to eat snacks brought from home. Others may actually provide a snack for the class based on the classroom budget. Know what your teacher allows and offer to provide snacks on occasion or donate money to the classroom earmarked for that purpose. If all kids are equally satisfied with healthy snacks, the classroom generally fairs better as a whole in behavior and academics. Locally, fall is a great time to bring in fresh grapes and apples. Winter is great for nuts and oranges. In springtime, strawberries, blueberries and cherries are always a hit. Other convenient food options for school snacks include carrots with ranch dressing (recipe follows), granola bars, string cheeses, trail mix, graham crackers with peanut butter, popcorn, Chex Mix (recipe to follow) or bananas. Sliced watermelon is also a big hit with smaller kids for snack time.
Make nutritious foods accessible.
Sometimes little hands need lower shelves in the refrigerator or lower drawers, or cupboards in the kitchen to freely access snacks. An eye-level shelf in the refrigerator stocked with pre-cut melon, strawberries, carrots with homemade ranch dressing, yogurt, string cheese, and tiny oranges goes a long way to keep kids happy and healthy in-between meals. And, if a meal runs late and your little one decides to fall asleep before that meal, you won't feel guilty they haven't eaten yet.
Don't overbuy.
Frequently kids will tell you they love something. So, you buy ten containers because they were on sale and seemed like a healthy choice, only to find out the kids only liked them for one-and-a-half containers. Be patient and keep calm. Find a neighbor or dog on which to offload the other seven containers. Next time you shop together and someone insists they love something, just buy a container or two and if that goes well, next time buy more. Tastes change. Products change. The BFF who had that must have item at lunch the other day? They change too.
Read ingredient labels.
I'm always shocked at what I find when I read ingredient labels. Try to choose snacks with the fewest number of ingredients and stick to ingredients you can pronounce. Manufacturers hide all kinds of things in food. You may think you are just buying a bag of pre-shredded cheese but if you look at the label, you'll also find corn starch. On the other hand, Nabisco's Triscuit crackers seem like they would be loaded with all kinds of things. In reality, there are just three ingredients on the package.
Add chocolate.
Huh? Yep: add chocolate. Don't think your kids like apples, berries, melon, pineapple, oranges or grapes? Throw a little cup of chocolate (regular or sugar-free) on the fruit plate and watch it disappear! You can even put chocolate syrup on plain Greek yogurt and top with raspberries for a great afternoon snack.
Homemade Ranch Dressing
Here is a great recipe from my sister, and co-blogger, Amelia. Never again will we buy ranch dressing or dip!
Ingredients:
2/3 cup buttermilk
1/2 cup sour cream
1/4 cup mayonnaise
1 teaspoon finely ground sea salt
1 teaspoon onion powder
1 teaspoon granulated garlic
1/4 teaspoon dried thyme
1/4 teaspoon dried basil
1/8 teaspoon freshly ground black pepper
Mix all ingredients in a bowl with a whisk until smooth.
Refrigerate overnight for maximum flavor or use right away. Store refrigerated in airtight container up to 10 days.
Homemade Chex Mix
This is a great grab-n-go classic for kids and parents alike. If you are trying to cut carbs, add more nuts and fewer Chex and pretzels.
Ingredients:
½ cup butter
2 tablespoons Worcestershire sauce
1 ¼ teaspoons seasoned salt
¼ teaspoon garlic
3 cups Chex squares
4 cups assorted nuts
1 ½ cups small pretzel rods
Preheat oven to 275 degrees F. On medium-low heat in a shallow pan, melt butter and stir in Worcestershire sauce, seasoned salt and garlic salt. In a large bowl, mix together Chex, pretzel rods and nuts and toss with sauce mixture to coat well. Transfer mix to a large roasting pan with sides. Bake 40 minutes, stirring every 10 minutes. Cool and enjoy. Store up to two weeks in a Ziploc freezer bag.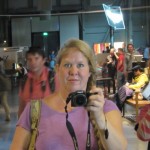 Trish Lee is a long-time Vallejo resident and loves to cook, plant and meditate in person and on the web at www.cookplantmeditate.com.