Walnut Creek Model Railroad Society has taken model trains to an epic level
Trains are the quintessential childhood toy. For most of us our old trains are in a box somewhere gathering dust, but imagine if you never put it away. Think of what it would look like now if you just kept building, perfecting your skills along the way to create an entire world from scratch. To get a general idea, check out the Walnut Creek Model Railroad Society (WCMRS) to see what could have been. For them, this childhood hobby has evolved into a very serious, professional installment in Walnut Creek. With intricate details in every corner and requiring up to around 25 people to run the whole operation, this model railroad has developed into an unimaginable site that you've got to see to believe.
On the last Friday of every month from 8 p.m. to 10 p.m., the Walnut Creek Model Railroad Society (aka Diablo Valley Lines) opens its doors to share its permanent 34' x 56' model railroad (that's 1,904 sq. ft.). Comprised of 4,300 ft. of hand-laid track on more than 175,000 individual ties with over 240 turnouts … expect your mind to be blown upon entering their building. With some features reaching up to 11 feet high, you can view the Diablo Valley Lines from a 160' perimeter that includes elevated viewing platforms. It's one of the largest HO scale model railroads in the United States (HO scale: about an 87th of an inch to the foot).
If you haven't figured it out by now, this model railroad is far from child's play. SPOILER: There's even a thunder and lightning storm! With actual rain! It might scare some of the littlest kids, but most of them think it's amazing, often exclaiming: Hey, it doesn't rain inside of a building!
"Well it rains inside of this one," says WCMRS member Jim Harrison. "Our most common question is how did we do it," he said. "Well, that's a trade secret! I can't tell ya."
At first glance you'll probably notice the immense size of this masterpiece. As you walk around the little details will start to catch your eye, be it an elaborate crossing bridge or a flickering light in a building to make it look like someone's home. Even more details can be found over the holiday season as they'll be adding some some merry alterations like miniature Christmas trees and garlands throughout, with a few unexpected surprises.
"The highlight of most of our days is to show this thing off," said Harrison. And as any true work of art, the railroad is forever in progress. "This layout is never finished," he said. "It will constantly be changed. We can't grow bigger, but we can change a whole lot of scenery."
Making changes to the railroad is no easy task. If somebody has an idea for an alteration of any kind, like moving a mountain or something, they must submit their plans through the board of directors, submit it through the 60-person membership, create a scale drawing of it and then, if everyone is all aboard (pun intended), out come the hammers and they get to work.
While the Walnut Creek Model Train Society is comprised of adults only, many of the members have model-train roots going back to childhood. Society member Ted Moreland had one as early as 5 years old. "My dad brought back two foot lockers full of model train stuff from Korea," he said, when his father was in the Air Force stationed in South Korea. "He and his tent buddies had actually set up a little model railroad in their tent!" Probably the coolest first train set in history. He never actually got a chance to build a complete model railroad as a kid so when he moved to the area in the mid 70s he joined WCMRS. Both Moreland and Harrison have been active members of WCMRS for about 40 years each.
"I think it's in our genes that all little kids are going to like trains," said Moreland. "And they love the model trains." The look on some of these kids' faces is part of what keeps Moreland, Harrison and the rest of the team working so hard. They also hope to inspire some of these kids to get into the hobby themselves. "It's an exercise in problem solving, in thinking through what you want to do," Moreland explains. "It gives you a chance to work with your hands and come up with something that you've built." Plus, Harrison adds, "It'd get the kids off of those silly computers!"
Harrison agrees that this is a great opportunity for kids to see the full potential of what a model railway can look like. "So many kids have never seen this," he said. "This would get the interest in the kids and the young adults. They come in and see what they can do. Modeling, painting, learning how to build a locomotive that looks like the real one, learning electrical, mechanical—everything!"
Sure there's the historical aspect of what life was like before the big semi-trucks took over cross-country hauling, but what Moreland is especially excited to show off is the simple fact that anyone can do this. "There is a hobby in model railroading, and if people have an interest and want to get involved then they can either join the club or they can do their own thing."
To fully staff Diablo Valley Lines would take about 20-25 people. They have 10 mainline cabs, two major yards—one that takes up to 3 people to operate—1-2 dispatchers who control the main line … there's a lot going on here. Adults and kids alike are often mesmerized at the sight.
Current renovations include working to perfect a lot of the scenery coloring as wear and tear over the years has caused certain areas to weather a bit. "One of the big things we've been doing in the past year is putting more lights in our buildings," said Moreland. "So especially during the night scene you have lots of buildings with lights on."
These lights are actually part of a $10,000 project they've been working on. Any lights you see in the buildings, on police cars, on fire trucks, were all manually installed. "Those lights did not come with those fire trucks," says Harrison. "We had to put all those in." You can learn a lot while working with WCMRS.
For any and all looking to join you can focus on really anything you want. (They'll probably give you the indoor rain secret too.) You can learn how to lay track, build buildings, whatever your interest is, you too can become a model railroad master. "Every piece of track here is hand laid, one rail at a time, one spike at a time, one tie at a time," Harrison boasts. "There's over 500 switches—every single one of them was built from scratch. There's not a store-bought switch on this."
The primary goal for WCMRS members is to share their craft and hope others join the fun. "We put as much detail into this as we absolutely can," said Harrison. When people say: Look at that drawbridge! How was that made? "We'll tell you how that was made," said Harrison. When they say: The streetcars are running! How'd they get the little lights in that building? "We'll tell 'em," he said. "Again, we want people to get involved with this hobby."
So come take a look. Yes, bring the kids, but also bring that inner child with you as well. Located at 2751 Buena Vista Avenue in Walnut Creek, they'll be open for a few extra days in the month of November for their holiday-themed additions. Check their online calendar for more details at www.wcmrs.org or call (925) 937-1888.
p.s. If you've officially caught the train bug, here's a list of some other such places to choo-choo-choose throughout the Bay Area:
Golden State Model Railroad Museum
10,000 sq. ft.! — Point Richmond — www.gsmrm.org
Black Diamond Lines Model Railroad Club
Donate your old models here! — Antioch — www.blackdiamondlines.com
Just Trains
3,000 sq. ft. of model train-building supplies! — Concord — www.just-trains.com
Sunset Models Inc.
Reserve your new model train today! — San Ramon — www.3rdrail.com
Western Railway Museum
Full scale train "models?" Nope. It's the real thing! — Suisun City — www.wrm.org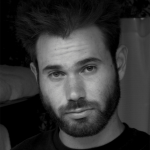 Larson is a writer/actor/comedian native to Vallejo who travels back and forth from Los Angeles way too much. He's desperate for attention and urges you to follow him on all social medias @MarsLegstrong.
He lives for likes, please keep him healthy.