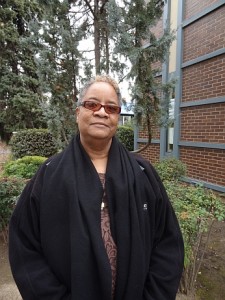 Originally from Omaha, Nebraska, Pat Wells came to Napa in 1984 and established her own, quite successful, construction company. In 1989 she became a foster parent for special needs children and she eventually adopted two of them. When she retired in 2006 she still needed something to do so she branched out to help supervise visits with parents who have children in foster care.
Pat then started volunteering with "The Table," an organization focused on feeding the homeless in the Napa area. She also started volunteering as a Housing Counselor and Case Manager for Community Action Napa Valley. There she works to help the homeless find housing and gathers donations of furniture and house wares for them.
Her work with children led her to become chairperson for the Juvenile Justice Commission in Napa County. They inspect, provide oversight and review complaints about Juvenile Hall in Napa County and then report back to the judges.
She also has her own project where she provides a complete makeover for one select homeless woman each year. She solicits donations throughout the year for such things as manicures, haircuts, clothing, etc., as she seeks out that special person to help.
Finally, during the holiday season, she organizes a secret Santa gift giving project for needy families in the community.
Pat works every day to help her adopted community and we thank her for all that she has done, and is still doing, to help others.