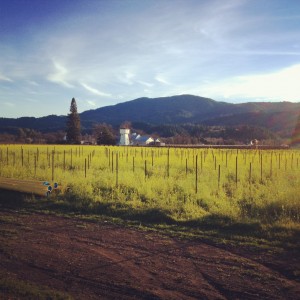 Yesterday as I drove through the Napa Valley I was struck with the thought that it will officially be Spring in another month and yet somehow I don't feel that I have seen winter. Now, I am sure that we Californians are feeling a little spring fever with all this warm weather we have been having but in reality while the rest of the country has been having storms, blizzards and such we have been enjoying spring-like weather. I shouldn't say anything since I might jinx it, but I don't even know if we know how lucky we are. I do, not on a daily basis, but I do appreciate what California has to offer.
Ben and I had another full day with more stops to deliver awards to Locals Choice Winners in the Napa Valley, then a "FABULOUS" Yountville Mixer at Consentino Winery.  The food from Mustards, Reddwood and Napa Style was great but the company and wine were the best! We had so much fun and the hosts outdid themselves.
Today, Ben and I have a lot of clean-up work to do on the computer and for our Lions Crab Feed so we need to get it together and get out early if we are going to get everything done.
Another early day, stretches and meditation; feed and walk Ben and away we go. . .