Is it really March 15th? I feel like it was just
Christmas and here we are coming to an end of the first quarter of the year.
Time is flying by and I can't seem to catch up. Right when I was thinking we
were never going to get any rain, and I was OK with that – wham! We get a week
of rain and lots of it. Why couldn't this have come a month ago when I could
have worked from home, now I am at my deadlines and I need to be running around
in the rain? It wouldn't bother me so much if Californians could only drive in
the rain. It is ridiculous out there; you literally take your life in your
hands when you get on the roads out there, oh well.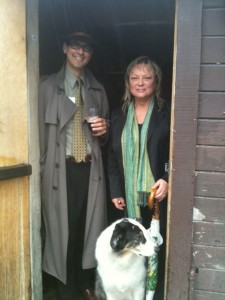 Yesterday was very busy and went late since I was at the
Lafayette Chamber of Commerce Mixer last night and by the time I arrived at home it was almost 9:00 pm! (Ben had a great time as he greeted fellow chamber members at the door.) Today does not appear to be any better since I am leaving to go to Danville first thing and then heading back to Lafayette and then ending in Benicia where I will attending their Chamber of Commerce Mixer. The "Life of Riley" continues.
Get up, take Ben out, do stretches, feed Ben and here I go . . .