For the past three years, Yountville residents Naomi Pasztor and Chris Kollar have graced Yountville with their passion and ingenuity for chocolate. Incorporating local tastes of Napa Valley to create beautiful truffles, barks and show-stopping centerpieces, the breadth of Kollar Chocolates' chocolate skills is nothing short of amazing. Loving the Bay Area, and the Napa Valley, Kollar and Pasztor really enjoy the diversity of the area, fresh, local ingredients and the local inherent appreciation for good food, wine, and chocolate.
Kollar Chocolates is named after self-trained, chef-turned-chocolatier Chris Kollar, who grew up in the Atlanta, Georgia area and has worked as a chef in kitchens all over the country. He eventually settled in the Napa Valley where he has also been chef at several wineries. Most recently, Kollar worked at Peter Michael Winery where he met partner and co-owner Naomi Pasztor, who is originally from Switzerland, during a pilot internship through her alma mater Ecole Hoteliere Lausanne School, which is the first hospitality school of its kind.
While chef at Peter Michael Winery, Kollar frequently served his handmade chocolates to very happy patrons after dinner. They loved them and wanted to know where they could buy more.  Enter Pasztor, whose main focus is on business and marketing, and Kollar Chocolates was destined to skyrocket to success. As Kollar so aptly put it "I'm the creative one and she is all business." In fact, Pasztor's business sense and marketing savvy instantly landed them turndown service at Hotel Yountville (like you needed another reason to stay there).  Ever since, in addition to making high-quality, gorgeous chocolates, Kollar Chocolates has, through their custom chocolate designs, helped launch several products such as Windows 8, Audi and Patrick Dempsey Racing, to name a few. Kollar Chocolates was also featured in the Patron Circle at the Napa Valley Film Festival.
Location, location, location hasn't hurt this dynamic duo's business either. Based in the foodie-loving mecca that is V Marketplace in Yountville, you simply can't go wrong. "I know that if the surrounding restaurants are having a good day, we will have more business in the afternoon," says Kollar as he nods to full tables just outside the window. "I usually start around 7 a.m. and then work until it's done. Sometimes 3 or 4, or 8 or 9 … it depends on the season." Pasztor says the busy seasons are "definitely Christmas and Easter because they have longer buying times … Valentine's Day is not as long of a buying season but a lot more of last minute gifts … we actually had an almost empty case on our first Valentine's day."
Gracing the wall at Kollar Chocolates hangs a photo of a model wearing a necklace made of chocolates, which look just like gems. With chocolates so gorgeous they can be easily mistaken for gemstones, how do they get that gorgeous look?  Glossier Kollar chocolates are produced in molds, which have been prepped by wiping them out with a soft cotton cloth. While many chocolates are hand-painted or airbrushed, using the printer, Kollar can customize any company logo.
As if the pure flavor and depth of concept of the chocolates weren't enough, Kollar Chocolates has a great "open kitchen" design, where visitors can actually watch Chef Kollar and his assistants creating signature chocolates from both the outside walkway and inside café area.  "People don't really know how their chocolates are made," Pasztor says. "Some of our chocolates take up to three days to make." Kollar is more than happy to share the experience with the growing crowd of people outside the window in V Marketplace and even shared his skills and revealed some of his decorating techniques at the recent Napa Valley Film Festival.
Handcrafting some of the most beautiful and decadent chocolates available, coupled with great business savvy, aren't the only secrets to having a successful business in the Napa Valley. After all, in the Bay Area we are privy to some of the most incredible ingredients on the planet and Kollar Chocolates makes every effort to locally source ingredients, to ensure a genuine experience. In addition to highlighting local wines in their truffles, Kollar also likes to buy from Peter Jacobsen's Orchards in Yountville for many seasonal ingredients, including fennel pollen, lavender, mint, basil, and cape gooseberries.
With gorgeous exteriors paired with even more impressive interiors, Kollar Chocolates are bar none.  With amazing chocolates such as fennel pollen, sunflower seed praline, red wine, lavender and salted caramel, and Kollar's flair for local, seasonal flavors, it's a win-win-win—for chocolate lovers, local growers and local businesses. One such business is Napa Style, with whom Kollar partners to deliver custom chocolates such as the popular "Naughty and Nice" chocolate sampler, made exclusively for Napa Style, featuring Kollar signature chocolates as well as some boozier chocolates.
I had to know: how does being a chef compare to being a chocolatier?  Is it more or less work?  "Is it more work physically or more work by the 'I don't need an additional therapist' kind of work?  There is a lot less yelling and it's not as hot," says Kollar, who keeps the shop at a cool and dry 70 degrees, avoiding the mortal enemies of chocolate: heat and humidity.  For Kollar, the best part of making chocolate is, "you are making something that makes people happy." Pasztor jokes that she wishes she could get a voice recording of the sounds people make when they try the different flavors of chocolate. I have to second that idea, knowing all the noises I made as I worked my way through two 25-sampler packs.
Some of Kollar's most popular chocolates are Red Wine, which are made with local wines and Fennel Pollen, which is their signature chocolate. Pasztor's favorite chocolate is the Sunflower Praline, while Kollar's favorite is fennel pollen, which was inspired by his many bike rides through the Napa Valley. Kollar jokes that he loves to ride amongst the fennel plants, run his hand along the flowers and rub the fennel pollen all over his face. Kollar Fuel, which I had for breakfast while at the shop, reflects Kollar's love of bike riding, both in flavor and design: chocolate filled with flax, nuts, raisins and sports tiny bicycles printed on it.
In addition to chocolates, Kollar produces awesome showpieces, which are displayed throughout the store. He was recently commissioned to create a chocolate garden for a garden-themed wedding, complete with caterpillars, gravity-defying plants and ducklings for the lucky guests to nibble on. Kollar is also currently working on a line of chocolate Christmas ornaments shaped like cocoa pods. "I would like to do more showpieces," says Kollar, as he looks at the beautiful pieces in the shop, some of which were partially destroyed in the recent earthquake.
Did you miss a visit to Kollar Chocolates when in Yountville?  No worries, you can visit them on your way out of SFO at the Napa Farmers Market in Terminal Two at several Cocoa Bella locations, and on line at www.kollarchocolates.com. Or, if you want to be an exclusive member of the club, you can join the Kollar Chocolate Club, which is similar to a wine club, for only $250.00 a year. The Kollar Chocolate Club includes four shipments per year of seasonal, upcoming/preview and exclusive chocolates. Talk about your hard-to-buy for chocolate lovers' Christmas dream!
Gift boxes vary in seasonality, size and price but Kollar ships chocolates in the Unites States. All orders are shipped two-day air. Of course, if you want to stop in for a quick pick-me-up and watch Kollar in action, you can always visit the Kollar Chocolates storefront located at 6525 Washington St. Yountville, CA 94599. Phone: (707) 738-6750 or visit online at www.kollarchocolates.com.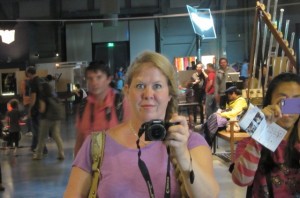 Trish Lee is a long-time Vallejo resident and loves to cook, plant and meditate in person and on the web at www.cookplantmeditate.com.