Memorial Day, originally named "Decoration Day," began as a day dedicated to decorating graves of fallen Civil War soldiers. Though there is some discrepancy over where and when the holiday actually started, we do know that "Decoration Day" (Memorial Day) started a few years after the end of the Civil War. In 1966, President Lyndon B. Johnson declared Waterloo, NY as the official birthplace of Memorial Day. A ceremony was held on May 5, 1866 in honor of local veterans who fought in the Civil War. Today, Memorial Day is a holiday honoring all veterans and the sacrifices they've made to ensure our continuing freedom.
Whether you are gathering with local veterans or spending a relaxing day off with loved ones, here are some recipes to make you the hero at your Memorial Day cookout so that you can have your own very Local Happening.
Stovetop BBQ "Baked" Beans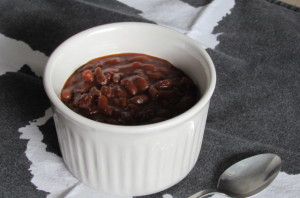 1 pound (two cups) navy or pinto beans
½ onion, diced
½ jalapeño, diced
½ pound thick cut bacon or salt pork, diced
1 ½ teaspoons freshly ground mustard
¼ teaspoon chili powder
1 teaspoon salt
16 oz. can tomato sauce
2 teaspoons Worcestershire Sauce
½ teaspoon onion powder
1 teaspoon paprika
½ cup molasses
½ cup brown sugar
1 bay leaf
½ teaspoon garlic powder
1/8 teaspoon cayenne pepper
½ cup honey
1 tablespoon vinegar
20 +/- cups water
Place the beans and 1 tablespoon salt into a bowl, cover with 2-3 inches of water and soak overnight or for at least 4 hours. Drain the water off the beans. In a large pot, over medium low heat, cook the bacon until most of the fat is melted (rendered). Leaving the oil from the bacon in the pan sauté the diced onion and jalapeño with the bacon until onions are translucent. Pour the water into pot and add in all other ingredients. Stir to combine, increase temperature to medium high and bring to a boil, stirring occasionally, until beans are tender and the other ingredients thicken to form gravy (around 4 hours).
Fresh Fried Potato Chips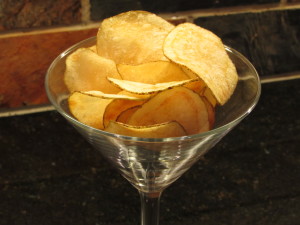 1-2 russet potatoes, washed
1/2 cup vinegar
2 teaspoons seasoning salt
Enough oil to fill your pan to roughly 1-2″
Fill a large bowl with water, seasoning salt and vinegar. Slice the potatoes a 1/16 of an inch thick using a mandolin or electric meat slicer, rinse and soak the potato slices in the vinegar/water mixture for a half hour. Preheat your oil in a large skillet or pot to 350 degrees. Remove sliced potatoes from water, drain and layer potato slices between paper towels. Line a colander with a few crumpled paper towels. Begin frying with just one chip to test how hot the oil is and what the cooking time should be. Working in batches of 12, fry chips using a slotted spoon or spider spoon to circulate in the oil while cooking. Fry chips 1-2 minutes or until golden. Remove chips from oil and place in colander. Repeat. Salt to taste.
Tri-tip Hamburger Patties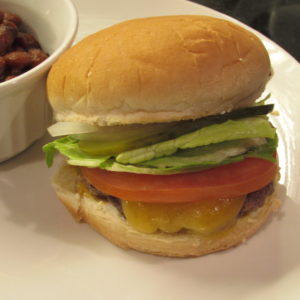 If you are looking for a better burger this Memorial Day, try using a better cut of meat. If you can't grind you own meat, pick out a nice cut of meat at the butcher counter and ask them to grind it for you. Most supermarkets will grind meat for free.
2 pounds freshly ground tri-tip
Seasoning Salt
Freshly Cracked Black Pepper
Onion powder
In a large bowl, sprinkle seasoning salt, black pepper and onion powder over meat and mix by hand to incorporate. Next, section out patties in 3-ounce portions, shape by hand and layer them in between pieces of waxed paper. Place stacks of patties in a Ziploc and put in freezer.  When ready to cook, take out desired number of patties, which can be cooked frozen. Preheat grill or pan to medium heat and cook for 3-4 minutes per side.
Cornbread
1 cup flour
1/2 cup corn meal
1/2 cup corn flour
5 tablespoons sugar
4 teaspoons baking powder
scant teaspoon salt
3 tablespoons melted, unsalted butter
2 eggs
1 cup milk
Preheat the oven to 350° degrees and prepare a 9×9" pan either with baking spray or butter and flour.
Mix together all your dry ingredients. Pour in the melted butter and combine well. Incorporate the eggs, then milk and mix on medium speed for 2-3 minutes, scraping down sides of the bowl from time to time until mixture is smooth.
Pour into prepared pan and bake 30 minutes or until top is golden and it starts to crack. A toothpick inserted into the center should come out clean. Remove from oven and cover with tin foil right away to keep cornbread moist.
Grilled Watermelon Salad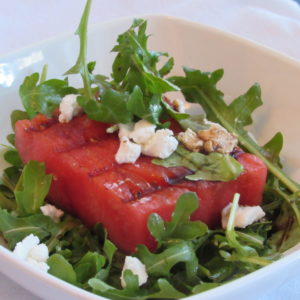 Watermelon
Olive Oil
Arugula
Goat Cheese
Raspberry vinaigrette
Salt
Pepper
Balsamic vinegar
Preheat grill or grill pan to medium heat. Cut the watermelon into 3x3x1" slices and brush with olive oil on both sides. Once grill is hot, grill watermelon slices for two minutes per side or until grill marks and slight caramelization appear. Remove from grill and place watermelon slices in refrigerator to chill until ready to use.
Rinse and dry the arugula. Toss arugula with a pinch of fresh cracked black pepper and a little bit of raspberry vinaigrette.
When ready to assemble, place a bed of dressed arugula on a plate, top with a slice of grilled watermelon and sprinkle with a few grains of salt. Top with more greens. Finish salad with goat cheese crumbles then drizzle with a bit of balsamic vinegar.
Strawberry Shortcake Cake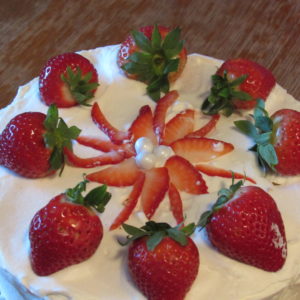 2 cups flour
2 teaspoons baking powder
1 ½ cups sugar
¼ teaspoon salt
12 tablespoons unsalted butter (reserving butter wrapper to grease pan)
¾ cup egg whites
¾ cup milk
1 tablespoon vanilla extract
16 oz. fresh strawberries, rinsed and sliced
2 cups whipping cream
1 tablespoon sugar
Preheat the oven to 350° degrees. In a large bowl, using an electric mixer, mix together the butter, sugar and salt on medium high speed until fluffy and light (around 5 minutes). In a small bowl, mix together the egg whites, milk and vanilla. In another small bowl, sift together flour and baking powder. Add the dry mixture and wet mixture in three alternating parts to the butter mixture, beginning with the dry and finishing with the wet. Scrape down the sides of the bowl after each addition. Once all ingredients are combined, mix for one minute on medium speed, then two minutes on high speed.
Using the reserved butter wrapper, coat two 8-inch round pans with butter, then line with parchment paper. Pour batter into prepared pans and bake 25-30 minutes or until a toothpick inserted in the center comes out clean. Let pan cool on a cooling rack at least 20 minutes before removing cakes.
Meanwhile, whip together whipping cream and a little sugar until cream is stiff. Chill in refrigerator.
Once cakes are completely cool, frost with whipping cream and place sliced berries in between layers and as decoration on top of the cake. Refrigerate until ready to serve.
Not feeling up to hosting your own Memorial Day Cookout this year? Don't worry, Local Happenings Magazine has you covered! Be sure to check out our online calendar, which adds hundreds of local events, updated each day.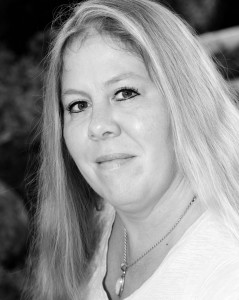 Trish Lee is a long-time Vallejo resident and loves to cook, plant and meditate in person and on the web at www.cookplantmeditate.com.