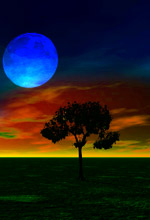 I am always amazed that "I am always amazed" at how beautiful the moon is! Last night is was just stupendous. I felt that if I made ten wishes, they would all come true.  It was truly radiant.
Perhaps the full moon is why I am waking up so early every day. For the past three days I have woken up between 4:30 and 5:00 am. Hopefully that will stop. Yesterday we bounced out of bed and I was having a latte at Bouchon Bakery in Yountville by 8:30 am and it felt like a summer day sitting out on the patio. Ben and I met up with Amy Giaquinta "The Tomato Lady" and had a very deep conversation about breeding tomatoes. I'm still thinking about some of the factoids she threw out at me. I believe our conversation about snails was the most interesting, they have an "organic" snail bed at their property that some of the finest restaurants in the Napa Valley cultivate. It was a little scary.
Today Ben and I will get out early and head to Contra Costa to visit the last of the Local's Choice Award winners. Should be fun and the weather will keep us smiling.
Another early day, stretches and meditation; feed and walk Ben and away we go. . .