Most of us (I guess over 50) can remember the long-time favorite TV show, My Three Sons. Here is Vallejo's version of that show. The cast members: Steve Griggs, and owner of The Relay Club in Vallejo. Moe Griggs, Steve's son and owner of Ashorn Construction. Randy Larson, Moe's best friend and Steve's "second son" and owner of Transport Products Unlimited. Curtis Lafferty, Moe and Randy's best friend and Steve's "third son" and also the owner of Century 21 Schutjer Realty.
About 40 years ago, (protecting the innocent of their actual ages!) Moe Griggs, Randy Larson and Curtis Stocking all met in junior high. From that moment on they have stayed together through thick and thin and Moe's dad, Steve, inherited two more sons that he had to keep an eye on. Today, they are all still best friends and continue to be at each other's side for personal ups and downs, as well as business.
I had a chance to sit down with these four amigos recently and asked them to tell me a little something about the other ones, so that my readers could get an up close and personal view of these four businesses and owners through a different light.
I asked Steve to tell me something about Curtis. "Curtis is VERY family oriented and will go above and beyond for his customers. The BEST realtor you could ask for! Oh and by the way he's my favorite son!
Well Curtis with that said, what do you have to say about Moe? "Ashorn Construction does all of our maintenance and rehab work. I couldn't ask for a better job, on time and always within budget. That is huge in my business. Moe is always trying to make sure he can give his customers the best price on their remodels by coming up with ideas that you might not have thought of before.
As we came around the circle, I had Moe give me the "411" on Randy. "For over 40 years this guy has been my best friend, he's as loyal as they come and will do anything for anybody. He is always helping the community, if there's a fundraiser going on it's a pretty good guess that Randy is at the center of it. Randy is always knee deep in giving 24/7. I guess I should say something about his company, but his community side is so strong that it just seems right that his business always seems to going strong.
Wow, how do you top that?! I guess by asking Randy to tell me something about Steve. "I've known Steve since I was in junior high and my one image of him always is red, white and blue. He's the most patriotic guy I know! He's got flags at his house, he's got flags at The Relay and look, he even wears a flag! (He points to Steve who is wearing a "Flag" shirt.) The best thing about The Relay Club is that this is where you come to meet your friends and family and you can feel safe. Everyone here is like family.
Here's a little peak at each of these friends businesses:
The Relay Club – Steve Griggs. A local's bar in Vallejo, long known as a "cop" bar, since it is across the street from the Vallejo Police Department. This is Vallejo's version of "Cheers," where everyone knows your name and they're always glad you came! Steve has long been a proponent of patriotic camaraderie so when you visit The Relay Club wear your "Flag" shirt!
Ashorn Construction – Moe Griggs.  No job is too small is this construction company's motto. Kitchens, baths, or whole house/office remodels are the order of the day when you call Ashorn Construction. This could make an excellent Christmas present!
Transport Products Unlimited – Randy Larson.  Transport Products Unlimited brings excellent service right to your door. Their 10 to 53 foot and custom storage containers are wind and water tight, secured, rodent-proof, and can be delivered directly to your business, job site, or residence. With their excellent design team, they can customize their containers to meet your requirements. TPU brings to you containers that provide dry storage, refrigerated storage along with their blast resistant containers. These containers are offered in many configurations; contact the sales staff at (888) 399-8930 to learn more or to get help with your storage needs.
Century 21 Real Estate – Curtis Stocking. For more than 30 years, this real estate office has been serving Solano and Napa Counties with excellent customer service and professional sales team that has their clients coming back and giving them great referrals. They specialize in residential commercial sales, as well as property management. If you need help with a short sale, give them a call for their guidance!
These four can't help but be successful with all of them pulling for each other like they do. Give them a call and see how they can help you along, and if nothing else, join them for a beer at The Relay! I must admit whenever I head in there they always know my name!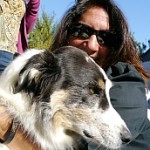 Deanna Baillie and Ben, her Australian Shepherd, love following the road less traveled. "Like" them on the Local Happenings Magazine Facebook Page.