Here's what's happening at the Calistoga Speedway
If you're looking for an adrenaline rush and want all of the thrills without any of the danger, come live vicariously through some of the racers over at Calistoga Speedway in the glorious Napa Valley. Hopefully, the fact that the wine country has such a venue doesn't surprise you, as they've been keeping the racing tradition strong there in Calistoga since 1937. Located at the Napa County Fairgrounds, events this year at the half-mile dirt track have included monster trucks, winged sprint cars, and flat track motorcycle races, to name a few.
There's not a ton of events here, so you really have to plan ahead to make sure that you don't miss some of these rare opportunities. They only do maybe five special events per year—some multi-day events—but they definitely focus on quality over quantity.
"All of the events we do involve touring series," said Tommy Hunt, promoter for Calistoga Speedway. "So they're events that people would not normally get an opportunity to see in the area." And if high-speed racing at 120+ mph wasn't enough of a draw in itself, this is Napa Valley after all! Coming to an event here at the Calistoga Speedway, you can expect that they leave no stone unturned—wine, beer, bands, food… the best of the best, naturally. You're bound to find something that you like.
Keeping up with the community, recently an event at the speedway led to a massive donation to the local Boys & Girls Clubs. On June 24th of this year, fans gathered 'round to attend the Calistoga Speedway Boys & Girls Clubs of St. Helena & Calistoga Dirt Classic 2017, which featured famed drivers like Rico Abreu, Tony Stewart, and others who raced winged 360 and 410 sprint cars around the track. Good times were had by all, and to top it all off, two checks were presented to the Boys & Girls Clubs of St. Helena & Calistoga: one for $100,000, donated by Staglin Family Vineyards and another for $150,000, which was a combined donation from the race industry and individuals throughout the country—totaling a quarter-million dollars.
That event is a great example of what these racing events at the Calistoga Speedway have done for the local community, and it is also a prime example of the kind of talent that can be found here at these adrenaline-pumping exhibitions. Among many achievements, Rico Abreu won the 2014 USAC Midget National Championship, Tony Stewart has three NASCAR series championships to his name, and also in attendance was recent Monster Energy NASCAR Cup Series winner Ricky Stenhouse, Jr.
Rico's father, David Abreu, is actually a third-generation rancher from St. Helena and founder of Abreu Vineyards, which is a major sponsor of the Calistoga Speedway. "David Abreu has been a huge contributor to the fairgrounds, in reference to what he has supplied," said Hunt, who has seen some awesome developments thanks to Abreu over the last 10 years. "A catch fence has been installed, completely encircling the racetrack which makes it far safer; a theater-type sound system has been installed, scoreboards have been installed, the racetrack has been graded and prepared in a very professional fashion, not to speak of the prep work that he does prior to the races to make the racetrack clean."
It's thanks to contributors like Abreu that the speedway can function the way it does. "This is a labor of love," Hunt explained. "With the cost of the facility and the cost of producing one of these events, it's very difficult to make money."
One of the biggest events of the year at Calistoga Speedway is the 10th Annual Louie Vermeil Classic, held this September 1st, 2nd, and 3rd. The event begins on Friday, September 1st with the Calistoga Speedway's annual Hall of Fame Dinner. It usually hosts about 400 guests, who will enjoy a catered evening out as they watch the new hall of fame inductees. The inductees have been carefully selected based on their contributions to the races either as the performance drivers out on the track or as individuals behind the scenes who help keep the tradition alive. Then, on September 2nd and 3rd, thousands of attendees will gather to see the USAC/CRA non-wing, traditional "410" sprint cars and Midgets from Southern California meet with their Northern California rivals, as well as National USAC drivers.
Many of the famed racers who made their name in Calistoga are often in attendance, such as LeRoy Van Conett, Mike Andreetta, Johnny Anderson, and also Dick Vermeil. Most probably know Dick Vermeil as the head coach of the St. Louis Rams when they won Super Bowl XXXIV; however, here in Calistoga, he's the son Louie Vermeil, the namesake of Calistoga Speedway's main event.
Calistogan Louie Vermeil was the owner of Owl Garage on Washington Street. When the popularity of automobile racing truly caught on after World War II, it was Vermeil who took the reigns here at Calistoga Speedway that led it to what it is today. "He was the one that basically came in and organized races at Calistoga," said Hunt. "He did that as part of the Northern Auto Racing Club, but Louie was the driving force." By 1960, Vermeil was actively boosting the professionalism of sprint car racing. For the next 25 years, while Vermeil presided as president, Calistoga Speedway was known as the "home" of the Northern Auto Racing Club, which is now known as the Golden State Challenge Series. That's why today the Calistoga Speedway is also referred to as the "Home of Louie Vermeil." In fact, the house that Louie lived in became a historical monument.
Back in Vermeil's day, admission price for the races was around 55 cents. While it's not quite in the same ballpark today, attending the Louie Vermeil Classic is still pretty affordable, and rest assured it will be worth every penny. Reserved seating is only $35, general admission is $30, kids 6-12 are at $10 per ticket, and kids 5 and under get in free. The Hall of Fame Dinner is $55, pre-sale only, and last year's event was sold out; so if you want to get in on the action, it's best to do so now. To get your tickets, call HMC Promotions at (916) 773-7225. Especially, if you've never been to an event at the Speedway, the Louie Vermeil Classic would be a great introduction.
As this year marks the 10th anniversary of the Classic, they definitely have some special surprises in store, but at this writing it's too early to tell exactly what to expect. What we can tell you is that they'll have something for everybody. Live music, vendors, merchandise for sale, wine, beer, and high-speed racing.
"Racing here may be as good as there is anywhere in the country, on a half-mile dirt track, specifically," said Hunt. "It's first-class entertainment. The atmosphere is great at these events. And, of course, the area lends itself to being a great place to be—I don't know that there's a lot of places more beautiful than the Napa Valley in Calistoga."
By the time you read this, you have probably just missed the AMA flat track motorcycle races on July 29th. If you can't make it to the Louie Vermeil Classic, try and make it to the World of Outlaws sprint car races on September 15th and 16th, which are their last race events of the year. For additional information, visit calistogaspeedway.org. Search for "Calistoga Speedway" on Facebook, or call the promotions line at (916) 773-7225, or directly call the Napa County Fairgrounds at (707) 942-5111.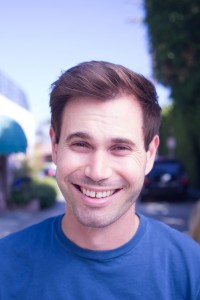 Matt Larson is an actor/comedian/director from Vallejo who lives a double life between the Bay and LA. When he's not writing for Local Happenings Magazine he could be editing a short film or working on his next rap album—who knows!
Keep up with all things Larson at MarsLegstrong.com.