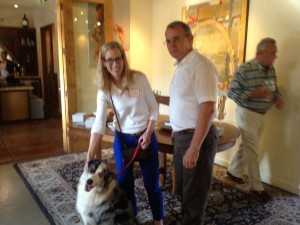 Waking up in the morning with sunshine is the best! I love getting outside early in the morning and smelling the garden and just having that quiet time before my day starts. Ben and I watered early and now we are going to take it slow since we have Giants baseball and The Masters on TV before we head back to Yountville for an Artists reception for our friend, Mars Lasar.
Yesterday was quite busy but it ended with a fabulous ring at Jessup Cellars in Yountville. Their new wines "Handwritten" are so wonderful. The Jessup Cellars Zinfandel and "Table for Four" blend are simply stunning wines, but the "Two Words" and the Cabernet by Handwritten, their sister winery in St. Helena are really quite spectacular. We had a great time and since they are dog friendly, Ben was quite the star. Ben's best friends, Michael Applegate and Linda Beard, quickly took Ben and made sure he was always introduced to new guests. I think Ben loves his job!
Stretches, water the yard, feed and take Ben on a long walk, and off we go. . .