All my life I have loved sports. Baseball, football, basketball, horseback riding, foursquare, tetherball, volleyball, or even just running, were always a part of my life. In my late teens I was introduced to rowing, and thus began a love affair that was to last for the next 30 years. Whaleboat and crew rowing were fun and exhilarating with all of the exercise that was involved. Because I also loved other recreational activities like horseback riding and golf down the road, it became increasingly harder to stay on a competitive team because of the time commitments. My life was not missing anything, but I've always been looking for something new to try and about three years ago a friend talked about teaching me to kayak. The timing was never right and a couple of years passed. Fast forward to spring of 2013 and once again the idea was presented to me when my boyfriend, John Troupe, suggested we go kayaking since he had done a little in the past and wanted to get active again.
As luck would have it we had a trip to Lake Tahoe planned and so that went to the top of our activities list. When we arrived in town we were so excited to head to Zephyr Cove Beach to start our kayak adventure, but alas the water was too choppy and they had shut the beach down by 2 pm. Not to worry, we quickly made plans for the next day and headed to the Heavenly Gondola for a visual treat that you MUST experience! We headed all the way to the top and we quickly got over our frustration at not being able to go kayaking that afternoon.
I had not been to South Shore for quite a while before this trip and if you fall into this category, you should definitely make the time to plan a trip. The area around the gondola was full of new shops and restaurants and we decided to try a new restaurant that looked inviting, Base Camp Pizza. Football and baseball was on every wall and I couldn't even count the number of TVs that they had installed. They had daily drink specials which we immediately took advantage of and ordered one of their famous pizzas. I would heartily recommend a trip to Base Camp Pizza since it had everything I like: good food, great drinks and a fabulous, casual atmosphere!
We stayed nearby at the Lake Tahoe Resort Hotel and it was perfect! We could walk everywhere, and as we headed back to our room we decided to stop at the pool downstairs and contemplate our kayak schedule for the next morning. We decided to try paddle boarding before our kayak commitment the next day since we had some extra time to kill. What a fun experience! Great workout with a little bit of  fear of falling in the ice cold water in the lake – I decided to just go ahead and fall in to get it over with and I found it wasn't that bad and even a little refreshing. (John does not agree with this and stayed dry the whole time!) South Lake Tahoe Stand Up Paddle gave us a quick lesson and sent us on our way and I must say that even with the rough water that the lake was experiencing we had a blast and we were definitely happy we tried this new sport.
So off to Zephyr Cove to go kayaking! I was so excited, but when we arrived at the beach we were once again told that they had to shut down the beach due to rough water. I was sooo sad and it seemed like we would never get out on a kayak! Zephyr Cove staff was great and invited us back the next morning first thing and I appreciated that they were very safety conscious, especially since this would be my maiden voyage aboard a kayak.
Fast forward: another dip in the pool and jacuzzi, lunch at The Brewery  in Lake Tahoe, hiking around Emerald Bay and back to the Lake Tahoe Resort Hotel to get rested and anticipate my kayak holiday that was now set for the next morning.
The alarm went off at 7 am, so we could walk to get our lattes and come back for our breakfast at the hotel, which I have to say is a great perk for staying at the Lake Tahoe Resort Hotel. Eggs, pancakes, oatmeal, toast, fruit and just about anything you could be hungry for is served up for free! So after our hearty breakfast we headed back to Zephyr Cove with a little bit of skepticism about whether we would be able to get out on the lake, since it still seemed rough. When I heard the words, "Are you ready?" I felt a little fear; no backing out now! I wasn't sure if I was ready to fall into the water today, since it was still early and a little chilly. As the kayaks were getting pulled off the beach, I swallowed hard and decided to suck it up. I sat down quickly and tried to listen to the young man's instructions to me about where I could paddle and where I should stay away from and headed out. John had taken off like a pro and feeling a little intimidated I quickly followed. Stroke one, stroke two and before the third stroke I felt the familiar feeling of my arm, back and core muscles settling in.  There was no turning back, "I liked it! I liked it!"
That morning John and I stayed within the sight of the beach, since there were still some rough water warnings, but we were able to paddle around some rock formations and out into the lake where the water was so blue it looked unreal. There is something to be said for the peace and quiet you feel on the water with such beautiful surroundings. If you have never rowed or kayaked before I believe you can pick it up pretty quickly enough to have a great day on Lake Tahoe. We paddled around for about an hour before it was time to head home from our little holiday. It wasn't enough! I felt cheated that we had not been able to kayak more than what we did, but I felt an enormous surge of exhilaration to know that we would definitely be back!
When we hit the familiar roads of the Bay Area, John and I talked about the future kayak trips we would like to take. The North Bay is full of possible kayak trips – Benicia straits, Vallejo's Mare Island Channel, Napa's riverfront – the list kept growing. In South Lake Tahoe we had kayaked in single kayaks, now we thought it would be fun to try out a tandem kayak so we could experience our kayak trips a little closer together.
Next stop: McCovey Cove in San Francisco. Since John and I are avid SF Giants fans, we decided that we had to make a pilgrimage to the most popular Kayak spot in the Bay Area. What a blast! We rented a tandem kayak from City Kayak on the waterfront for 3 hours and they gave us a little map of where to go and what to see on our voyage. We started early and headed away from the Cove, first along the waterfront and we were able to see the piers as we have never seen them before. I thought I would be a little scared but I wasn't, it was so much fun and we went under the Bay Bridge and kayaked alongside bigger boats and ships. What a rush! We then headed back towards AT&T Park and through the Marina. When we entered the Cove, we were definitely not alone, other kayakers and boats were positioning themselves for the hope of catching a "splash" ball and the cameras so they could wave at their friends back home. We made friends with our fellow paddlers and sailors and we really lucked out on how beautiful it was on the Bay that day.  I think I scared John a little with my adventurous spirit but when we look back on those pictures (yes we took pictures!) we just smile at the fun we had.
On these first two kayak adventures we had rented "sit on top kayaks" or "SOT" kayaks. John, with a little more experience than myself, wanted to try out a "sit inside" kayak. Wasn't that harder and scarier? I wasn't sure I was ready for that – I was very skeptical. Did I forget to tell you that John is a great problem solver and researcher? Well, within a few days he had found a kayak company, Blue Waters Kayak in Tomales Bay, which does re-entry lessons for inside kayaks. Now I was worried! We were emailed our confirmation and headed out on a cold and foggy morning. (Weekdays are best for private instruction.) If nothing else the drive from Napa to Tomales Bay is very beautiful, we even stopped a couple of times to admire the views and take some pictures.
When we arrived at Blue Waters Kayak there was a bustle of activity on the beach. Kayaks departing, kayaks arriving. We quickly were introduced to our instructor, she went over our schedule right away and I immediately felt at ease with her casual and competent manner. In retrospect, the hardest part of the whole day was learning all the attire we had to put on. Layers and layers: wetsuit, windbreaker, kayak skirt and water booties; we at least looked the part. We were put in two separate inside kayaks and I felt a little uneasy as I was told that I would have to capsize myself in order to rescue myself. That water never looked so cold. When we started paddling out on the Bay, I started to feel comfortable again as I did the repetitive paddling motion. I tried to remember all of her instruction in the first part of the class and to focus on her words as she schooled me on proper paddling. She had us doing some drills when out of the blue I was heading right into a sailboat, quick: "What do I do?" Capsize! It was perfect I didn't have to think about it and guess what? It wasn't cold with all that garb on!
So now I am out on the Bay and I quickly started to do the entire list from our earlier instruction. Things were going well, I even was able to get the kayak turned over quickly, now the coup de gras, to be able to mount the kayak and get my body turned around to sit inside the kayak without capsizing again. That was the hard part, and I have to be honest, with nothing to bounce off of (since I couldn't touch bottom) I made probably 50 attempts to mount the kayak. My instructor finally had to step in and do a T-rescue where she positions her boat to stabilize mine and I was able to finish my mount. Oh well, I guess I'll have to keep practicing. John was able to head back to the beach and finish up his instruction and he was able to get certified! Woohoo! One of us made it. If you have never kayaked before and are a little afraid, Blue Waters Kayak is a great resource for you. Lessons, both private and group, are available as well as guided tours. I am so glad that we took this class and we will definitely be back!
Quickly wanting to use his class knowledge, John made a reservation for us in the Monterey Bay to take a tour to see the sea otters. The kayak trips you can plan around the Bay are just endless and, as you can see, are never boring and always fun. John and I headed into Monterey Bay Kayak right on Fisherman's Wharf in Monterey and once again I was pleased to meet the staff since they seemed knowledgeable and very friendly.
We made our way back to our Hotel in Carmel, The Hofsas House, which is the only place that I will stay. Comfortable and right off of Ocean Ave by a couple blocks, walking distance to the beach and all the best restaurants. Carrie Theis, the owner, and her staff always treat you like a member of the family and, of course, they are pet-friendly so Ben LOVES staying there!
That night as we started our dinner the worst thing imaginable happened, I started to get sick with a kidney stone! Of all things! Long story short, we had to cancel our reservations for the next morning so we were not able to get our kayak tour in. Oh well, we will definitely reschedule that tour.
So now I'm hooked, John and I have done nothing but plan other kayak trips this spring and summer so we will have a few more stories to tell I'm sure!
Things to do while you're in South Shore Lake Tahoe
MUST have a meal at The Getaway Café (I recommend the burger!)
Take a trip on the Tahoe Queen Boat Cruise
Ride the Heavenly Gondola
Hike around Emerald Bay
Things to do while you're in Tomales Bay
Eat at Nicks Cove and Cottages
Stop at Hog Island Oyster Co. and eat some oysters and drink some beer
Visit Pt. Reyes Lighthouse
Things to do while you're in San Francisco
Walk along the Pier and tour the Ferry Building
Walk across the Golden Gate Bridge
Walk to Coit Tower
Things to do while you're visiting the Monterey Peninsula
Eat at RIO Grill in Carmel!!! The BEST grilled artichokes in the world.
Take daily walks on Ocean Avenue Beach
Take the Wine Walk in downtown Carmel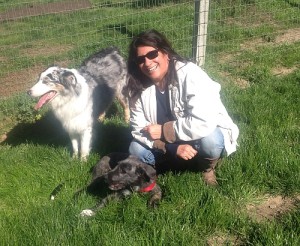 Deanna Baillie is looking forward to many more summer paddling trips with John. Ben, her Australian Shepherd, loves following the road less traveled as well and is looking forward to showing off his new little sister, Reagan, an Irish Wolfhound. "Like" them on the Local Happenings Magazine Facebook Page.