Art, Wine, Music…and pets?
Over the past 15 years, the Pleasant Hill Chamber of Commerce has brought more than 150,000 people to the city to listen to music, sample wines, and enjoy the arts. Many attendees leave with a sculpture or painting, bottle of micro brew, or a CD from a local band.
But starting this year, folks who visit the Pleasant Hill Art, Wine and Music festival on October 7th and 8th can come home with something else: a lifelong friend. That is because this year the festival is teaming up with former Major League Baseball manager Tony La Russa's Animal Rescue Foundation and Contra Costa Animal Services to offer pet adoptions to the public for both days of the festival.
Each year since 2003, the Pleasant Hill Art, Wine and Music Festival has put the small city in the local spotlight. The Pleasant Hill Chamber of Commerce, a tiny organization that relies heavily on local volunteers, organizes the festival. In recent years, crowds totaling 10,000-15,000 have flocked to the two-day event for wining and dining, as well as for a chance to immerse themselves in music and the arts.
"A lot of the same artists come year after year," said Steve Van Dorn, president and CEO of the Pleasant Hill Chamber of Commerce. "They love coming to our events." "We get a good range of art and crafts … It's everything from glass art, to photography, to paintings, candles, tie dye shirts and even statues of bears that are carved out of wood."
The decision to open the festival to pet adoptions made sense as a natural progression for the festival, which has always tried to be animal friendly, according to Van Dorn. Its organizers made the unusual decision years ago to allow attendees to bring their dogs, but this year they will have an entire animal section. In addition to the adoptions, the festival will have animal demonstrations that include a presentation by a local police K9 unit from the Pleasant Hill Police Department.
"I think any successful chamber tries to do events that are focused around five pillars, and one of them is to bring the community together," Van Dorn said. "That's what these events do, they bring people together, including folks from other cities around the Bay Area, and everyone just has a great time."
The festival originated as a fundraising idea, not just for the chamber, but also for local businesses. The Chamber of Commerce is tasked with promoting area business and encouraging folks to come spend money downtown to empower the local community. For years, however, chambers all over the Bay Area have been forced to get creative when it comes to raising money.  The Pleasant Hill Chamber relies heavily on the Wine, Art and Music Festival, though it also holds monthly mixers and regular events, such as July's Blues and Brews Festival (a two-day outdoor concert that was free and open to the public).
"Today as a chamber, it's difficult to survive on membership dollars alone," Van Dorn said. "If we didn't do this event we might not be able to survive as a chamber; it's that crucial to our sustainability."
The festival has moved around over the years, but it settled into a section of downtown Pleasant Hill that is centered on a semi-circle section of Crescent Drive, a short distance from the Century Movie Theater. Throughout both days, there will be live music from local bands, at a stage right next to the popular Jack's Restaurant & Bar. Visitors will be able to browse beautiful work from more than 70 artists who will be stationed at booths, with food and beverage booths interspersed between them.
"We hope to bring revenue into local businesses, and that folks who come out might stay for dinner or visit our stores," Van Dorn said. "That's why we have it downtown, so people can come see what we have to offer throughout the city."
The main attraction is a Saturday night concert that is put on by the popular local group East Bay Mudd (apparently a playful take on the name of the local water agency, East Bay Mud). The nine-member band has been around for 15 years and features a four-piece horn section. They bring a repertoire of classic soul and R&B tunes, and the will play into the night.
"They're very good, and the place really gets going," Van Dorn said. "It's just crazy out there… That's one of the special things we do that's different from most art, beer, and wine festivals."
Folks who are interested in sampling beer and wine flavors will have many options. There will be wine and beer booths throughout the festival, featuring all the usual suspects—national brands like Budweiser—as well as sectioned-off areas for micro-brewed beers and a wine pavilion that is sponsored by Total Wine and More.  Van Dorn said to expect "very high-level wines," and that there will be around a dozen microbrews on tap. The microbrew area will be adjacent to the Kid Zone as well, so "parents can be right there with their kids and have a cold one at the same time," Van Dorn said.
The Kids Zone will feature games and activities like a jump house, ball pit, and a climbing wall, as well as another stage for music and entertainment geared towards a younger audience. And to make it even easier on parents, there will be a number of food trucks right nearby, "so parents don't have to walk all the way across the event to get food for their kids," Van Dorn said. Food trucks are nothing new to Pleasant Hill, which has become a popular off-the-grid destination since 2014.
Despite the expected crowd of 5,000-7,500 per day, do not worry; you will not be circling the block 50 times looking for a place to park. According to Van Dorn, for the duration of the festival, three-hour parking signs in the area will be covered up and longtime parkers will be given amnesty. The parking lot of the nearby Orchard Supply Hardware will also be opened up for festival attendees.
"It's unlimited parking, basically," Steve said. "We don't have problems with parking; it's never come up in our surveys or feedback from the people who come."
Each year, the festival continues to grow and add attractions. "The local community is largely to thank. Those who have come year after year to organize the event and stick around to make sure things go smoothly have made all the difference," Van Dorn said.
"We have a committee of volunteers who do so much work. We could never do it by ourselves. The folks in our community step up and make it happen every year," he continued. "Hopefully we'll have tremendous weather, and everyone who comes to check it out has a great time."
The Pleasant Hill Art, Wine and Music Festival will begin at 10 AM Saturday, October 7 and end at 6 PM. The East Bay Mudd concert on Saturday will kick off at 6:30 PM, and it is expected to continue until around 8:45 PM. On Sunday, the festival will run from 11 AM to 5 PM.  For additional information, call (925) 687-0700 or visit www.pleasanthillchamber.com/pages/ArtWineMusicFestival.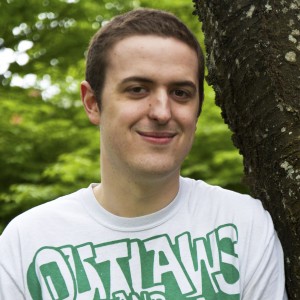 Nate Gartrell grew up in Benicia, studied journalism in college, and has written for a handful of media outlets since age 15. He aspires to visit all 30 Major League Baseball stadiums and to hit the trifecta at the horse track.