When the Clayton Business & Community Association was looking for another fundraising event, member Mary Ann Lawrence came up with a masterful idea: "I thought that an Oktoberfest would be unique to Clayton and would be a great way to embrace the community with a wonderful, fun atmosphere," she said. And she was right! Now in its 12th consecutive year, the Clayton Oktoberfest has become an event that the community looks forward to every Fall.
Averaging 20-25,000 attendees, this event offers plenty of festivities to keep the whole family entertained. Held in downtown Clayton at Main St. and Marsh Creek Road, it starts with a carnival Friday night, with the Oktoberfest officially beginning the following Saturday morning, closes for the evening (of course) and finally ends Sunday night. A large tent in the biergarten can seat up to 550 people at German-style benches, just like those at the traditional Oktoberfest in Germany. "They're identical to those exactly," said Lawrence. Then there's street performers, Bavarian dancers, beer, brats … by the end of the day you might end up crossing Germany off of your destination bucket list as Clayton pretty much offers the next best experience.
Compared to the historic Munich Oktoberfest, Lawrence says, "some people say that they actually like our event better." It's not overly crowded, you can comfortably enjoy all of the festivities, and it's family oriented, as it has been since the beginning, she said. "Kids have always been invited."
There's no "kids area" or "adults area"—it's an equal playing field for the whole family. "The wonderful thing about the biergarten is it's for everyone," said Lawrence. "Parents are in there dancing with their children, everybody is sitting together at those long biergarten tables enjoying the music, raising their stein, holding hands, singing to the music and just having a great time," she said. "It's just a wonderful sight to see."
Another part of the Clayton Oktoberfest tradition is the band: The Internationals will be making their return. "They've been there since year one," said Lawrence. "Their music energizes the crowd, keeps the dance floor full—they're the consummate entertainers. The crowd loves this band." Specializing in "Dance Music from Everywhere," The Internationals are performing in several Oktoberfests this year. They must be kept busy the rest of the year so you might hear them play a hint of their other styles including music from France, Switzerland, Italy, the Netherlands, Czechoslovakia and Yugoslavia. The Internationals are a big draw for the Clayton Oktoberfest—rivaled only by the food and drink.
"We provide a great selection of food including German-style brats and wienerschnitzel, and we serve a selection of Hofbräuhaus beers, hard cider, schnapps and wine," said Lawrence. "We also have a good selection of art vendors."
So the carnival kicks off the event on Friday night from 6-10 p.m. and continues throughout the festival on Saturday and Sunday. "There is a carnival in Munich," said Lawrence. "Initially we thought: wouldn't it be wonderful to have a ferris wheel and a merry-go-round? It's very difficult to get a carnival that small to get into any venue." But they found one! As of about year 3 the carnival has been part of the event. "They bring about 12 rides, plenty of rides for the tots," she said. "Friday evening businesses are full, the kids are just running down the street to get to the carnival. It's so fun."
The festival begins the following morning at 11 a.m. "On Saturday we have a little parade and we have a keg tapping—that's what they do in Munich!" said Lawrence. "We have the mayor tap the keg and we have a little parade with the band playing. A dog pulls a little wagon with a keg inside, we tap the keg … it's a lot of fun." The keg tapping will occur on Saturday at 12:30 p.m., but don't worry, you can purchase beer as early as 11 a.m.—hey, it's 5 o' clock somewhere! And it's Oktoberfest, so no judgment allowed.
Over the last few years they've welcomed the street-performing team known as the Sardine Family Circus. You may have seen them performing on Pier 39, as Lawrence did years ago. "That's where we initially saw them and they're just absolutely fantastic," she said. Who better to entertain than a family of performers at a family event? They've also had jugglers, comedians and other fun characters making an appearance, even Jack Sparrow. This year the Sardine Family Circus may or may not return, at this writing it's too early to tell. What we can tell you is to expect to find the next best Oktoberfest outside of Germany.
"We strive to offer an authentic experience, and that's what people say: that it feels authentic, similar to the Munich Oktoberfest but on a smaller scale," said Lawrence. And having it in Clayton makes it feel even more authentic. "The downtown venue offers a beautiful ambience under Mount Diablo; it just has that Oktoberfest feel. The setting actually adds a lot to the experience of the event."
People do show up in costume and you're certainly encouraged to do so. Start looking around at specialty costume shops or place your order online now so you'll be ready to arrive in your dirndls and lederhosen. Don't know what those are? Let the research begin!
The Clayton Oktoberfest is fully sponsored by the Clayton Business & Community Association. They are staffed predominantly by volunteers and all the money raised at the event goes right back into the community via scholarships, beautification projects in the city, sponsorships for the boy scouts and Meals on Wheels, and much more. The City of Clayton is actually not involved in this event so make sure to give the business association full credit!
"We have free admission, a free shuttle, free onsite handicap transport," she says, but it's not all free! "Patrons will purchase their glasses and [food and drink] tickets." There's also an ATM so there's no excuse not to have the time of your life at this event. Designated drivers are highly recommended. "We will call a taxi for anyone who may need the service."
Tickets for the event are better off being purchased beforehand if you can make it out to any of the following Clayton establishments before 5 p.m. on October 2nd: Ed's Mudville Grill, Hair's the Place, Skipolini's Pizza and The Royal Rooster. Pre-sale tickets are $10 for 20, whereas at the event the cost is $20 for 24 tickets. With each ticket valued at $1, it's definitely worth it to purchase ahead of time and show up ready to indulge.
After 12 years of success Lawrence still looks forward to the event more and more every year. "I just love seeing the community come together and really enjoy themselves," she said. "People are together, young and old, people that don't even know each other, having a good camaraderie … it's a meeting place. And the band is absolutely fantastic; they entertain for the entire weekend and you can hardly get people to leave. Some people come in with their tablecloths, set up and stay there all day long."
As far as planning for the future, Lawrence is pretty content with sustaining the event how it is now. "We might add things to it as we see fit, but in my opinion there's nothing to change."
Honed to perfection after more than a decade of hard work, come join your neighbors at one of the best events of the year. The Friday carnival hours are from 6-10 p.m. and the Oktoberfest lasts from 11 a.m. to 10 p.m. on Saturday, and 11 a.m. to 6 p.m. on Sunday. For more information visit www.ClaytonOktoberfest.com or call (925) 672-2272.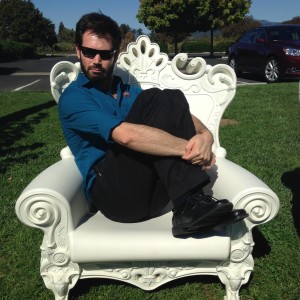 Matt Larson is a writer/actor/comedian native to Vallejo who travels back and forth from Los Angeles way too much.He's desperate for attention and urges you to follow him on all social medias @MarsLegstrong. He lives for likes, please keep him healthy.