Delve into the philosophy and expertise of Farmers Insurance Agent Samuel L. Thompson
Insurance is a powerful thing. It can, quite literally, save your life, and without it you could lose everything. The scariest part of all of it, though, is a good 99% of us have no idea what it is, how it works, and how much of what kind of it we need for this, that and those other things.
"Every day I run across people that don't understand it," said Samuel L. Thompson, California License #0502825 and owner of Farmers Insurance: Samuel Thompson in Benicia. "It's very seldom I meet people that are accurately insured." Once he came across a couple who lived in a $2 million home and had a liability policy that only covered $100-300k. "Could you imagine if you backed into somebody and hurt somebody and were underinsured $1.7 million?" Thompson asked them. "You need an umbrella policy to protect your $2 million investment!"
At 40 years in the game, having gotten his insurance license in 1975, Thompson has quite literally seen it all, and he's had enough experience to be an expert on most all of it as well including insurance policies for homeowners, auto, life, business, campers, trailers, motorcycle, renters, the whole gamut, really.
So, with so many things to consider, what's the most commonly overlooked insurance policy? According to Thompson, it's renter's insurance. Most arguments against it, naturally, are that it's expensive. "Great answer!" would be Thompson's reply. Then he'll ask you: "How do you define expensive?" For most of us, any price at all would suffice as "too expensive" as we're worried enough as is just covering our month-to-month. Thompson explains that if someone called you right now and said your apartment's on fire, Red Cross might put you up in a hotel for maybe 3 nights, or maybe even a week … probably not much more than that. Then you'll have to pay for a hotel out of pocket for who knows how long costing close to a thousand bucks a week…
"It's not expensive at all once you understand," he says, and advises: "Loss of Use is the most important feature on a renter's or homeowner's policy—yes your personal things are important, yes liability's important, but where are you going to live if you have a major fire or water damage to your property and you can't live there? Your landlord can't charge you for a place you can't occupy, but—you're homeless."
This is just one example of Thompson's expertise. Everyone has their own personalized set of insurance needs, which is why Thompson makes a point to meet with his clients and really get to know them on a personal level. "I don't tell people I'm in the insurance business," Thompson boasts. "I tell them I'm in the people business, because it's not about the insurance, it's not about the real estate or whatever—you're dealing with people."
Thompson has consistently focused on his local community throughout his entire career. He started as an insurance agent in 1975, then went on to become a loan agent for most every major bank in San Francisco and the East Bay, and also became the coordinator for the City of Hayward's first-time homebuyer program. Over the years he's become involved with numerous nonprofit organizations and community groups, and throughout all of it he's made sure that insurance was part of the conversation.
"There was always an interest to make sure people's values are protected," said Thompson. Especially as a coordinator for first-time homeowners when he'd conduct workshops and presentations all over the Bay Area. "Although I wasn't doing it as far as an actual licensed agent (despite being one anyway) I still made sure people understood it, and brought agents in to make sure they did get their proper limits when they became homeowners; I never really left the industry at all," he said. And that's because of his concerns for the people. "I want people who work for something to be able to keep it. I find people that have policies and don't understand what they have, or they have it but they're underinsured, and that's scary."
Ultimately destined to be where he is today, Thompson has owned his Farmers Insurance branch in Benicia for the last five and a half years. Having grown up in San Francisco and now a Vallejo resident, with his business in Benicia, Thompson is involved with the Solano Black Chamber, the Vallejo Chamber, is a minister at the Cavalry Baptist Church and Fairfield, and is also part of a meet-up group called The Best of Solano County – Go Getters! "We meet every Monday morning in Benicia," he said. "We have about 35-40 people on average; business owners come in there and I help them grow their business." Really, it's all about giving back to the community.
When deciding where to go for insurance, it's not the company you should look at, but the agent. "There's not a bad insurance company out there, it's about the agent that's serving you," he said. So what sets him apart? "I'll come to you. I'll meet you at Starbucks, Jamba Juice, at your home or office, up to 8 o' clock at night on any given day of the week—we build a personal relationship. That's the difference." It also helps to be passionate. "I love what I do," he said. "It's not work, it's a joy. It's a joy to serve and give back."
Your home, your car, your life, your business—everything needs insurance and in most cases it's required by law. But what if nothing happens and you spent all that money for nothing? Well, it wasn't for nothing. Rest easy knowing that you're protected if something does happen, and choose to believe that your payments are possibly going toward helping someone else who is unexpectedly in need. Think of it as a communal means of security, yay?
If you have any questions at all about your current insurance setup, Thompson is happy to offer a free consultation. He hardly advertises as 99% of his business is referral based, but he supports us here at Local Happenings Magazine, so we're happy to support him just the same. Call him directly at (707) 853-5800 or (707) 751-3800, email at sthompson1@farmersagent.com or visit www.farmersagent.com/sthompson1.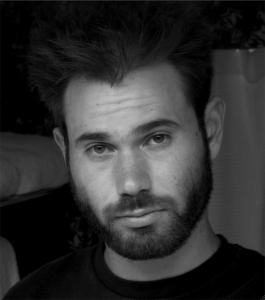 Matt Larson is a writer/actor/comedian native to Vallejo who travels back and forth from Los Angeles way too much. He's desperate for attention and urges you to follow him on all social medias @MarsLegstrong. He lives for likes, please keep him healthy.