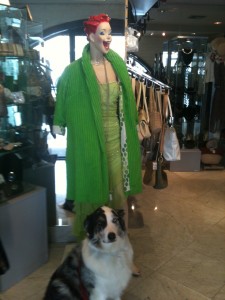 Friday is here again – whew! What a week. I am ready to stop
and breathe and smell the wine. Yesterday was a long day added to Wednesday, so today feels like it should be Saturday already. I am really looking forward to sleeping in tomorrow.
Enough of dreaming of tomorrow today must be conquered. Danville first off.  (Here is Ben posing with the mannequin at Consignit Couture in Downtown Danville.)We are working on an article on Sustainability measures in Danville and how the retail stores are jumping in and getting involved. Ben and I have lots to do and many people to talk to.
Yesterday Ben and I traveled to Danville, Lafayette and ended in Benicia at the Benicia Chamber of Commerce Mixer. We had fun and Ben enjoyed meeting new friends, but today looks like it's going to be even more fun since the rain is back in force! Enough thinking about it, get up, take Ben out, do stretches, feed Ben and here I go . . .