They say Home is where the Hearth is (or something like that). And the hearth, in one form or another, has been the center of the household since Man's earliest use of fire. A fire evokes a feeling of comfort and a seemingly unending fascination, as well as providing warmth.
In these digital days, there is indeed something soothing about watching a fire. But most of us count on soul-less and efficient contrivances for heat. And yet, sitting around the campfire is something that holds a fond place in most people's memory; somehow speaking of a simpler time, watching flames and embers play.
The 'ol wood burner has a long history in America, with the first known wood stove having been constructed of cast iron plates at a foundry in Lynn, Massachusetts in 1642. Even founding father and prolific inventor Benjamin Franklin is known for having developed his own cast iron stove in 1744. Having noted the inefficiency of the fireplaces of the time, which lost most of their generated heat up the chimney, Franklin was motivated to develop the Franklin Stove, a cast iron insert which moved the fire forward and used a baffle to extract more heat from combustion and radiate it into the room before venting the fumes out the chimney. Variations of Franklin's invention are still used to this day.
The intervening years since Benjamin Franklin's time have seen the rise of coal, oil, natural gas, propane and electric forms of heating, but the oil crisis of the 70's spurred a renewed interest in wood burning stoves. And in the 80's, stricter environmental regulation forced innovations that have resulted in the much more efficient designs we see today.
And there is no equal to cooking over a wood fire either with the smoke seasoning the food—the most basic of spices for flavoring a meal.
But of course, one might think that open fires and burning wood on a regular basis are largely a thing of the past, and that air quality concerns have placed the traditional fireplace on the list of simple pleasures headed that won't be known to coming generations. Right? Actually, no, as I learned during a visit to the Buck Factory Outlet.
Guy Fasanaro and his wife Sharon have been in the stove and fireplace business since 1979. They sell and install wood, pellet and gas burning fireplaces and stoves as well as a wide selection of barbecue ranges from their factory showroom at 4860 East 2nd Street in Benicia, California. Almost all their fireplaces (they carry only one "decorative" model) are designed to be highly efficient and clean heating devices. "All our stoves are EPA certified," explained proprietor Guy Fasanaro.
Modern wood and pellet fireplaces and stoves re-burn the gasses given off during the initial combustion, resulting in a significant decrease in the level of particulate emissions. They are also highly efficient in producing heat; "furnace rated" is the term applied to these efficient burners. "I've never had a customer come back to me who didn't see a savings in their heating bill," says Fasonaro, who continues to explain that the efficiency of a modern wood or pellet burner is, "comparable or better than a furnace," The heat is radiated directly so there is not the loss one sees in central type heating as air travels through venting, or the considerably higher expense of electric heating. And while there are spare the air or "no burn" days as Guy calls them, the overall usefulness of a wood stove should not be underestimated, not to mention the beauty and enjoyment to be had.
The business, started by Guy's father was originally an exclusive distributor for Buck Stoves of North Carolina (it gets cold up in there in the winter) and grew to an operation employing 45 workers with branches all over California. Today, in addition to Buck products, Fasonaro sells a wide range of brands including Hearth Stone from Vermont, a number of brands from Canada such as Napoleon, Regency, Montigo and others from chilly regions such as Minnesota and Norway. They also carry a full range of high-end barbecue grills and accessories. The current operation has five employees and is focused on personal attention and service rather than distribution. Fasonaro, who has held a contractor's license since 1984, personally oversees every stove or fireplace installation. When I ask Sharon Fasonaro how many stoves or fireplaces they have at home she replies: two. "We live on twenty acres with lots of trees, so there's lots of wood," says Guy, with Sharon adding, "We do have an electric furnace, but we never use it." Now that's a testimonial!
Site evaluations for stove or fireplace installation are free at Buck, with Guy generally coming out to evaluate the site himself. Prices, including installation, run on average $2,700 to $44,00 for fireplace inserts, $2700 at the low end to $20,000 or more for a really big and extravagant fireplace and between $3,500 and $6,000 for a wood-burning stove. Not cheap, but not absurd at all considering the years of use one gets in addition to the potential for savings and a possible hedge against the instability of the fossil fuel market.
And while the Buck Factory Outlet provides a wide range of traditional wood, pellet and gas stoves and fireplaces, there are more modern-styled options available. One of the recent trends in gas-fired units is the use of a lot of glass, a linear flame layout and even mirrored fireplace inserts with colored glass bits rather than logs. My first reaction upon seeing one of these units was to announce, "Vegas baby, Vegas!" which the Fasonaros seemed to find mildly amusing. Oh, and all the gas units come with remote controls, which sort of seems like cheating, but then again, there is something to be said about convenience. Yup. Whether you're a traditionalist or a hip and swingin' groovemeister, there is probably a fireplace fit for your pad at Buck. I wonder what Ben Franklin would go for if he dropped in on us today—I bet he would like the ultra-modern stuff and the remote! We all know Ben was a bit of a wild swinger for his day, not to mention a nudist (naturist in the vernacular) who took daily naked "air baths" … I guess nudity is, after all, the mother of (fireplace) invention! Shocking! If you do visit the Buck Factory outlet, I suggest keeping your shirt on.
If you already have a stove or fireplace, Buck also has an extensive range of accessories such as fireplace tools, screens, andirons and nifty stove top humidifiers in the form of critters which you fill with water and put on the stove to add moisture to the air. The dragon model is neat because he puffs steam out of his nostrils! Repairs are also welcome.
If you do crave a little flame and heat in your life, drop in on Guy and Sharon Fasonaro. They are easy to talk to, no high pressure pitch and over 30 years of experience. Add to that the emphasis on personal service in a family run business, and it's clearly an excellent choice. I'm pretty confident you won't get burned!
The Buck Factory outlet is open Tuesday through Friday from 10-5 and Saturday 11-4. They can be reached by phone at (707) 745-5933 or visit online: www.calcomfort.com.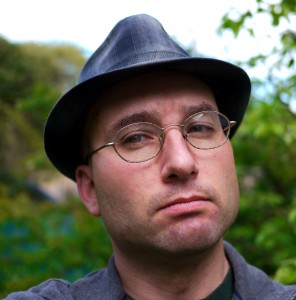 Marc Garman – is a videographer, writer and tinkerer who lives in Vallejo, CA and can't get enough outdoor fun.