Planning on redoing your house? Want to spruce up a room or two? Maybe you just want to make your home seem a bit uncluttered and more open? Maybe you have been watching the DIY (Do It Yourself) channel and pouring over home design magazines and it is just not coming together? Does it all just seem a bit overwhelming? Are you starting to question if you are in fact a DIY'er or you need a professional to step in?
Who to hire though?
Can you see some of their work in an actual home?
How can you find the time to meet with them all though…especially since you can barely find time to read a designer magazine?
Hard questions and challenging problems faced by many a homeowner who is overwhelmed in trying to find their own style. Well we offer a possible solution to our readers…the 37th Annual San Francisco Decorator Showcase.
Imagine, if you will, 24 interior and 4 exterior designers culled from over 60 of the best design firms the San Francisco Bay Area has to offer, all working to redo one of the most beautiful homes in the Presidio Heights neighborhood. Well, imagine no more because starting on April 26 until May 26th, 2014, you will have the opportunity to experience just that. Each year, the San Francisco Decorator Showcase brings together this home improvement talent to showcase it against some of the most fabulous homes you can imagine. This year will be no different. These 28 design firms will meticulously redefine traditional and modern in a 9,000 sq. ft., 3-story home on the southern border of the Presidio at 3660 Jackson St. By the time they open they would have been working on their designs for almost 3 months and it will be a sight to behold.
The house itself is already a work of art. Originally built in 1907, the year after the great San Francisco earthquake, for local Attorney Alfred Sutro and his wife Rose. The home sits on a 14,091 sq. ft. parcel and its northern view is that of the Presidio and the San Francisco Bay. The designers will not have to work hard to bring out the best of this gem that already features a wood-paneled library, formal wine cellar, open gourmet kitchen and a three-story staircase. That will be their challenge though, to add a modern twist to the traditional space of this grand estate that dates back over a hundred years. Visitors will have the opportunity to immerse themselves in this grand masterpiece of home decor and to discover ideas and designers that they might use in their own home.
The San Francisco Decorator Showcase has been taking place since 1977, so this will be their 37th annual production. It was a bit more challenging this year securing the home that they will be using and, in fact, they did not get the firm commitment until mid-January. This delay in finding the home put the event in jeopardy and they were contemplating not holding it. The challenge in finding a home is that the designers are going to make a great deal of changes it with limited input from the owners. The home is also essentially taken over during this process so the homeowners have to move out if they are currently living there – or face a very cramped lifestyle. Often times the home they use is getting ready to be sold or has been recently purchased – which is the case in this home. The number of homes that could be used for this in San Francisco is a very finite amount to start with. When you consider that home needs to be emptied out for several months for this process to occur one realizes how quickly the number of available homes dwindle. Nevertheless, it is a unique experience to not only spend time in a home like this, but also to see these many designers in one location as well.
Once the house was finally secured, the team scrambled to assemble the cast of designers to participate in this year's event. Designers compete to participate by first looking at the home then submitting preliminary design sketches for the room(s) they would like to be considered for. Once all those preliminary "bids" have been submitted, the design board reviews them and they then select the best candidates to help bring the overall theme for the home to life – the 2014 theme is Traditional with a twist of Modern. Once selected, the designers start to bring their design ideas to life. Keep in mind that the designs, NOT the homeowners or the San Francisco Decorator Showcase organization, pays for the transformation. In limited cases a sponsor will help to cover the cost of a particular room like the kitchen or the bath or if the homeowner was planning on doing some of the upgrades they might contribute a budget for the designer to work with but for the most part they are on their own. The cost can be enormous and vary wildly depending on the size and type of space. Typically the designer's cost would be in the 10's of thousands but it can also be well into the 100's as well. This event then is a significant investment for them and they spend quite a bit of time and energy, as well as money, in transforming their space for your inspection. With the 24 interior and 4 exterior designers working on this years project not only will you be looking at a multi-million dollar home, but it will include multi-millions of dollars in design work and furnishings as well.
All this work is also a fundraising benefit for the San Francisco University High School scholarship program. The high school is located right down the street from this year's home at 3065 Jackson St. and the organizers are hoping that they will be able to raise as much, if not more, than they did last year – $620,000 to be exact. In addition to entrance fee charged, the school raises money by holding a silent auction of the numerous items contributed by generous donors. Attendees of the event will be able to bid on all of the items which range in value and interest, such as Giants or 49ers tickets, tennis lessons, furniture or art pieces, so the items are not just for your home. The event kicks off with a party for the sponsors on April 24th and one for the Designers on the 25th at the home. Tickets are available for these exclusive events via their website: http://decoratorshowcase.org/. The home tours will take place Thursday through Sunday beginning on April 26th until May 26th. The home is also available for private parties Monday through Thursday for those wishing to entertain in style. Tickets for the tour are $35 and $30 for Students and Seniors. So, take a day and discover how to design with a multi-million dollar budget and perhaps take away an idea or two on how to make your home look like a million dollars as well.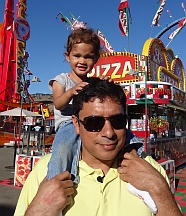 Robert Briseño – When he is not busy picking up toys that have been discarded by his three young children he dreams of having a home that looks like it was decorated by a designer.