Hollywood Photographer in Vallejo
By James Quinn
Did you know that there is a professional photography studio in Vallejo? Tucked in Vallejo's Glen Cove, Serenity Lawrence Studios, LLC is a hidden gem that I certainly had no idea about until I recently learned about it from its owner, Jean-Joel Lawrence-Holzman and his wife, Serenity Holzman.
After Lawrence-Holzman showed me samples of his beautiful, high-quality work, and learning that it is affordable, I clearly see that Serenity Lawrence Studios is definitely the place to go for any professional photographs. Lawrence-Holzman and Serenity Holzman can make women look like pin-up models from a completely different decade! Their website sums it up nicely: "Serenity Lawrence Studios transforms everyday women into gorgeous pin-ups!" While the photo studio specializes in glamour and pin-up photography, they also do a myriad of different photographs: family portraits, special holiday shoots like for Halloween and Christmas, couple's shoots, headshots, and so forth.
Lawrence-Holzman has quite the resume, having been in the industry for more than 40 years, "working with both Hollywood celebrities and beautiful women," his website says. Lawrence-Holzman was a celebrity still photographer for 13 years, which is where he received most of his training. Not only that, but Lawrence-Holzman is well traveled and helped produce documentaries on extinct species of primates—and that is just some of the amazing experience Lawrence-Holzman has.
As such, I just had to know how he and his wife chose Vallejo to bring their expertise and business. "Why did we pick Vallejo? We picked Vallejo because we like Vallejo; we wouldn't have bought a house here to start with if we didn't have a feeling for the city," Lawrence-Holzman said. "The photo studio could've been anywhere, but we've lived in Vallejo."
Between Lawrence-Holzman's photo studio and his wife's boutique (Boutique Classique in downtown Vallejo), the couple help keep Vallejo's business community strong by not being a part of a corporate chain, and by working with other local businesses and Vallejo's Downtown Merchants Committee (i.e., they are both a part of it). You can read more about that in the Boutique Classique article!
What is more, Serenity Lawrence Studios and Boutique Classique complement each other well: the photography studio does the glamour and pin-up photography (e.g. themed photography from the 1920s through the 50's), while the boutique sells the women's modern vintage clothing to go with it. Lawrence-Holzman opened his studio up in Glen Cove in 2012 whereas Boutique Classique recently opened in downtown Vallejo in 2015. "Once we got the photo studio and started to shoot this stuff, we wanted to have more wardrobe available to us," Lawrence-Holzman said. "And we figured we would be able to accommodate that by opening a women's clothing boutique, so that if we wanted to do a photoshoot—they needed clothing or vice-versa—they would have it. It's all tied together."
In addition to glamour and pin-up photography, the studio includes other services. Their website elaborates, "Our other services include studio and darkroom rental, styling assistant and photographic printing on site, wardrobe and makeup room, as well as a wide variety of props/furniture for rental and use."
Holzman has amazing sets. You can see some samples shown in the high-quality photographs used in this article, as they are all samples of his work. Although they can slightly change their sets, even doing custom sets for the right price, Lawrence-Holzman told me that they use established sets that they usually keep for a while. They currently have a really fancy chaise lounge boudoir set, which you can see some of it in the photograph with the long couch.
Within their sets, the studio provides many props. Some of these props are authentic artifacts (antiques of things you would find at an old military hospital). All of this really helps add to the environment—ultimately bringing the picture to life to make you feel like you are looking at something from that decade.
Most of Serenity Lawrence Studios' business comes from recommendations. Since it is not in a central location like downtown, the studio does not get foot traffic. "I am not in a commercial area; I'm down in the Glen Cove Marina," Lawrence-Holzman said. "So it's been a little tough that way. It's quiet and peaceful down there, but it's not where people can see it." Boutique Classique, however, is downtown and helps the studio by informing people of it, as the two businesses work in tandem. Both Serenity Lawrence Studios and Boutique Classique plan to eventually move into a bigger building that will better combine the two businesses in Downtown Vallejo. Lawrence-Holzman said, "That way if someone just comes in and wants to buy a dress and do a shooting, they could do everything at once."
Serenity Lawrence Studios is located at 150 Glen Cove Marina Rd #100. Just before you get to the Glen Cove Marina, go down Glen Cove Parkway and to the left is Glen Cove Marina Rd.
Basic photo shoots start at $150 with high-resolution images on a personalized CD. For additional information (pricing, sets, appointments, etc.) and booking, visit www.serenitylawrencestudios.com, or call (510) 978-2831. Follow the studio on Facebook @SerenityLawrenceStudiosLLC. Jean-Joel Lawrence-Holzman took all pictures used in this article.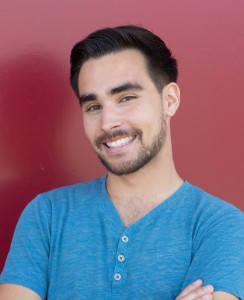 James Quinn lives in Benicia and teaches at Elmer Cave Language Academy in Vallejo. A UC Davis alumnus in English, he now studies education as part of Touro University's Master's in Education program. Along with teaching, he tutors and writes often. He is working on a novel that takes place in Benicia. See his website at mrquinnj.weebly.com.