They say that public speaking is the number one fear among human beings. All eyes on you, putting yourself out there in front of judgmental strangers who are eager to tweet unauthorized reviews about you to the world … probably not, but it's a rational thought when experiencing stage fright before a public performance. In reality, most everyone wants to see you succeed and do well, yet people are still afraid to put themselves in the spotlight. Interestingly enough, however, very few people are afraid to pay and watch someone else do it. And if public speaking is the number one fear … what about public singing?
Many of us are actually very capable singers but don't even know it. Nerves often block the freedom to release our vocal talents to the world, subjecting them to the privacy of our car or shower doors, never to be heard by the outside world. Even some of the most impressive singers on talent shows like American Idol and America's Got Talent are terrified to sing in public (albeit their public consists of millions and millions of viewers). The point is, sometimes you've got to step out of your comfort zone to realize your true potential. If you live near the Napa/Solano area, you can put that potential to the test and audition for Sing Napa Valley!, a community-based vocal choir that's open to absolutely anyone who wants to sing their heart out.
If performance isn't your thing, then you can still feel that same thrill, vicariously, by watching someone else put his or her reputation on the line. Sure you can scroll through YouTube or Vine to listen to some gifted up-and-comers, but what about supporting talented members of your own community that have rehearsed a show just for you? That's what Sing Napa Valley! has been doing for more than 50 years.
Jan Lanterman has been the Artistic Director for Sing Napa Valley! (formerly Napa Valley Chorale) since 1984. "We've done some exciting, wonderful things," she said. "It keeps me very interested … and busy." They just got done celebrating their 50th anniversary last year, which included a performance of Messiah in collaboration with Symphony Napa Valley that provided an interactive experience for the audience. "We did a sing-a-long of the 'Hallelujah' chorus," said Lanterman. "The choir actually went out into the audience and sang with them. People seemed to enjoy that a lot."
Sing Napa Valley! is a nomadic choral group with no true place to call home except, of course, for the greater Napa community as a whole. They perform in a variety of venues including several different churches throughout the Valley, The Lincoln Theater in Yountville, the school district auditorium, neighboring cities such as St. Helena and Vallejo, as well as Jamieson Ranch in American Canyon.
When the group is called, they often respond. They do stay pretty local, which is quite fitting as it's comprised of members of the community, it's here for the community and should therefore be enjoyed by the community as well. But don't let the word "community" fool you when it comes to having a quality experience at one of their shows. "We strive for a very high level of performance," said Lanterman. "We try to do a wide variety of music, we don't just do classical; we've done some jazz, pop, spirituals, a cappella, sometimes we are able to hire an orchestra."
Currently Sing Napa Valley! has about 50 active members. Over the years the group has never gotten too big to where Lanterman has had to put a cap on how many people can perform, probably because she'd never be able to turn someone away. "When people are qualified and really want to sing, I really want to give them a good place to sing," she said. When it comes to Sing Napa Valley!, the more is quite literally the merrier.
The process of teaching 50 people to sing the same song in unison at varying harmonies and equal volume may seem like an impossible task to some, but Lanterman's been perfecting that process for the last 30 years with the choir. "We introduce new music to the choir as a whole, then they go home and actually learn the music on their own, so that when they come to rehearsal we're able to actually practice and make music, rather than just learning notes," she said. Such a practice makes for a very efficient learning process. It only takes the group about 8-10 weeks of rehearsal to get a new piece ready to perform before an audience. "Some of that music is ready very early and some of it we're working on until the very end," she explained. "The task at the rehearsal is getting them to do it all together and when they finally do—it's wonderful."
After a summertime hiatus, Sing Napa Valley! has a lot planned for the latter half of their 51st season.
In August look for Salon X: The Unknown Factor, scheduled for August 10th at 3 p.m. at Huether Studio in Napa. It's a show they're doing with only about 20 singers from the group. "We're going to do a variety of things, from solos to duets, dramatic reading, poetry—it supports the local artists' studio," said Lanterman. "We try to do a variety of music and experience so that, as an audience member, you don't just go to a concert to sit, watch and listen." If you're curious as to what that means, you'll just have to attend the show to find out.
"We are also doing a program in October that we're loosely calling 'Americana'," said Lanterman. "Everything will be based in styles that are typically American: folk songs to patriotic songs, American composers, it's going to be pretty eclectic." Sing Napa Valley! doesn't stick to any one particular style or genre and are open to whatever musical influences interest them at the time. "We just did a performance of rock n' roll music at Silo's in Napa," she said. "The whole second half being music from the Grateful Dead/Jerry Garcia songbook. It was very fun. We packed the house!" That performance only consisted of 10 of their singers, along with a band.
At this point, some of you may be wondering how to join. "It's open to anyone but we do have auditions," said Lanterman. "It's intergenerational. We have some high school students, some senior citizens and everything in between." Even her granddaughter who, yes, also had to audition for the group. "We put her through a pretty rigorous audition!" she laughed. But in all seriousness, "We do try to keep the auditions as low pressure as possible."
To audition you will be asked to simply sing a song of your choice. Even muttering a few notes of the "Happy Birthday" song or "My Country 'Tis of Thee" would qualify. "I always ask that it be something they know very well and feel very comfortable singing," Lanterman said. "Then I ask them to sing some vocal exercises so that I can determine range—how high and low they sing." The whole process takes about 10 minutes. If things go well, you could be singing with Sing Napa Valley! in no time.
You never quite know what to expect when attending a Sing Napa Valley! performance, except for one thing: "You're going to have a fine musical experience," said Lanterman. "And that actually happens for the singers as well as for the audience. We love to sing and we love to have people in our audience." So come on out to a performance and see what your talented friends and neighbors are up to.
Keep updated with Sing Napa Valley! at their website: www.singnapavalley.org. Or give them a call at (707) 341-6790. Support your local talent and engage yourself in a community event that's rewarding for everyone involved.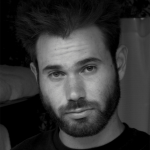 Native to Vallejo, Matt Larson is living in Greater LA to pursue all that is good in the entertainment world. Support his career and follow him on Twitter @mattnstuff.