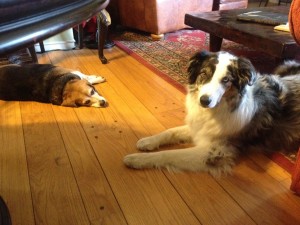 It wasn't until I started this blog that I realized I missed April Fool's Day! How did I do that? I never miss that day, it holds special meaning to me. Oh well! New meanings and memories I guess.
Today we are finishing up the April/May issue of the magazine and starting on three new projects. Does the workload ever stop? Yes, it does, today. (Ben and Boo Boo, our neighbor, never left my side!)
Baseball season has started and I am so looking forward to this season. The season for me does not start until we have our home opener on Friday. I still don't understand how we can be the 2012 World Series Champions and we don't open our season at home for 2013. Can anyone answer that for me?
Stretches and forget the meditation since I am on deadline, feed and long walk with Ben, and back to the computer. . .