Solano College expands their autotech training program for a job market in high demand
It has become pretty rare these days to end up working in the field you studied in college. For example, Dexter Holland has a master's degree in molecular biology, yet he ended up as the lead singer for The Offspring! See, anything can happen.
Believe it or not, there are still certain academic pathways that can lead to a good chance of finding employment in your field of study. For many reasons (which we'll get to below), the auto industry is hiring, and Solano Community College's Automotive Technician Training Program can provide you with everything you need to get there. At just a few years in, this program isn't entirely brand new for Solano College, but construction for its new Autotechnology Building at Turner & Ascot parkways in Vallejo just broke ground in August. Here's a look into why this training program has become so popular.
"Usually students can have a job before, or by the time they graduate," said Rick Marshall, Professor of Automotive Technologies at Solano College. "In the industry there's such demand. I got two more companies this week that want technicians if we have 'em. The jobs are out there! It's a great time to be an automotive technician."
Why is that? Well … you may have noticed this trend toward greener, cleaner, electric and hybrid vehicles. They're all relatively new, but it's getting to the point now where a lot of these cars of the future are being taken to local mechanics, rather than dealerships. Many mechanics, especially those who have been in the game for decades, are suddenly finding themselves unqualified to work on these next-gen vehicles.
"Most new cars are worked on with a laptop and a digital multimeter—those are the two main tools you're using all day," said Marshall. "I'd say I use the laptop sometimes 70 percent of my day." A lot of the old-school mechanics either haven't taken that technological leap, or simply can't handle the transition into the digital era. That's where you, the millennial, come in.
Curriculum found in Solano College's automotive path is much more technologically based. Garages/classrooms are fully stocked with factory scanners, laptops, and programming computers, allowing students to have the ability to communicate with all different lines of cars. "It's the same as if you went to a Ford garage, Toyota, Honda, GM, Nissan … we have the same tools the factory does," said Marshall. "So when our students get a job, they kind of know how to use this and navigate around, and actually repair the cars!"
In addition to teaching at Solano, Marshall is actually still actively working in the field. His 33 years of experience include 18 years as the Master Elite Technician for General Motors, and he is currently a Master Technician for Honda. The automotive field is constantly evolving, so by teaching college courses and working in the field simultaneously, Marshall remains constantly on the cutting edge. "It keeps you updated," he said. "It's going to be harder and harder to stay on top of the game if I just teach full-time." And that's win-win as the students are kept up to date as a result.
Now you may be wondering, what sort of jobs can you get after finishing the automotive program at Solano College? Well, just like most fields, you're going to have to start with the basics and work your way up. Usually, you'd start working as an express tech, which entails changing oil, tires, servicing cars, handling airbag recalls, and so on. "You'll have to go in and show that you can perform the natural duties—dealing with customers, the atmosphere of the shop, repairing a car properly—you gotta prove yourself. Then, if you're trained, you can move up fast," said Marshall. And as we said before, Solano College can provide you with everything you need. "Once you get your certification, we have an alternative fuel class which covers natural gas, hybrid, full-electric, and diesel. That can get you a lot farther because a lot of places don't have anybody that will touch vehicles like that."
Being an auto mechanic can be a very fulfilling job. It sure has been for Marshall these past 33 years. He enjoys working with his hands, and even on the computers you're still taking things apart and putting them back together, but the most important aspect is really the nature of the ever-changing industry. "Some jobs become stagnant and you just repeat an operation. In the automotive field, you don't even get six months without having to start thinking things have changed," he said. "Everyday you may have a different problem, every year a new model comes out and technology has changed. You have to keep updated so your mind has to stay sharp and fresh."
Speaking of sharp and fresh, we've hardly said anything about this amazing new 30,000 sq. ft. Autotechnology Building! It's designed to make the college's awesome training program even more so, and it is scheduled to be open for classes by Fall 2017. Currently the class meets at the old Wilson-Cornelius Ford dealership in Vallejo, where they have 38 cars available for students to work on. Eight of those are alternative fuel cars, the rest are standard cars made between 1996-2014, generally the type of cars the students would be seeing at the workplace.
The Automotive Technician Training Program currently has about 165 students (40 of which are already working in the field, by the way). The new building will offer some more room to have more classes for more students. There are times when they have 40 students wanting to get into a class but capacity is 24, so they have to wait another semester. They're also planning to offer more classes that are designed to keep auto trainers from other colleges up to date—which is actually how the program started as a Train the Trainer sorta thing. In its earliest days the program was only 25 students and class was held at Armijo High School in Fairfield. In just a couple years, things sure have evolved for the better. Fun fact: this new building is a direct result of local residents voting in favor of 2012's Measure Q, so this major upgrade is an accomplishment that is shared with the community.
Local dealerships have been getting very involved with this program in a number of ways, including offering internships and looking for employees. Currently Solano College is partnering, in some way, with Team Superstores, Avery Greene Honda, Kastner Honda in Napa, Ford in Napa, Nissan of Vacaville, Nissan of Fairfield, Momentum in Vallejo, BMW and MINI of San Francisco, and they're already in talks with Faraday Future, the new electric car startup that has been given the go-ahead by Vallejo to bring its second factory to Mare Island. Did we mention now was a great time to get involved with this program?
Perhaps the best thing of all, is that if you decide the automotive field isn't for you but fear it's too late, the Automotive Technician Training Program at Solano College also results in an Associate's Degree, making a transition to pursue a university Bachelor's Degree—in most any field—much easier. Plus, tuition for this Associate's/Auto Training degree is just under $1,400 a year for a full-time student. You can look around all you want, you won't find a better deal. Most other private training facilities can cost up to the tens of thousands.
Starting pay for an entry level job in the industry probably won't surprise you, but one of Marshall's former students recently jumped from $12-$24/hr in just one year after proving himself on the job. "This is a program that's training people for high-quality, middle-class jobs," said Curt Johnston, Executive Director of the Solano Community College Educational Foundation. "This is not training people for minimum-wage jobs. It's a great career path, and they'll come out of Solano College without debt, which is pretty significant."
If you have any doubts, take a class! No pressure. Check it out, see what you think. If you like it, sign up for more. "Do what you enjoy," says Marshall. "You're not going to get rich being an auto mechanic. I make a good living! I enjoy when I go to work and I enjoy what I do. To me, that's more important than a lot of money. I want to enjoy my life."
Worst-case scenario—you finish the program and then change your mind, and now you've got some awesome insight into automotive technology so you're not completely in the dark when you take your car to the shop. It's a great way to spend your first two years of college no matter which field you plan to pursue. If you'd like to consider getting enrolled, visit solano.edu.
---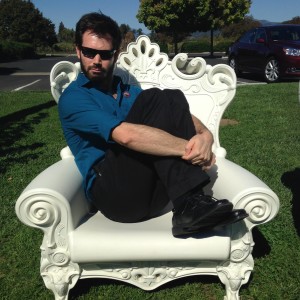 Matt Larson is a writer/actor/comedian native to Vallejo who travels back and forth from Los Angeles way too much. He's desperate for attention and urges you to follow him on all social medias @MarsLegstrong. He lives for likes, please keep him healthy!