More than 100 films to be showcased at the 6th Annual Napa Valley Film Festival this November
Remakes and sequels are plentiful in the movie theaters, leading us to think, is Hollywood out of ideas? Not even, they're just playing it safe. But for many jaded moviegoers it's all starting to feel much more like a business show, rather than a show business.
This isn't always the case, however. Films like Swiss Army Man, Sausage Party and Kubo and the Two Strings prove that there is still plenty of space left to explore new ideas in our cinematic universe. In fact, countless filmmakers are doing just that, every day, all over the world! But we rarely see what they've done as their films generally don't make it to theaters and are sometimes never even released online. More often than not, your only chance to see some of these passion-project masterpieces is to attend a local film festival.\
"We want people to discover these small films," says Brenda Lhormer, Co-Founder/Co-Director of the Napa Valley Film Festival held this November 9th-13th. "We want people to come and meet these working filmmakers and see a film that they would probably never see any other way at any other time." And seeing films in unique ways is what the Napa Valley Film Festival is all about.
Of the 13 different screening venues across the four walkable film-festival villages (in Napa, Yountville, St. Helena and Calistoga), only one—the Cameo Cinema in St. Helena—is an actual movie theater. "Everyplace else we turned into a movie theater," says Lhormer. "This year we added Charles Krug and Freemark Abbey wineries—they are now literally screening venues where people can go to watch a film and drink wine," she says. You'll find a lot of unique viewing opportunities at the Napa Valley Film Festival, she says. "Where else can you be watching a film in an airplane hangar in a field listening to filmmakers talking about how they made the film and hearing from the actors all while you're drinking an amazing glass of wine?"
Food and wine will be abundant at the festival, as will be everything else: 120+ films, 300 filmmakers, 150 wineries and 30 chefs will be entertaining and enlightening guests in four different regions throughout the Napa Valley. Each of the aforementioned towns will have its own box office, multiple screening venues, a wine pavilion or wine stroll, and plenty of perks for the pass holders. Plus, culinary demonstrations and special events (and private parties) galore.
"We are growing leaps and bounds in terms of attendance," says Lhormer. "As we become a more well-known festival, more and more people are participating in one way, shape or form, which is absolutely what we want." Napa Valley is already an international tourist destination, so hotel accommodations are fortunately not a concern for the festival. But despite expecting around 48,000 total attendants this year, Lhormer is well aware that there still remains huge potential for even more growth. "We could handle a lot more," she says. "So we're hoping that word gets out. When you don't have a big marketing budget, and you're a nonprofit like we are, you have to rely on word of mouth, PR, and just hope the word spreads organically! That's what we're trying to do."
Even though this year is only the 6th Annual Napa Valley Film Festival, they've been able to attract some of the best names in the business to come and represent their films. Of course, the actors' schedules are ever changing, so it's difficult to guarantee that certain familiar faces will be present. But this year possible celebrity attendees include Jessica Biel, Katie Holmes, Julia Louis-Dreyfus and Aaron Eckhart, to name a few. They've also announced that actress Chloe Grace Moretz will be receiving a very special Celebrity Tribute.
"We've got an unbelievable film lineup this year," says Lhormer. And you may be surprised to find some of your favorite actors in many of these films. "We probably have seen the most well-known actors in the smaller movies than we've ever seen before," she says. "It shows you that you've got a lot of actors who are spending their time and their talent on these independent films when they're not doing big studio stuff, so that's really fun to see."
Film categories include narrative features and shorts, documentary features and shorts, short features, special presentations, and The Lounge, which is a venue in Downtown Napa that is reserved for films that are a bit quirkier or more adventurous, lower budget maybe but still very entertaining, so they get their very own venue! Lhormer wants filmmakers of all levels to feel comfortable submitting their work to the festival, and not to be intimidated. "We're looking for a good story," she says. "We have films in the festival where the production values are not super high, but the story is really good, it's well told, it's well acted … if somebody doesn't have a big budget, it's very hard, but if the story's great then it has a shot! We do watch everything. At least, some of everything."
More than 1,000 films were submitted for the festival this year. Lhormer credits the festival's program manager, Whitney Haskins, for creating an effective system utilizing volunteer screening committees that help with the first approval round for the films. "Some members came through, wrote reviews and were thoughtful, others kind of dropped off the face of the earth when they realized how hard it is to watch so many films. Most of which were … not good," she explains. Ultimately it's up to Lhormer and her husband Marc, who is the other Co-Founder/Executive & Artistic Director of the festival, to decide which films make the cut. "It's quite a challenging process," she says. "It's not fun. It's only fun when you discover those gems that you end up programming, and then once you start the scheduling process it becomes a blast!" So it's very worth it in the end.
You'll also find some sneak previews of carefully selected major motion pictures at the Napa Valley Film Festival. They've confirmed screenings for Lion, with Nicole Kidman and Dev Patel, in which a young boy from India becomes adopted by an Australian couple and years later sets out to find his long-lost family, Bleed For This, featuring Miles Teller and Aaron Eckhart in the true story about a famous boxer who fights to make a comeback after a near-fatal car crash, The Founder, starring Michael Keaton as McDonald's founder Ray Kroc, and many more. And, even though it's been in theaters a bit, Mr. Church showcases Eddie Murphy in a dramatic role that could very well be a turning point in his career. Despite all these exciting films, Lhormer reminds us, "All the smaller independent films are the heart and soul of the film program." There is certainly much to look forward to this November.
Special events at the Napa Valley Film Festival are about as impressive as the films themselves. Opt into their Patron Circle and you'll encounter "The Essential VIP Experience" at the festival. On Friday, for example, about 600 VIPs will be attending exclusive winemakers' dinners at 24 winery estates throughout the valley, simultaneously. Saturday after the awards ceremony is the festival gala, referred to by Lhormer as "the party of the year" with 30 chefs and 30 wineries participating to serve 2,000 guests.
Regardless of your expectation you are sure to be amazed at the Napa Valley Film Festival. Watch some films, drink some wine, have a good time. "I want people to come and go 'Wow. I was in this really cool barrel room at a winery, drinking this amazing glass of wine and I got a chance to see this incredible film that I've never even heard of and then hear from the filmmaker and I loved it," says Lhormer. "That's what I want to happen."
So make it happen! November 9-13, 2016. Get your passes now and also lock in your VIP status at napavalleyfilmfest.org. For more details, email services@nvff.org.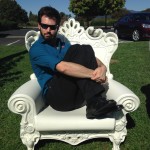 Larson is a writer/actor/comedian native to Vallejo who travels back and forth from Los Angeles way too much. He's desperate for attention and urges you to follow him on all social medias @MarsLegstrong. He lives for likes, please keep him healt