California's record-breaking fair continues on to its 141st year
Solano County comes together once again this year for the 141st Dixon May Fair, the oldest continuously running district fair and fairgrounds in the State of California. It's been around 140 years, which is quite the achievement. For some of us, the Dixon May Fair is a familial tradition going back over generations, for others it could be the start of just that. This year will provide that same welcoming atmosphere that we're used to, complete with live entertainment, livestock, carnival rides, and plenty of pleasant surprises along the way.
One thing that has remained constant over the past 140 years is the agricultural aspect of the fair. "That is something that we never want to change," said Patricia Conklin, Chief Executive Officer of the 36th District Agricultural Association, the organization that produces the Dixon May Fair. As they focus on an agricultural theme ever year, this year's fair is titled "Buzzing With Excitement" highlighting the importance of bee populations to agriculture. Last year the focus was on nuts, this year the bees are the buzz.
Agriculture is a big deal not just in Dixon, but in Solano County and California as a whole. "It's what makes the state great," said Conklin. "We have so many more options of what we can grow in California than in other states, we feed so many people—it's just part of our job. That's how we started, to promote agriculture, and we continue that tradition today." That's really the purpose of the Dixon May Fair, and fairs in general, which is to represent primary aspects of the local community.
"Fairs are a piece of Americana," says Conklin. "You can go to a fair anywhere in the state and find out what makes their community tick." The showcases you'll find, even the entertainment options they've chosen, all reflect upon the core personality of a given community. Some of the main attractions at the Dixon May Fair include live entertainment, exhibits, livestock shows, hog-calling contests, adult goat showmanship, a Bull & Bronc Ride event on Friday, a Truck & Tractor Pull on Saturday, even a Truck Demolition Derby on Sunday! "Demolition Derby has been here a long time and it's always popular; always sells out," said Conklin. "Bull & Bronc Ride and Truck & Tractor Pull both sell out now before opening day. People really like them." With this in mind, might want to start planning ahead now. Note: these "Grandstand Events" are not included in the price of fair admission … more on that later.
Something to look forward to this year is the first Dixon May Fair Battle of the Bands competition since 1977. "We're bringing something back that hasn't been here for 40 years," said Conklin. "What better way to showcase the talent of the community than by having a competition with bands? We hope it's going to be big." It could certainly be big for the winner. "Eight bands will move on to the Friday night finals. The winner will go on to compete in the Battle of the Bands Competition in June at the San Diego County Fair, which is huge, then they get to perform on the Promenade Stage of the state fair, so we're pretty excited about that."
Keep in mind, some of the best bands out there today got their start at a local fair similar to this one, so who knows what kinds of talent will blow you away. Conklin was proud to announce a particular local talent that is slated to perform, Vacaville's own Lyndsey Elm. Last year on The Voice she turned all four chairs during her audition performance, this year she'll be turning audiences heads at the Dixon May Fair from 7-8:30 pm Friday night on the Leber Garden Stage. At this writing, other musical acts include Buck Ford, Vinyl Ride, Terry Sheets Band and The Rhythm Method 4, though by the time you read this there may be some updates.
If you've never been to the Dixon May Fair, one of the things that might surprise you the most is really how much there is to do there. For a $12 adult admission ($8 in advance) you can come in on Friday night, see Lyndsey Elm, watch the Battle of the Bands, watch some small farm animals hilariously run after treats at the GASCAR (Great American Speedway Crazy Animal Races), take your kids to AgVentureland, explore 5 exhibit halls including Today's Youth, Fine Arts, Interior Living, Floriculture—which all will be displaying competitive, publicly entered exhibits—and a Buzzing with Excitement bee exhibit … there's a reason the Dixon May Fair spans over 4 days as you'd be hard-pressed to see it all in just one. Among your slew of options this year you'll be able to speak with gardeners about drought-tolerant plants, speak with beekeepers about starting your own hive, go shopping for some rare-find gadgets, all while thoroughly indulging yourself in fair fare like corn dogs, turkey legs, funnel cakes and more. Conklin adds, "Some people just come for the food!"
What she most appreciates about the fair is the opportunity for the local residents and families to strengthen their communal bond by simply walking around and taking it all in. "When you go to a fair you see people taking a breath, slowing down and really enjoying their family … I think that's great," Conklin says. "In today's age everybody's running around so fast and so furious—when I walk out on the fairgrounds I get to see families together. Grandmas, grandpas with their grandkids, sitting on a bench eating ice cream. And what's great is that they're recalling memories of when they did that with their grandparents." That's a big part of what's kept the Dixon May Fair going strong for the past 140 years: tradition. For a lot of people in attendance it's been a family tradition since they were little kids.
The Dixon May Fair is especially ideal for children, as there will be an entire kids area at the fair with features including VEX robotics, a build-a-bridge competition put on by Solano County Department of Education (held Saturday May 7th, only) that'll bring in about 200 students competing, and numerous other competitive exhibits. AgVentureland will be open throughout the event offering hands-on learning experiences where kids can learn about agriculture.
Despite the small admission fee to the fair ($12 for adults at the door, $8 in advance) other aspects like the carnival and some of the special events do cost extra as, after 140 years, demand can get pretty high and events do sell out. Conklin recommends getting your tickets ahead of time to make sure to see some of your favorite ticketed attractions, and it ends up saving you money in the long run anyway. The Bull & Bronc Ride and Truck & Tractor Pull are both $20, but these tickets include fair admission—if you buy in advance by May 5th and 6th, respectively. The Truck Demolition Derby is $25, including fair admission if you buy in advance by May 7th. If you wait until the day of, first of all they'll probably be sold out, if miraculously they still have tickets available, then you'll have to pay $20/$25 for the event plus the additional $12 admission. You should probably go online and get them now … while you still can!
Tickets are available online or at the fair office. There's a handling fee if you purchase online, but the prices have been adjusted so that it's the same price if you were to purchase online or in person. This makes ticket prices fair for those traveling from a bit farther away, so someone in Benicia or Davis or Sacramento doesn't have to drive all the way to Dixon just to save a dollar. And by the way, the first day of the fair is Thursday, aka "Thrifty Thursday", which is just $5 admission for everybody—available only at the gate on Thursday, May 5th. Keep in mind if you plan to come multiple days, you'll have to purchase a separate ticket for each day as there are no multi-day passes available.
Believe it or not, despite being an incredibly involved event, the Dixon May Fair is only a small part of what the 36th District Agricultural Association has going on this year, as they're in charge of managing the Dixon Fairgrounds. "We're busy all year round," said Conklin. "We rarely have a weekend that we don't have something going on." This includes a wide variety of public and private events such as Quinceañeras, baptisms, auctions, Relay For Life events, Lions Club events, fundraising events for local community organizations, the Scottish Games … "The things we put on our website are only the big public events," Conklin says. "But we have anywhere from 650-1000 people every weekend here." And that's a minimum, she clarifies. The larger events pull in about 5,000 people on average. In 2015 the Dixon May Fair attracted over 57,000 people over the course of the four-day event.
So join the crowd! And join one of the longest-running traditions in California by attending the Dixon May Fair this year, May 5-8, at the Dixon Fairgrounds, 655 South First Street, Dixon. Tickets are currently available on their website. For more information on the fair, and other fairgrounds events, call (707) 678-5529 or visit www.dixonmayfair.com.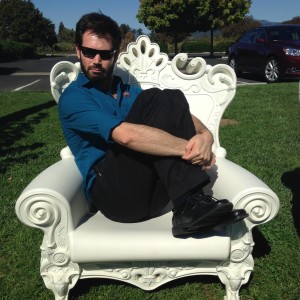 Matt Larson is a writer/actor/comedian native to Vallejo who travels back and forth from Los Angeles way too much. He's desperate for attention and urges you to follow him on all social medias @MarsLegstrong. He lives for likes, please keep him healthy.