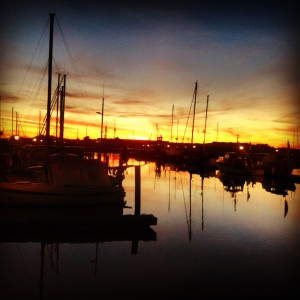 OK, so I always feel like I see the most beautiful moon every night. Last night I felt the exact same way. The moon was yellow but a crescent and just beautiful!  Let's keep a close eye on it tonight.
Yesterday was a VERY busy day, Benicia first thing, Vallejo for lunch and then a quick trip to Davis and then back to Vallejo for my Valentine's date. OK, I must admit I have no pictures since I left my phone/camera at home on accident but I had a date with two handsome males. Does it matter that they were 6 and 4 years old? My nephews and Ramon and Rory had requested that I spend Valentine's with them and even though I was late since I was having champagne with friends I had the best time watching them play with balloons that I brought. I am always amazed with how simple things make children happy. Tomorrow night I was requested to come back and make dinner.  Chicken sounds good. Did I mention I love my niece and nephews, like Ben, they have me wrapped around their little fingers.
Have a great day and keep an eye out for Ben and I since we will be in three counties today.
Early am stretches and meditation; feed and walk Ben and away we go. . .