A little Q&A with some local scoutmasters and pack leaders
If you have a child, chances are you want what's best for them. With so many wonderful organizations to get them involved with—be it the YMCA, DeMolay, Boys & Girls Club—it may be hard to decide where to put 'em. No organization is really better or worse than the other, it all really boils down to what's best for your child. We can't truly speak for them all, but one particular organization seems to pretty much cover the full gamut of life for its kids. Which organization? Why, the Boy Scouts of America, of course.
For more than 100 years the Boy Scouts have been teaching our kids all about how to survive in this crazy world, both indoors and out. That's one of the biggest draws to scouting is how it covers such an epic range of skills. "Boy Scouts is a program that teaches a lot of different life skills for young people," said John Fenoglio, Scout Executive for the Mount Diablo Silverado Council of the Boy Scouts for America. "We can teach them through doing and practicing, learning the process of everything from self reliance to self esteem, and probably the greatest thing we teach is leadership."
Fenoglio explained the Boy Scouts as "fun with a purpose". They could all go camping, hiking or canoeing for the weekend, and the kids organize it all themselves, but they might not even realize what they've learned. "You can sit down with them and say: Do you remember learning teamwork and leadership? And they'll say: no," he said. "But they practiced it. They don't understand that, but that's okay, because we want them to learn these skills and have fun at the same time."
It's not all fun and games, but even the work can be fun, and they're taught that it's important to work in order to have their fun. "Each year the boys raise money for their summer camps through Christmas tree recycling," said Jeremy Lowe, Scoutmaster for Troop 64 in Vallejo. "It's a good way for the boys to understand the relationship between work, and spending that money on something constructive like summer camp." Thinking of life lessons on the grander scale is what makes scouting so effective. "Boy Scouts gives them an opportunity to try out lots of different things—but also doing so as part of a leadership," he added. "Learning how not just to attend events or participate, but also to lead and organize. I think Boy Scouts is a great way to challenge the boys to become better leaders and to learn from each other as much as they learn from adults."
Lowe has two sons who have been with the organization since Cub Scouts, and he's enjoyed seeing them grow as they rise the scouting ranks. "I started out as a Cub Scout leader and there you're just acting like a surrogate parent, everything's organized by you," he said. "Gradually, I stepped back more and more and watched them lead and decide what they want to do and organize." Now he's getting to enjoy the fruits of his labor, watching his kids and their fellow scouts grow from boys to men. "I look at them now as a group of young men who are equipped to deal with a lot of life's situations," he said. "They have common sense, they have skills, they're better equipped to deal with some of the unexpected. As the Boy Scout motto goes: Be Prepared."
Troop 64 in Vallejo meets at the First United Methodist Church in Vallejo, which is its chartering organization, every Monday at 7:15 for about an hour and a half. Meetings are open to the public and, if you're interested, Lowe invites you to just come by and check it out! You can even call him right now at (707) 373-6907 or email jeremyplowe@gmail.com.
It's never too early to get your kids involved with scouting. Okay, well, maybe not before they can walk on their own, but as Cub Scouts used to be strictly for children in 1st-5th grade, kindergartners are now also welcome to participate.
Gretchen Burgess is the current president of the Kiwanis Club of Benicia, which is the chartering organization for the Benicia Cub Scouts Pack 108. "Kiwanis' motto is: making the world a better place, one child at a time," she said. "And, on just about every level, there is no better way to benefit a boy than to get him into scouting. The same would be true, of course, with girls and Girl Scouts."
So what are all these beneficial levels? "Scouting addresses the child intellectually and emotionally, it supports the family unit—which is really the root of building the best children we could possibly have—and it also challenges the child athletically," explains Burgess. For the Cub Scouts, of course, the physical aspect is pretty tame. For example, this December they're planning to do a holiday light walk where the boys walk through a neighborhood with a high percentage of decorated homes. "And we do an evening hike with the boys on city streets!" she said. Also in the summertime they'll walk along the paved pathways of the 50-acre Benicia Community Park, or hike along the state park paths. "While they're doing these hikes they have leaders all throughout pointing out local birds, local fauna, and geological aspects of the hike," said Burgess. "It's to increase their awareness of the outdoors and the elements that make up that particular region's highlights and beauties."
When it comes to what sports are addressed between Cub Scouts and Boy Scouts, kids will experience just about everything. "They run the gamut from badminton and ultimate frisbee to tag football, soccer, baseball—just about every sport. And then, of course, there's archery and BB guns!" said Burgess. For the little ones they engage in activities that are a bit more fair across age ranges, such as the Pinewood Derby where they race hand-carved toy cars down a track, which is a great way to get everyone actively competing against each other for bragging rights. And while you might think winter would be the less physically active time of the year for the Cub Scouts, sometimes it's just the opposite.
This winter, Pack 108 will be engaged in things like the aforementioned holiday light hike, Christmas tree recycling, the Christmas parade downtown, the Downtown Holiday Open House and Tree Lighting, and more. "We'll be scouting for food in November," said Burgess. "The boys will put fliers on door handles and collect canned food for the food banks, which are always hard pressed during the holiday season."
Burgess' son Maximilian has risen from Cub Scout to Boy Scout and is one of the organizations greatest advocates. "My own son must be one of the best recruiters out there!" she said. Scouting has helped Maximilian tremendously, and he wants to share the opportunity with everyone he meets. "He was the emcee of his school's talent contest because the skills that he learned in Boy Scouts, as far as building confidence and being able to present himself in front of an audience, just came out to shine," she said. He's also looking forward to middle school, as opposed to some of his more timid friends. "When he thinks about going into middle school, he's not afraid, because he knows there are going to be other Boy Scouts there that he's known for years and years, waiting to help him through the process," said Burgess. "He's not just bound by those kids in his classroom or sports team that are all his same age; he's got friends that are both younger and older than him. It's a huge confidence booster." If you're close to Benicia and want to get your little one involved, visit www.beniciascouts.org.
Just like Maximilian is looking forward to running into fellow scouts in middle school, these surprise connections could happen for the rest of your life. For instance, when we were interviewing Professor Rick Marshall about the new autotechnology building coming to Vallejo's Solano College campus (see page 38) he happened to mention that he's been a scoutmaster for about 7 years for Troop 864 in Cordelia.
Marshall states their motto: Do a Good Turn Daily. "It's an awesome thing to live by," he said. "You take nothing for it; no food, no tip, no nothing. If every person lived by that, willing to do something every day to help someone else, I think that's just an awesome thing." That's what he's doing as scoutmaster, never having been able to join as a kid.
"I wish I would have had this experience. It just makes you so much stronger, and better," Marshall explains. "My wife and I call scouting as a game—this is where the boys can mess up. As long as nobody gets hurt, it's a game! I'll say let them screw up all they want, this is their chance to learn in life." And Marshall's doing his part to help the learning process, as he's currently teaches about 30 merit badges to the scouts.
If you're hoping to find a local troop near you, you probably can. Best bet is to head to www.scouting.org. Happy trails!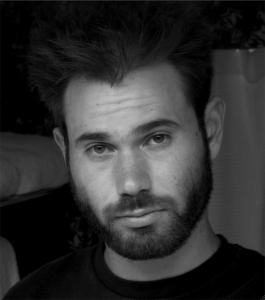 Matt Larson is a writer/actor/comedian native to Vallejo who travels back and forth from Los Angeles way too much. He's desperate for attention and urges you to follow him on all social medias @MarsLegstrong. He lives for likes, please keep him healthy!