A few resources for senior citizens and active individuals over 50
Life is hard. I'm pretty sure we can all agree on that. But it can be even harder if you don't have the ability to maintain a job or even go to the grocery store because, well, you're old! Or you're getting there, anyway, and that's just how it goes. Fortunately, many of us are lucky enough to have friends and family who can provide care and assistance, but sometimes those needs can be a bit too much; a daily necessity which requires professional help. Here's a look at some of the unsung heroes in our area who have dedicated themselves to providing assistance for our beloved senior citizens.
Meals on Wheels is a name that rings a bell in every household. They've been providing meals in Solano County since 1977 via home delivery or congregate sites. "We provide lunch every day at each city's senior centers," said Laurie Hartmann, Executive Director of Meals on Wheels of Solano County. "Those are for our folks that are a little more mobile and can get out and drive. The home delivery is really for the people that can't drive or cook for themselves."
Home delivery is what truly sets Meals on Wheels apart from the rest, and it's exactly what it sounds like—Meals on Wheels will drive to the home of a senior in need, knock on their door, and deliver 1/3 of their daily nutrition with a friendly handoff. For some of these recipients, this moment is the highlight of their day. Hartmann tells us of a veteran who left his driver a voicemail that said, "Every day when you tell me I'll see you tomorrow, that's a reason for me to get up, because I know I'm going to see you." Not every senior citizen has friends or family that they talk to every day. "It's more than a meal that we're giving them," Hartmann adds. "We're giving them friendship."
All the meals provided are free, and they have over 100 volunteers in Solano County alone. They do have a staff that handles the administrative side of things—such as intake coordinators who go out to meet with people who want to start up a new service, making sure that they meet the qualifications. These coordinators also touch base with their clients once a quarter, alternating between seeing them in person and talking to them over the phone. They ask if there's any health changes they should be aware of, if they're in need of other resources, and just make sure everything's okay in general.
Another truly wonderful facet of Meals on Wheels is that they provide a sense of security for not just the client, but for the client's family as well. "They need to answer the door to get the food, so we know they're okay," said Hartmann. "If they don't answer the door our drivers are calling the office immediately and then we're calling their emergency contact numbers." They have gone out to find people were deceased, or had fallen and nobody knew, so while the drivers for Meals on Wheels aren't necessarily here to check up on their clients, they are indeed providing a sense of security by default.
While the meals are certainly free, donations are indeed accepted. "If they want to make a contribution they can, and we have many that do, but it isn't required. They'll get it no matter what," said Hartmann. Funding is always a concern for organizations like Meals on Wheels, which go out of their way to do wonderful things for others simply for the sake of doing it. So if you have the means to donate or volunteer your time, please do. You can call them at (707) 425-0638 or visit their website at mealsonwheelssolano.org.
Occasionally, Meals on Wheels of America has mini grants available, and Meals on Wheels of Solano County just applied for one that would allow them to also provide pet food and medical care for some of their clients' pets. It's a small amount, only $2,500, so they'll only be able to address those that are most in need, but it's still something they hope to add to their services. "We know that if seniors don't have money for food, they don't have money to feed their pets either, or a means to get the food if they can't get out," said Hartmann. Still, Meals on Wheels goes every extra mile they can. "I think every driver has dog bones or cat treats in their car," she adds. "We want to help the seniors more holistically if we can."
One likeminded organization that utilizes Meals on Wheels is the Florence Douglas Center in Vallejo. It's, "a positive place to relax, recharge, and reconnect for those 50+." Meals on Wheels serves lunch here Monday-Friday from 11:45-1:00; keep in mind you must be signed up ahead of time, as it's not open to just anyone! Seating begins at 11:30 a.m.
The Florence Douglas Center is all about promoting healthy, active living for people over 50 years young. "We are an activity center, not a live-in facility," said Peter Wilson, Executive Director. "We are the only center for 50+ in Vallejo, and our activities encourage powerful aging."
Such activities include traveling to Cache Creek Casino on August 8th, attending Santa Cruz Follies on September 15th, and even visiting Yosemite in October! Locally onsite, guests are invited to participate in a multitude of activities. Wednesdays are the big arts and crafts days. Guests are invited to participate in a wide range of classes which include crocheting, embroidery, knitting, quilling, quilting, woodcarving, and, if the time is right, pumpkin carving!
They offer plenty of exercise classes throughout the week as well with prices ranging from $3 per class to $15 per month, depending on what you choose. Such classes include Jazzercise Lite, International Line Dancing, Tai Chi, Yoga, and Zumba Gold. Other fun group activities include a wide variety of games like Canasta, Mahjong, puzzle tables, Nintendo Wii games, and more. You can also pay your dues to join one of their clubs with such niche groupings as Clown Connection, Napa-Solano Audobon Society, the Coin Club, Piecemakers Quilting, and, yes, more.
"Becoming involved in the activities at the center builds a support network as you begin to retire or relocate," said Wilson. "If a person is close to retiring, is retired, or has lost a spouse, and is looking for a place to go to connect and stay active—the Florence Douglas Center can be that place." If you know someone who could benefit from such a place, you can gift them a membership, and even go to the Center with them and participate in the activities yourself to help them acclimate to the new environment.
The times, they are a changin', and the Florence Douglas Center is keeping right up! They offer a computer lab and iPad/iPhone classes to keep their participants current with technology, so if you have an older loved one who has asked you the same tech question maybe one too many times, this could be the solution you've been looking for.
Located at 333 Amador Street in Vallejo, if you live close enough to this facility and are someone, or know someone, who should get involved, might as well give it a shot! At such a low expense, you really have nothing to lose. You can call the Florence Douglas Center at (707) 643-1044 or visit their website at florencedouglasseniorcenter.org. If you don't know how to visit that website, and you're over 50 years old, please, call them ASAP and schedule a computer lab class!
There's a smorgasbord of organizations out there that have dedicated themselves to doing good work in the community by offering assistance to our senior citizens. We wish we had space to list them all! Well, we could probably do that, but then you'd know nothing about them! So you know Meals on Wheels and the Florence Douglas Center pretty well by now (if that's true … thanks for reading!), Faith in Action is another organization to whom we'd like to give an honorable mention.
Faith in Action is comprised of interfaith volunteer caregivers dedicated to providing non-acute, non-medical support services to homebound seniors. They do this either by linking them up with available resources, or matching them with trained volunteers. They're all about improving quality of life for those individuals in need, and hope to help those receiving their care to remain independent, in their homes, and connected to their community. For more information call them at (707) 425-6164 or visit faithinactionsolano.org. They have offices in both Fairfield and Vacaville.
Meals on Wheels can also be found roaming around the counties of Napa (www.canv.org) and Contra Costa (www.mealsonwheelsofcontracosta.org) as well. Now that you're perhaps a bit more aware that such senior care programs exist, there may be some pretty amazing resources right next door that could possibly change your life for the better! So look around, reach out to your community, and just get involved, get out there, and live life.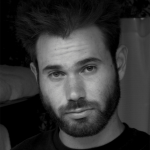 By Matt Larson
Larson is an actor/comedian/director from Vallejo who lives a double life between the Bay and LA. When he's not writing for Local Happenings Magazine he could be editing a short film or working on his next rap album—who knows! Keep up with all things Larson at
www.MarsLegstrong.com.