Your children's teeth are in good hands at Pinole's Eastshore Pediatric
By Matt Larson
If your child has fallen ill, chances are you'd rather take them to a pediatrician, as opposed to a general practitioner. Well, the same goes for dentistry! Pediatric dentists are like pediatricians for your kids' mouth and teeth. In order to become a pediatric dentist, one must complete an additional 2-to-3-year residency in pediatric dentistry after completing four years of dental school. The dentists at Eastshore Pediatric Dental Group have done just that, and more.
Teri Kim, DDS, and Thea Dosanjh, DDS, co-owners of Eastshore Pediatric, are pediatric dentists, and they're also diplomats of the American Board of Pediatric Dentistry. This distinction is not a required for pediatric dentists, but here at Eastshore doctors Kim and Dosanjh want to provide only the best. They specialize in infants, toddlers, children, teens, and kids with special needs.
Most of us have had experiences at a dentist's office that maybe weren't comparable to a casual stroll in the park. For many children, Eastshore Pediatric is there very first dental experience. As dentistry is such an incredibly important part of our lives, creating a positive dental experience for these kids from the very beginning is of utmost importance.
"A big part of pediatric dentistry isn't necessarily the dental work, it's also about the emotional and psychological components working with young children," said Dosanjh. "Protecting a child's psyche is one of the most important things we do in our job."
By the age of 1, or within 6 months of their first tooth, children are recommended to start seeing a dentist. "As pediatric dentists, we're big on prevention and educating families," said Kim. "We go over diet assessment, and we provide a comprehensive array of treatment options for our families."
At many dental offices, if your child has a cavity, there's often just one solution—fix it! However, at Eastshore, they have more to offer than just a quick fix. "We won't just say 'Oh, your child has a cavity.' We'll talk about ways to prevent new cavities," said Dosanjh. "We'll go over X-rays with families and actually show them what they're looking at. We really try to teach families and work with the kids."
Working with kids isn't always easy; however, since they opened their doors for business in late 2011, parents have been shocked that their kids are actually excited to go to Eastshore Pediatric. "We do a lot of work to make kids feel comfortable in the chair," said Dosanjh. "We use child-friendly terms, we have TVs over each chair so the kids can watch a show, and they get awards if they're cavity free! We try to make it as positive an experience as possible." Kim added, "It's about targeting them young and desensitizing them, so they have a positive experience from the beginning."
As soon as the kids arrive, they see Eastshore's "Toy Tower," adorned with possible prizes that can be earned from a cavity-free visit. After their checkup, they're given a coin that can be redeemed for any one of 10 prizes. Similar practices can even work at home to help kids maintain a healthy dental routine. "Kids respond so well to positive reinforcement," said Dosanjh. "So if you're praising them for doing a good job, that's a big deal for kids."
There's a myth we'd like to debunk, that since your children's baby teeth will eventually fall out, that they're less important to be maintained. "A lot of people don't realize that you don't lose all your baby teeth, on average, until age 12," said Dosanjh. "Primary teeth are important for speech, chewing, and are also a placeholder for permanent teeth." Also, Kim said, you don't want your kids to experience dental pain.
Children should start seeing a dentist as early as possible for a multitude of reasons. "If your child ever falls, or if you think there's a spot on the tooth and it's concerning to you—your child has a place where you have a baseline exam already done," said Dosanjh. "A huge part of our first exam is education: teaching parents how to brush, at what point do you introduce fluoride, at what point do you start flossing, what you do about giving milk or breastfeeding at night; so we talk a lot about trying to prevent the start of cavities in the first place."
An added benefit of taking your child to Eastshore is that if your child needs special treatment of any kind, they can have their procedure done in the comfort of an actual hospital. "We're the only pediatric dentist in the area that is privileged through Kaiser hospital," Kim said. So for procedures requiring a lot of anesthesia, or for patients who can't tolerate treatment in the chair, Eastshore can reserve a room at Kaiser to perform the dental work there. They can also offer silver diamine fluoride (SDF) if the child isn't quite ready to have a procedure. "It gives us another way of helping prevent that cavity from getting larger," Dosanjh said. "We see a lot of young children who have decay, and they can't sit for treatment, but they don't necessarily need to go to the operating room either, so we'll use this as a holding care until they're ready to tolerate treatment for the fillings."
Suffice it to say, whatever the case may be with your child, Eastshore Pediatric has you covered. Schedule an appointment today by calling them at (510) 964-0168, or email them at info@eastshorepdg.com. They're located at 2000 Appian Way, Suite 303, in Pinole.
"We have a child-friendly office, we have a warm and welcoming staff," Dosanjh said. "We take a lot of pride in our office and in our treatment," added Kim. "We have our own children, and we treat everybody's children like we would treat our own."
For more information visit www.eastshorepdg.com.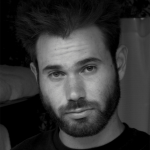 Larson is an actor/comedian/director from Vallejo who lives a double life between the Bay and LA. When he's not writing for Local Happenings Magazine he could be editing a short film or working on his next rap album—who knows!
Keep up with all things Larson at: www.MarsLegstrong.com."