Tens of thousand of juveniles are arrested every year in the state of California. Many are for minor offenses, but around 30% are for felony crimes. Gangs and drugs are helping to turn a significant portion of our nation's youth into criminals at an early age. These children get an education from the legal system, but it is not the kind we would want for them. Most come out of juvenile hall or jail with advanced degrees in crime and with more criminal connections. This is a sure path to the criminal world. In addition, a child in the state juvenile justice system costs in excess of $100,000 annually to house and care for. While the numbers have been dropping it still begs the question: How do we prevent them from entering the system and, if they do get in, how do we keep them from a life of crime? Our children are our future leaders, but how do we insure that they are not our future criminal leaders? After all, isn't there are better solution? Maybe even a cheaper solution? Are we not living in the state that is known for its innovation? How can we break the cycle? It is not just a question of money but one of improving our society. When they are asked what they need, the simple answer is a support system and a job, so the question remains: How can that be provided?
Many people are asking those questions and a few are taking action but there are some special people who are making a difference in the lives of some of those children. Teresa Goines and her team are some of those helping to make that difference in our youth today for all of our benefit tomorrow. Teresa, who started out as a probation officer in in Santa Barbara, had a hard time going home every night understanding that these children were just left almost thrown away. She truly believes that every child/person deserves a chance. How, pray tell, are they doing it? They are going old school with the Old Skool Cafe. They have opened a restaurant and are teaching a group of young men and women not only how to successfully run a businesses but how to successfully lead their lives. It took two years of planning from 2003-2005 before the catering business opened in 2005 and then her larger vision of a restaurant started in 2011. As they end their second year of operation things are looking bright.
Now keep in mind that this is not a "cafeteria" or a "fast food" joint, this is a full service restaurant serving up some great food, beer and wines. Also, while there is Chef Kevin, the Chef instructor, and Chef Jordan Ramsey, Youth Chef (to help oversee, mentor and provide advice with actual operations), these young men and women otherwise run it from dishwasher to maitre d'. They also recently brought an assistant, Lesha,to provide additional mentoring for the youth in the kitchen. They forecast, budget, plan, purchase, cook, serve, greet the guest and clean up afterwards. They also receive mentoring on life beyond Old Skool so that they can have the life skills necessary to lead a productive life in AND out of work. Old Skool is set up as a dinner theatre so in addition to music, the young staff will also frequently get up and "perform" in front of their guests to let them know about their experiences at the restaurant and how they got there via poetry, music or simply by telling their story. The staff members are also not just thrown out there—they train and apprentice for about 20 weeks on all the positions in the restaurant before they are fully qualified to work on their own. Dedicated volunteers, staff and those who have already successfully completed their training work with the new ones as they get "hired" and work their way through training. Not everyone gets hired, mind you, and not everyone makes it through training, just like in the real world. They have to be ready for the experience and the time commitment to be successful.
Now, many of you will stop by Old Skool Cafe to check it out based on the novelty that it is run by at-risk and troubled youth, but let me assure you that the food will keep you and make you glad you trekked out to the San Francisco Bayview district. Again, Old Skool is modeled after the supper clubs of the 30's and 40's and the workers' uniform of red dress shirts and fedoras matched with black slacks and suspenders will also help transport you back to that age. The food is a combination of recipes drawn from the backgrounds of the staff themselves. They range in diversity from Grilled Cheese to West African Peanut stew.
We opened up with the Taumoepeau Ota (say that three times fast), which is a Tongan Island dish made from the Swai fish (a type of asian catfish). The Ota is similar to Ceviche but the lemon & spices, along with the Togan cream sauce, make it wholly different. It was out of this world delicious, and flavor-wise, it was fresh and light, that one might easily confuse with chicken. We then tried out the Sweet Potato Biscuits paired with a honey butter, along with their Fried Chicken Drumettes, which came with two types of dipping sauces: one a cream style, one a spicy BBQ. The honey butter had a wonderfully sweet offset to the light savory taste of the biscuits. The chicken was crunchy and flavorful without being oily and while we favored the herb cream dipping sauce, they would have been perfect by themselves. We also indulged in a Brussels Sprout and Kale Salad, which made us look at those two ingredients with new interest and enthusiasm. The salad had a light dijon vinaigrette with almonds and Asiago cheese, which is a great combination of both flavor and texture. The vinaigrette took the bitterness of the kale away while providing a creamy consistency. Next up, we tried a cup of their Gumbo and Abu's West African Peanut Stew, which was phenomenal. The gumbo was perfectly spiced with just the right amount of heat, which allowed the flavors of the shrimp, chicken and sausage to shine through. We were surprised by the peanut stew, not ever having it before denied us any frame of reference but it was simply delicious. Peanutty and paired with the chicken reminded us vaguely of a Thai Chicken Satay but lighter and more complex in flavor. I know what I will be ordering the next time we come to Old Skool. Then we finished up with their Pan Seared Shrimp 'n Smoky Cheese Grits and their Bayview Baby Back Ribs, which were fork tender and delicious. The grits were sinfully cheesy and were paired wonderfully with the grilled shrimp. The meat just fell off the bone and provided a taste that could not be beat.
Sadly, we had no room for dessert, though it all sounded delicious; Lavender Cheesecake, Sweet Potato Tartlet, Buttermilk Panna Cotta, Chocolate Mousse and Coconut Rice Pudding. We could only do our best to finish the majority of the food (and all of our wine of course) before we had to stop for fear of not being able to move, and slipping into an indulgent food coma right there at the table. Looking back, none of the dishes could be described as dietary and these were all described as cultural comfort foods by the staff. I have to say that after enjoying them we were very comfortable and happy with our choices. We are definitely coming back to explore some more of their dishes and hopefully will be able to make it to their desserts as well; Robert just LOVES rice pudding and panna cotta so I know that he is kicking himself for not taking any to go.
From the food perspective, we loved the Old Skool Cafe and on those merits alone we will be back to indulge our tastebuds. In addition to the great food, the staff made it a special experience. To see the pride in their faces as they diligently worked to take care of us and the rest of the customers was incredible. Two things that Old Skool endeavors to provide those who are able to make the team are job skills and, more importantly, a sense of family and belonging. They have certainly done that. As we talked with the staff that night one on one and heard some of them up on the stage it was just so heartfelt and sincere. They were so happy to have the opportunity to show that they were more than their circumstances, more than an arrest record or a social worker's report. They were men and women who were proud of what there were doing and it showed both in the food and the atmosphere of the restaurant. They wanted to be there and they wanted it to be successful. They were infected with what many an entrepreneur is—pride.
Teresa's vision has gone from a dream to a reality in a few short years. In a few more they will be fully self-sustainable and more importantly, they're program will be replicable. They are getting close to meeting these goals. If you are interested in a similar program in your area, contact Old Skool Cafe, they are standardizing the process to be replicated in other areas.
What Old Skool Cafe needs:
1. They need more people to come in and explore this wonderful restaurant and host some parties. The restaurant is open Thursday thru Sunday from 5:30 – 9:30PM.
2. Host your next event at Old Skool Cafe. They are open for private parties all days of the week. Contact Lisa Litsey at (415) 822-8531 for more information.
3. They need more volunteers who want to help make a difference. They can use help with marketing, IT support, and any help getting the word out to try a fabulous restaurant.
4. Purchase a gift card for your friend or loved one so they may enjoy Old Skool too.
Bring this article or mention Local Happenings Magazine and receive a 10% discount on your check. Also check the Local Happenings website for upcoming events at Old Skool Cafe including a Valentine's dinner.  They are excited about 2014. Please help them make it a memorable year!!
1429 Mendell St. San Francisco, CA 94124
Free Parking available at the Bayview Opera House
T (415) 822 – 8531, Email: contact@oldskoolcafe.org, Website: http://www.oldskoolcafe.org/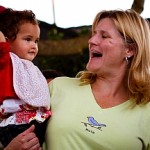 Regina Briseño – Recognized for her work with her family and talent for seeking out good food and wine. Please come and enjoy the adventurous ride with her!