Capital Glass: The Glass Capital of Benicia
Residential Maintenance seems to be an ongoing necessity as the years go on. If it's not one thing it's the other, right? As soon as the dishwasher is fixed, the oven goes out! Or you decide you need to renovate the bathroom. The question is, where do you go for these services when there's so many companies offering the same thing? We can help you with that! When it comes to your glass needs, anyway. Capitol Glass in Benicia sets themselves apart from the masses with quality work and superior service.
As part of the Benicia community since 1970, Capitol Glass has been under the ownership of husband-and-wife team Jim and Kelley MacInnes for the last nine years. "We bought the company from the original owners' daughter and son-in-law, and we're locally owned and operated," Jim says. "We've really turned the company around," adds Kelley. "We're one of the only full-service glass companies in Benicia."
Jim recollects first purchasing the business. "When we bought the shop, we had one truck and one guy, and a smaller shop," he says. "I think within the first two years we had to move to our current location—increasing our shop size—got three trucks and three guys. Business increased about four-fold of what they were doing before." Since that expansion they've been able to spread their Benician work ethic to neighboring communities. "We've really expanded the business," he says. "We go to Fairfield a lot, Vallejo right next door, Martinez and Concord—we go all over."
Capitol Glass was previously owned by a construction company that didn't do glasswork like the MacInnes' do now. "We do a lot more commercial work now and travel as far as San Francisco to do commercial storefronts," says Kelley. You can see their mirror work in any Patxi's Pizza restaurant in the Bay Area. For a local look, you can check out Sticky Rice in Fairfield to see their crystallite railing system. "You'll see a beautiful glass railing system we did out on their patio, so you can sit on the patio without the wind blowing on you." Jim also proudly mentions the Big-O Tires on Military East in Benicia. "We did that entire glass storefront."
But commercial work is just the tip of the iceberg for Capitol Glass. The most sought-after service of theirs is residential replacement windows. Jim and Kelley have the following tips to help decide when to replace your windows: "If they're drafty, if they're rattling, or you may also have what's called a failed seal," says Kelley. "If they're dual-pane, the seal may fail and they'll look fogged up; they'll look dirty but you can't get them clean. That would be a good time to replace them."
Jim explains the importance of making sure your windows are up to par. "All new windows today have the low-e, high-performance glass," he says. "It more than doubles the energy efficiency of your existing window, and they also get a lifetime warranty with any of the new windows that I sell for anything that might happen. Most of the houses that are built in the '90s commonly do not have low-e, high-performance glass." Low-e, or low emissivity, "is a very thin, microscopic coating thousandths of an inch thick that they apply to this glass. Typically it reflects a lot of the UV and heat rays while allowing light to transmit through the house."
The only thing better than utilizing the service of a local business is knowing that it's run by local people. Jim grew up in Concord, which isn't too far from Benicia. Over a 40-year career he's remained in the Greater Bay Area; he apprenticed at Lafayette Glass Co. and went on to work in Walnut Creek and Vacaville after 11 years in Glaziers Local #169 in Oakland. Kelley is a Benicia native through and through. "I grew up in Benicia—born and raised—and my mother was, too," she says. "It's nice owning a company here, being able to serve the community I live in." And it is that very service that has earned Capitol Glass the credibility they have today.
There are certainly other glass companies in the area, so, what makes Capitol Glass stand out from the rest? It's simple: "Customer service," Jim says. "And the knowledge and professionalism of the people who work for me. I've had many people tell me in Benicia and Vallejo that they'd much rather deal with us." They do everything with the customer in mind. "We take care of the problems if there is a problem, we listen to the customers, my guys are super knowledgeable—I think that's the biggest difference," he explains. "If [the customers] are ever unhappy with anything we make it right," Kelley adds. It can be tough to differentiate oneself in such a widespread field, but "people come to us because of the quality of service that they get," says Jim. "I have a slogan that says: 'Service is our Goodness.' That's the key to separate you from somebody else when everyone's selling the same kind of product."
Another popular product at Capitol Glass are their frameless, heavy shower doors. "They're very seamless," Kelley says. "There's no frame on them or anything so they're not bulky. It's just a 3/8" piece of glass that's literally bolted to your walls and your shower." The best part of all is it can fit to bathrooms of any shape and size. "Anything can be done. Whatever your shower looks like, it's custom made for that design."
Whatever your glass needs may be, Capitol Glass pretty much has you covered. "We do a little bit of everything," Jim says. "We do just about anything that has to do with glass, except we don't do new automobiles—we do work on old hot rods/vintage cars—but really just residential replacement glass: glass railing systems, mirrors, shower doors, tabletops, just about anything that a company of my size can handle. There's essentially four of us here."
When you call Capitol Glass for work, that's exactly who you'll get. "We don't sub out any of our work," Kelley says. "All of our work is done by our employees that actually work here." She and Jim both invite you to come by and see their work for yourself. "We have a showroom right here at 5000 E. Second St.," she says. "You can come to our showroom and see the different types of windows, wardrobe doors, heavy and regular shower displays, glass tabletops…" Jim adds, "What more can you ask for? Service is our business; I think that's the key."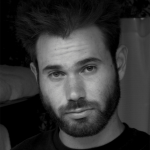 Matt Larson is a writer/actor/comedian who shamelessly promotes his Vallejo Comedy shows in his byline. He encourages you to visit www.vallejocomedy.com. Woot!