Equine-Guided Education could be the missing link in your life
By Matt Larson
If you think you've tried everything when it comes to spiritual health and mental healing—think again. Melissa Austin is the Founder and President of Horses Healing Hearts. She is a certified Equine-Guided Educator (EGE) and offers life coaching—with horses.
Pioneered and founded by Austin's mentor, Ariana Strozzi Mazzucchi, EGE is a teaching method that features the use of a horse as a guide, and nature as a witness, to assist subjects (men, women, and children) in learning about and revealing their full potential. Mazzucchi coined EGE in 1998, but horses as teachers and healers have been around for far longer. EGE can be found today in a wide variety of cognitive-learning and training methods, such as psychotherapy, coaching, holistic health practices, and traumatized youth and rehabilitation programs. At Horses Healing Hearts, the horse is the teacher.
Located in Pleasanton on an 80-acre ranch, Horses Healing Hearts (3H) functions as a horse rescue that offers EGE to the public. They also serve as a life-coaching center for adults and children alike, via sessions, workshops, and team builders with the horses, all designed with the idea of helping people see themselves, "through the eyes of the horse." Helping people and helping horses are two causes that function symbiotically here at 3H. Since it was founded in 2011, 3H has helped more than 350 horses, and even more human beings.
"When people ask, 'What's the purpose?' or, 'What's the mission?' it's to educate the community about the life-saving value, the benefits, and the gifts that horses can provide to all of us, while simultaneously providing assistance to horses in need," said Austin. "Horses give us the opportunity to learn, grow and expand our awareness. Interaction and communication with horses tap into the many layers of the human psyche and promote self exploration."
Austin explains how horses are very social animals of prey, and there are hierarchies within their herds. They are seeking leadership, so when a horse meets a human, the horse wants to know where that human stands within its "herd." In other words, if you're not acting like a leader, the horse can pick up on that. "If they don't feel like you're leading your life or know where you're going, they won't follow you," Austin explained. "The horse can tell if you're lying, or if you're not genuine. The horse wants to know what it is you care about, and why you make the decisions you make—if we don't know why we're doing what we're doing, then the horse doesn't want to be a part of that."
She told us a story of a reporter who came to visit who lied about why he was late, saying that he had some other meeting that held him up, rather than just owning up to the fact that he was late. Naturally, the horses didn't seem to want to come out and visit him. Finally, he confessed that he simply got lost, which led to his delay. "Once he told that genuine truth that he was lost, the horses came out," said Austin. "If you're being genuine, the horses want to be with you."
There's not a whole lot of talking that happens because so much is happening with the horses as you walk with them (note: maybe 5% of the work done at 3H involves actually mounting the horses, and if you do, it's more of a sitting and centering act as opposed to giddying up and trotting along). As you walk beside these majestic animals, you may find yourself wondering: "Where am I going? Am I following the horse or is the horse following me?" And as a facilitator, Austin will help guide you to the point where you find what it is you truly care about, pointing out relevant metaphors that can help you better pinpoint the issue that is truly on your mind. "Most of the time, people do have a breakthrough," she said. "We haven't had any experience be the same. It's always very insightful."
As far as "why" you should come for a session with Austin and her horses, mere curiosity is all you need. "I love it when people are just curious," she said. Especially if you struggle with being present in the moment, these horses can certainly help with that. "For me, being in the presence of a half-ton animal—you're going to get present rather quickly," she said. "You're captivated by their beauty. There's a visceral reaction that happens."
EGE is truly open to anybody, especially those who find themselves at a point of change in their life, such as someone going through a divorce, starting a new career, or dealing with the loss of a loved one. All of the activities during a visit are tailored specifically for the individual, or individuals, who are there at the time. Austin has welcomed a group of kids who were all acting up as bullies at school, and she has programs designed to work with traumatized foster youth in the summer and winter. In some of those situations, traumatized children will be working with horses that have also been traumatized. Sometimes, for the first time ever, these kids are able to feel like caregivers themselves as they care for the horses. "We have collaborated with Youth Homes for 2 years in a row and continue to work with them, tailoring programs for traumatized youth," said Austin. "And we have provided assistance/sessions to those grieving the loss of a loved one."
Working professionals even come pay Austin a visit, including therapists who have been experiencing some challenges within their own practice. "We have therapists coming out who are no longer having breakthroughs with their patients," she said. "We've also done clinics with clinicians. But EGE is not just for therapeutic benefits as far as mental health, it's for everybody." Of course, you must remain open-minded to truly reap the benefits.
"With the help of horses you can become more focused on your vision and values in life, accelerating your personal growth and propelling your life forward," Austin explained. "Horses read the truths of our souls through our energetic presence and mirror back our true selves. They react to what they see and feel every moment, giving us valuable feedback about our body language and energy."
Austin's first experience with EGE was in 2010. She was at a point in her life where she simply felt stuck. "I was a mom of two, married, and I had taken a break from working," she said. "As far as traditional therapies—life coach, psychologist, therapist, counselor—none of it was working. It was the horses who helped me get unstuck." Austin has been enriching the lives of humans and horses alike ever since.
Certified EGE professionals like Austin are pretty hard to come by, and Pleasanton isn't that far away. If you're feeling like you could use a new experience, unlike anything you've ever done before, then Austin invites you to come and visit her at 3H. Individual sessions are available by appointment only. Open to couples, individuals, families, and even corporate developments, Austin invites you to give her a call at (415) 260-2232, or email her at melissa@horseshealingheartsinc.org.
To read testimonials, success stories of Austin's horses at 3H, and to research horses that are up for adoption, visit their website at www.horseshealingheartsinc.org. "We will be shifting our focus and mission in 2018 to offer more programs in Equine-Guided Education under HorsePower University," said Austin. "The 3H portion of the rescue will continue being a resource for the community." If you've been looking at yourself unfavorably lately and can't seem to find anything that can wake you up to a more optimistic mindset, then maybe try looking at yourself through the eyes of a horse.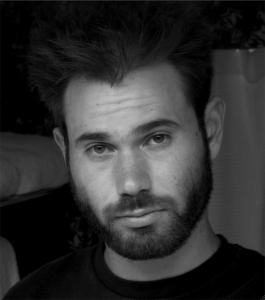 Larson is an actor/comedian/director from Vallejo who lives a double life between the Bay and LA. When he's not writing for Local Happenings Magazine he could be editing a short film or working on his next rap album—who knows!
Keep up with all things Larson at: www.MarsLegstrong.com."