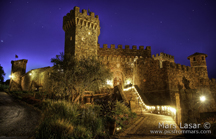 So, today Ben and I will be visiting "The Castle" otherwise known as Castello di Amoroso in Calistoga. We have an appointment in the "Reserve" room. Pat will be our host and pour for Local Happenings Magazine and we will decide just what our favorite wine is. Stay tuned.
Ben is recovering and is back to being my friend. I guess he has figured out that I feed him!
SF Giants note: BEAT LA! We have a GIANTS party planned and a BBQ is on the agenda so it will be fun.
BIG, LONG stretches, feed Ben, walk, water the yard and then I'm gone . . .