Jackie Ho, a 2015 College of Pharmacy graduate, wanted to be part of Touro University California for two reasons: Its unique 2+2 Program (two years didactic/two years clinical) as well as the leadership role Touro's faculty and students play on campus and beyond.
"The clinical experience you get from that extra year on rotations sets you apart from other students," Ho states. "You are more advanced, clinically knowledgeable and have more opportunities to explore the different specialties in pharmacy practice."
The campus leadership, Ho adds, provides a number of opportunities to be involved in the community, which continues to grow each year.
"Students at Touro University California are very involved in the community, in professional organizations and in research," she states. "There are over 70 leadership positions at the College of Pharmacy alone, which is another reason I selected Touro."
Ho demonstrated her passion for leadership at Touro in an array of ways. She created, developed and implemented a Physical Assessment Training Program for pharmacy students as a way to prepare them for advanced practice. This unique program, now a part of the pharmacy curriculum, garnered Ho the Student Literature Award from the American Journal of Pharmaceutical Education.
She was also Director of Pharmacy Services at Touro's Student-Run Free Clinic in Vallejo, where she integrated the College of Pharmacy through the development of policies and procedures for pharmacy services, such as Over-the-Counter medication distribution, Medicare Part D sign up, and medication reconciliation and adherence programs.
Her drive and determination ultimately led Ho to win the U.S. Public Health Service Excellence in Pharmacy Practice Award. She was also winner of the Student National Pharmaceutical Association Prescription for Service Competition, and Student of the Year at Touro University California, College of Pharmacy, to name a few.
"Pharmacy school is one of the most challenging and exciting times in your career," she says, and offers the following advice. "Be passionate about what you do and enjoy the journey!"
Ho is a perfect example of a student's journey at Touro University California. The faculty and students share countless hours of dedication to their communities To Serve, To Lead, and To Teach the Judaic values of social justice, the pursuit of knowledge and service to humanity. These values are the guiding force at Touro, demonstrated by students and faculty serving the underserved on a local and global scale, from Vallejo to Ethiopia.
Touro is a system of non-profit institutions of higher and professional education. Touro College was chartered in 1970 primarily to enrich the Jewish heritage and to serve the larger American global community. Approximately 18,000 students are enrolled in its various schools, including New York, Berlin, Jerusalem, Moscow, Paris, New York Medical College, Touro University Nevada, Touro University Worldwide and Touro College Los Angeles.
Last month, the College of Pharmacy celebrated American Pharmacists Month—a time to recognize pharmacists for the vital contributions they make to health care in the United States through improved medication use and advanced patient care.
During this month of activities, Touro's College of Pharmacy celebrated through participation and sponsorship of events that highlighted the important role of pharmacists. This included an array of leadership events, such as immunization shots, volunteerism at local community nonprofits, a Touro campus open house, various speeches around the country, alumni highlights, and more!
Touro's College of Pharmacy leads innovation in the design and delivery of pharmacy education through its signature and innovative 2+2 program. By providing more advanced practice experiences than any other pharmacy school in the nation, Doctors of Pharmacy (PharmD) from Touro's program are prepared to provide clinical services in community pharmacies, hospitals, clinics, and new healthcare models of practice.
The College of Pharmacy also has training programs for PharmD residents and fellows as well as a master's program in health sciences, with additional opportunities to earn a dual PharmD/Master of Public Health. All of these training opportunities enable students to gain credentials that make them competitive in a variety of employment settings.
Touro's College of Pharmacy received a full eight-year accreditation this year from the Accreditation Council for Pharmacy Education, and is recognized nationally for its quality, innovation and contributions to pharmacy education and practice. For more information, visit cop.tu.edu.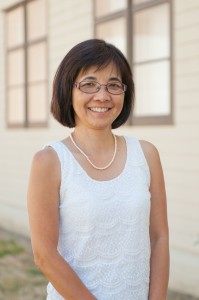 Dr. Rae Matsumoto, Dean, College of Pharmacy