The Napa Kids Project
Do the kids whine when you wine? Now there is help for you and your little ones on your next to trip to Napa.
My wife and I LOVE to go wine tasting and we especially like pairing wine with good foods, all while spending it with friends or making new ones. We also have three little children who we LOVE even more. Spending time with them most often wins out, but on occasion we have been able to steal away and spend an afternoon or two to indulge ourselves. How magical would it be if we could do both? We share time with them over Legos, princesses and spaceships, so why not have them share some time with us over chardonnay, cabernet and charcuterie? Perhaps even a mutually agreeable cheese as well?
A mere folly? An impossible daydream? Well, someone is attempting to scale that wall and perhaps more. Just as this little magazine that you are holding in your hands or the website you are reading this on attempts to marry event goers with events, a woman is trying to bring kids to kid's events … in the Napa Valley!
I have always thought of the Napa Valley as a place that adults visit without their kids, though I would venture to say that at least a few families were started at the end of a day of wine tasting. I know that people live there AND have children but I never considered how they entertained them or how I might entertain mine on my next adventure to Napa. Well, there are children that live and visit Napa, that magical land of grapes and good food, and they want to enjoy the area as well. Holly Kassner Dawson, a parent, faced such a dilemma. She wanted to find a dance class for her daughter but it was taking a myriad of websites to locate what they needed. Then the moment struck where she asked the critical question: "How can I do this more easily and how can I help others do it as well?" She knew that there were busy parents like her in the valley and that there are businesses that catered to children. But how could they connect more efficiently?
Then, the project emerged with one simple thought: "What if I created a website that served as the conduit of information that these busy parents that live in or visit Napa need?" She then began the arduous task of doing just that. She talked to friends and business associates and through those conversations she developed her "advisory council" of people in the community that were already providing services to local children and it grew to this collection of individuals:
John Coates, Napa Parks and Recreation Director
Olivia Everett, President & CEO, Arts Council Napa Valley
Clay Gregory, President & CEO, Visit Napa Valley
Danis Kreimeier, Director of Library Services and Community Outreach, Napa County Library
Erika Lubensky, Executive Director, Community Resources for Children
Barbara Nemko, PhD., Napa County Superintendent of Schools
Sally Sheehan-Brown, Executive Director, First 5 Napa County
Together with her council, and countless others, she built us a database of information on the events, classes, camps and businesses that are primarily designed for kids. She also rapidly discovered that there was LOTS more to do for children than she had even imagined in the Napa area. Especially in the area of summer camps and programs.
There were so many summer camp programs that she was able to develop a summer camp guide for parents that came out before her full calendar had been set up. The camp section has a robust and diverse selection of choices which range from day camps to summer-long options for your little ones. There is the Mamma Mia Theatre camp in St. Helena, which develops theatre skills and has the kids put on a show based on the Broadway musical Mamma Mia! There are art camps, a Star Wars Camp, a life on the farm camp, a dinosaur camp, a Giants baseball camp, music and dance camps and more! There is literally a camp for everyone right in Napa County! It is incredible to scroll through the list and see just how many there are. The best part is that if you are planning a trip to the Napa Valley over the summer for a day, week or more, you can also take advantage of these and provide your little ones an opportunity to learn and play in a safe environment while you learn and play in the Napa Valley. Just think, your kids could be participating in an advanced robotic and game design coding camp while you are taking a class on how to enjoy a full bodied cabernet with dark chocolate or learning about the differences of stainless steel over oak in aging a chardonnay. My brain just spins at the countless opportunities that open up for the travel adventures for parents wanting to visit Napa. No longer will you be trying to figure out if little Johnny and Suzie will be interested in the ideal brix of merlot grapes or how long will the de-stemming machine hold their interest. And while the various wine caves in the valley do hold a certain bit of promise of adventure for your children wouldn't they have more fun at the Minecraft Math Facts and Experiments for Scientists Camp?
There are literally well over one thousand wine producers in Napa Valley. I find a bit of comfort in the fact that I can find a similar number of adventures for my children to take on my next visit to the valley. Their full calendar will be online about the time this issue comes out. Visit their site to see how much more there is for your children to do in Napa, not just in the summer, but for the whole year. Oh, and did I tell you the best part? It's all FREE. Just like our Local Happenings project, Holly is gathering all of this for you and putting it out there for the public to use without cost to you. Now you will be able to pick up another bottle of wine on your next adventure with all the time and money you saved by using her site: www.NapaValleyKid.com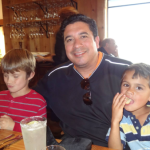 Robert Briseño – Robert has three little ones that he is constantly on the lookout for fun and affordable adventures that he and his wife can take them on.