Lake Tahoe
North or South? That is the question that many people find themselves asking when it comes to Northern California's premier vacation spot, Lake Tahoe. Growing up, my family always went to South Shore since my parents have a fondness for the casinos. As an adult my choice has always been the North Shore since I did not inherit the gambling bug. Whichever you favor, there is no wrong choice, the entire Lake Tahoe area can be described in one word: beautiful.
During my childhood, we would scramble to the beach and spend all day there playing in and out of the water. Canoeing and river rafting were family favorites as well as my personal favorite, horseback riding. Of course in the evening my parents would leave us with a babysitter and head to the other fan favorite: the casinos. The slot machines and dinner shows were always my parents and their adult friends' choice.
The entire Bay Area, Northern California and most of Nevada uses this destination as an annual, weekly and second home vacation spot. Other visitors come from around the world to see this region that I would definitely describe as "God's Country". The lake, mountains and small communities that dot the shoreline all contribute to the entertainment value that Lake Tahoe is known for. Golf, skiing, (water and snow) canoeing, river rafting, kayaking, horseback riding, trail and mountain hiking, biking, fishing and swimming are just some of the outdoor activities that are available for tourists and residents alike.
This time of year (late summer at this writing) the drive to Tahoe is very comfortable. Since I spend most of my time at the North Shore when I go to Lake Tahoe I decided to spend some time at the South Shore and open my mind to new experiences.
The weather has been moderate and it's perfect for being outdoors and being near water. I love beaches, as attested in last issue's travel article, whether it is a lake beach or an ocean. One of my favorite things to do is to sit on a beach and relax and just watch the views. I also love to walk on the beach, your legs get the best exercise and the smells of a beach are incredible. Lake Tahoe is no exception but I have to say I am just mesmerized from the moment I come over the mountain range and see the first views of the lake to sitting right on the beach. I can literally sit for hours and be happy.
Avalon Lodge on the South Shore hosted us for late summer vacation and what a wonderful group of people. From the lodge you can walk to the beach in summer or the gondolas in winter, which is why I picked this location. I wanted to come to Tahoe and park and not have to drive everywhere. At the lodge you can sip a drink by the fireplace, ride one of the bikes to the village, or settle in with a great book. Relax in the Jacuzzi, take a dip in the pool, or stroll to the lake and bask in the tranquility as you watch the sunset. I pretty much felt that if I didn't have to leave the lodge, I could call this trip a success.
Canoeing, kayaking and river rafting are also favorites of mine. I have crew rowed, so paddling is very comfortable for me. I did my first kayaking and what a blast! I liked that I could go at my own pace and didn't necessarily need to be in a boat with someone else like you do in canoeing or river rafting. I was told I was a pro after the first hour since I have a strong stroke and now I am trying to figure out how Ben can kayak with me.
I also made some time to look into one of my favorite pastimes, horseback riding since I get asked about riding destinations all the time. The Lodge recommended Zephyr Cove Stables, so I had to check them out. You can take hour rides, half- and all-day rides at this ranch, and they seemed like pros in pairing you with a horse. This is very crucial since the last thing you want is to be paired with a high anxiety and "fresh" horse when you are a novice. I also remind people that want to go horseback riding at vacation destinations, that it is ultimately not about the horse but the vistas and enjoyment you get from the experience.
The website www.tahoesouth.com has a complete list of shows, events and activities for the entire family. Whether you are into the casinos and shows, hiking, bicycling, shopping and spas, local culture, nightlife or water recreation, Lake Tahoe has it all. I had a wonderful time paddling, riding, bicycling and just relaxing enjoying the fabulous views – I am sure you too will have an adventure of a lifetime.
Lake Tahoe is so close to our homes here in the Bay Area that we can enjoy many experiences here throughout the year. So in hindsight, Lake Tahoe cannot be described in one word, it would take quite a few to tell the story of this picturesque lake.
Golf in South Lake Tahoe
Lake Tahoe Golf Course
Located in a mountain meadow surrounded by the High Sierras, this spectacular 18-hole golf course will challenge golfers of all levels. Breakfast and lunch are served daily, or you can enjoy cocktails on the sun deck featuring the best view in town.
2500 Emerald Bay Rd., South Lake Tahoe, CA 96150
(530) 577-0788
www.laketahoegc.com
Tahoe Paradise Golf Course
A top executive course in nearby Meyers along Highway 50.
3021 Hwy. 50, Tahoe Paradise, Meyers, CA 96150
(530) 577-2121
www.tahoeparadisegc.com
Bijou Municipal Golf Course
Bijou is the oldest golf course in South Lake Tahoe. This golf course is perfect for beginners and families with a 9-hole, par 33 layout, and the best bang for your buck. Bijou Golf offers Senior discounts throughout the week and is kid-friendly.
3464 Fairway Ave., Fairway Ave & Johnson Blvd.,
South Lake Tahoe, CA 96150
(530) 542-6097
cityofslt.us/index.aspx?nid=267
Carson Valley Golf Course
Carson Valley Golf has been in the family for more than 40 years. With more trees than any other course in Carson Valley, you get a longer golf season and you play cooler in the summer, especially with the cool rush of the Carson River nearby.
1027 Riverview Drive ,Gardnerville, NV 89460
(775) 265-3181
golf@carsonvalleygolf.com • www.carsonvalleygolf.com
Edgewood Tahoe Golf Course
is considered one of the most breathtaking courses in the country. It boarders Lake Tahoe with manicured fairways. It's home to the American Century Championship, and also one of Golf Digest's top 25 public U.S. golf courses.
100 Lake Parkway, P.O. Box 5400, Stateline, NV 89449
(775) 588-3566
Toll-Free (888) 881-8659
edgewood@edgewood-tahoe.com
www.edgewood-tahoe.com
Genoa Lakes Golf Resort
offers two championship golf courses within two miles of each other . You'll be awestruck by the encompassing views of the Carson Valley and the wide array of wildlife as you make your way around the incredible layout.
1 Genoa Lakes Drive, Genoa, NV 89411
(775) 782-4653
Family Fun
South Lake Tahoe isn't just for the young at heart—actual children can have a great time here, too. And if you bring your kids, no one will look at you funny when you start a snowball fight or a game of Marco Polo in the lake.
Or get those kids back to nature. Take 'em biking by the lake or hiking up the Rubicon trail. Finish the day with s'mores around the campfire and take part in the time-honored tradition of spooking the whole family with swear-they're-true ghost stories.
Not in the mood to rough it? Head out on the town for dinner at one of South Lake Tahoe's many family-friendly restaurants.
There's just as much to do in winter: sledding, snow tubing, ice skating and school (ski school, that is). South Lake Tahoe's ski resorts have ski instruction for all levels, as well as kids' camps. There's even daycare for little ones as young as two months.
Whatever the season, South Lake Tahoe is an unbeatable family destination with gazillions of activities. In fact, your kids are likely to crash early from all the excitement, giving you some hard-earned grown-up time in the evening. How's that for the gift that keeps giving?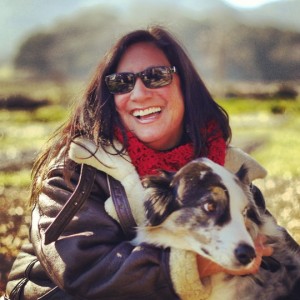 Deanna Baillie and Ben, her Australian Shepherd, are great travel companions. They invite you to keep up with them on their blog at www.localhappeningsmagazine.com.