Many visitors flock each year to one of the most beautiful places on earth: Carmel, CA.
This small city boasts a population of only 3,787, only covers 1.1 square miles and yet hundreds of thousands of visitors grace its beaches, shops, art galleries and restaurants annually to make it voted, on a regular basis, "the most beautiful place". I must admit that I am one of those regular visitors, I even lived nearby on a part-time basis for ten years, and never did I tire of walking the pristine white beaches, eating at the quaint restaurants or visiting the many art galleries. Many tourists see the small "hobbit-like" city and fall in love but, unfortunately, they usually end up only seeing what is obvious, and never venture past Ocean Avenue to head down Carmel Valley Road to the "Village".
Carmel Valley is where I would hang my hat if I had a choice of which city to live in Monterey County. The Valley is surrounded by fabulous mountain ranges and has beautiful trails on which to hike or horseback for miles. What most people don't know is that this is where some of the best golf courses are, small local restaurants, the "real" farmer's markets, nurseries that have you taking up residence, and I haven't even begun to tell you about the wineries and tasting rooms.
This was such a journey for me since I had been invited to attend a wine tasting at a ranch I had long wanted to visit – the Holman Ranch. This historic ranch is most known for their weddings that they have hosted. After having visited the ranch, what a magical place to be a bride! The breathtaking setting of the ranch, the gardens and the serenity and privacy of the estate make this a dream location for your special day.
Holman Ranch was originally part of the lands bestowed to the Mission San Carlos Borromeo del Rio Carmelo in the Spanish era. The ranch passed through several hands since that time and served as an exclusive hideaway for many Hollywood celebrities, including Charlie Chaplin and Theda Bara. In the 40's, when the Holman family took the ranch over, they added onto the original-style hacienda named "Casa Escondida" to add guest rooms and one of the first swimming pools in the valley. The Holmans' parties soon became the center of the social life, hosting many "Who's Who" parties and community events. Some of the celebrities that visited the ranch at this time were Clark Gable, Vincent Price, Joan Crawford and Marlon Brando, to name a few.
The ranch once again passed through hands and became a private estate and event facility at the helm of Dorothy McEwen. The vineyards and the stables were added at this time. In 2006, Thomas and Jarman Lowder learned of the property, fell for its charms, and began the long road of refurbishing, restoring and updating the ranch, to bring it back to its original grandeur. Today their dreams are being fulfilled of making estate grown wines and olive oil.
I arrived on a Sunday afternoon, which was quite warm and very beautiful. I drove across the Laureles Grade, which was near where I had lived, so I was very familiar with the hairpin turns on this entrance to Carmel Valley. Ben (my Blue Merle Australian Shepherd) and I grew very anxious as we came to the stop sign at Carmel Valley Road where Bernardus Winery is located since we have made that stop many times. Making our normal pilgrimage to the Bernardus tasting room, we had a taste of their very fabulous wine, Marinus, our favorite. I couldn't get waylaid very long though since I was very anxious to get to the ranch early. I stopped in the Village at the Holman Ranch Winery Tasting Room to get the keys to our cabin and then headed up the road to my destination. I immediately fell in love since the Holman Ranch Stables welcomes all visitors as they enter the gates. Horses have long since been one of my weaknesses; just being around them puts my person at peace.
Ben and I passed the stables and headed up the hill as I had been instructed. The cabins were at the top of the road set outside a rock wall which I would later learn that the main Hacienda and park-like setting were housed. My cabin was the one closest to the wall on the left and the horse art and large Adirondack rocking chair on the porch made me feel right at home. Once I opened the door it was like someone had specifically designed this cabin with me in mind. Stone, leather, wrought iron and western scenes greeted us and we settled in for our stay.
For the next couple of days I wandered, visited and had one of the best times I have had in a long time. My hosts, the Lowders, were so gracious and welcoming to everyone. We were greeted with a wine tasting the first day and a welcome dinner in the barn that included a "fabulous dinner" by A Taste of Elegance Catering and Events. Everything was delicious and made family style, which I love. I listened to the other guests gush about their savory delights and I felt exactly the same. The wine was paired perfectly since it was a hot spring evening. (It is very rare in Carmel Valley for it to be so warm so early in the year.) The best part, of course, is that Ben was able to sit at my feet the entire evening.
The second day, I took a tour of the facility and the winery itself. I enjoyed the pool and the grounds the most. It was such perfect weather I headed out each morning for a long walk and always ended at the most beautiful mountain range vista.
Holman Ranch, "Where the Past is Always Present" is a rare treasure that if you get a chance you should stay or hold one of your family events at. Weddings, family reunions, corporate retreats or just a family party for no reason—you will not regret it!
An Insiders Look at Carmel Valley
Steve and Laurie Ehrhardt, our new Contra Costa County Ad and Marketing Representatives, have a lot to say about Carmel Valley and weddings in particular, as they previously owned and operated a wedding and retreat venue near the Carmel Valley Village. The Ehrhardt's submit that Carmel Valley is a perfect location for weddings due to its proximity to the Bay Area, its breathtaking natural beauty and predictable weather, and abundance of things to do and experience. Carmel Valley oozes an atmosphere that is both relaxing and welcoming. The "Village," as the locals call it, has a nice collection of wonderful restaurants and shopping for wedding guests and tourists alike to enjoy. Among the many restaurants, their personal favorite is Cafe Rustica, which is also extremely popular amongst the Carmel area locals and returning tourists. The Ehrhardt's love the relaxed atmosphere, consistently delicious food and knowledgeable and supportive staff. Whenever they were asked for a recommendation for a great place to eat locally there was never any hesitation. It's also a perfect venue to host a small rehearsal dinner, as Cafe Rustica serves the best Patrale Sole, Hungarian Goulash, Fresh Salmon, Lamb Fillets, pizza and homemade soup.  They explain that there's a touch of Alsacian (a region in Northeastern France) in many of the dishes that are enhanced with Tuscan flavors. Cafe Rustica is casual, warm and inviting and is one of the Valley's best kept secrets. Make sure you call ahead for a reservation at 831-659-4444. They are at 10 Del Fino Place, Carmel Valley, CA and their website is www.caferusticacarmelvalley.com.
What else does Carmel Valley have to offer a bride and groom and their guests? Along with spectacular golf courses, resorts and hiking trails for outdoor enthusiasts of all levels, Carmel Valley offers up an incredible selection of wine tasting rooms to share with friends, family and guests.  Whether planning a pre-wedding excursion or recommending some fun, Carmel Valley has the largest amount of Wine Tasting Rooms in Monterey County. With more than 20 tasting rooms along the 12-mile scenic Carmel Valley Road, you will be able to sample award-winning wines and warm hospitality. Many of Carmel Valley's wine tasting rooms are located within a short stroll of each other allowing visitors to take a Carmel Valley wine tour on foot. Carmel Valley's tasting rooms are not usually crowded and provide a warm, personal interaction with tasting hosts and winemakers and are lively and fun. If you're staying in town and wish to visit Carmel Valley's wineries, you may want to let someone else do the driving. Monterey-Salinas Transit bus 24, the Grapevine Express, stops at all the wineries on this itinerary. It departs from the Monterey Transit Plaza, conveniently located in Old Monterey. Make sure to check the Monterey-Salinas Transit website for schedules.
As wedding venue owners, Steve & Laurie had the pleasure of working with many different and supportive vendors over the years. In particular, they were lucky to discover one local caterer who always provided incredibly tasty food and memorable menus, which ranged from a creative appetizer, like Roasted Figs with Procuitto and Goat Cheese for the reception, to beautifully plated dinners, including a Pan-Seared Scallop with Cauliflower Puree and Truffled Mache Persimmon and Kale Salad , along with gorgeous desserts. Nicole's Catering even creates wedding cakes! Chef Nicole is young, energetic and simply amazing and easy to work with! Chef Nicole Esteybar of Nicole's Catering brings together a combination of fresh seasonal food and ingredients with savvy knowhow and, most importantly, provides creative custom menus and event planning services for every one of her events. Nicole and her crew are professionals down to the last detail. Please feel free to visit her website at: www.nicolescatering-events.com or call her at 831-521-2685 and tell her Steve & Laurie recommended her! If you are looking for a unique way to light up your event you might want to consider renting lanterns. Chef Nicole has started a company called Lanterns and Ropes. She uses various types of ropes and a combination of different lantern styles to create a beautiful atmosphere. The lanterns can also be placed on pathways and tables. The Lanterns and Ropes website will debut shortly. There is always something new going on here.
Before I left, I headed to Carmel for a brief stay at the Hofsas House right on 4th Avenue and San Carlos Street. Carrie Theis, one of the owners, is always so welcoming and accommodating. This delightful establishment has been providing the best in hospitality for over 60 years and is the perfect European retreat for family reunions, business team or leadership meetings as well. They are pet-friendly, (of course!), have a swimming pool and European-style dry saunas, in-room amenities including WIFI, voice mail, cable and more. What I personally love about Hofsas House is their uncompromising will to always want to please and accommodate their guests. They are not new and showy, but down-home style and friendly. Ben gives them a four-paw rating!
So, next time you head south to the Monterey County be sure to look at the small and undiscovered areas!
Some websites to help you on your trip
Things to do when you visit Carmel, Carmel Valley or Monterey:
Fisherman's Wharf in Monterey—MUST have lunch at Abalonetti!  Great food, dog friendly and huge outdoor patio with insulated Plexiglas in case there is wind that day.
Monterey Aquarium—No explanation necessary!
Take a walk on the Path of History in downtown Monterey.
Visit downtown Pacific Grove.
Have dinner at Fandango's in downtown Pacific Grove and you won't be sorry!
Do the Wine Walk in downtown Carmel.
Walk the famous Carmel Ocean Avenue Beach.
Have a cocktail (or anything!) at Highlands Inn in Carmel. The view is romantic and fabulous.
Have dinner at "Mundaka" in downtown Carmel. Locals rave about it and I can attest to the great service and impeccable food!
Take a drive to Big Sur. If you have never done this, it is a must! Make sure to take the time to stop and have lunch at either Nepenthe or Ventana Inn; the views are spectacular.
Visit Garland Park in Carmel Valley; horses and dogs are allowed.
Stop at all the wine tasting rooms in Carmel Valley. (You might need a week!)
Take a stroll in the Village in Carmel Valley.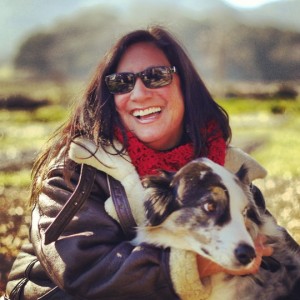 Deanna Baillie and Ben, her Australian Shepherd, love following the road less traveled. Carmel and Carmel Valley are personal favorites for the food, wine and company! Keep up with them on their blog at localhappeningsmagazine.com.