Travel
Since I was little, my parents have taken my siblings and I to the Monterey Peninsula to visit Fisherman's Wharf, as well as Carmel Beach. Walking along the wharf while eating clam chowder and people watching is one of my favorite things to do when I'm in this beautiful seaside community. I'm not a person who normally likes tourist traps, but Monterey/Carmel knows how to make even the busiest area seem quaint.
Over the years, Local Happenings Magazine has made several trips to this area since it is a reader favorite and everyone likes to know where to go, stay, and play. The beauty of the Monterey Peninsula for the Bay Area is that it can be a day trip, weekend, or a full 7-10-day vacation—there is that much to do and see. Everyone has their favorites, so we thought we would point out a couple of our favorites and inspire a trip that follows our footsteps.
Since I think I have written about my favorites in the last few years, I thought I would try to see this area through different eyes. As such, I sent one of our staff, Larry Briseño and his wife Clara, and let them tell me the highlights of this magical and sought-after place.
"Staying at the Hyatt at the old Del Monte Golf Course was just perfect," Larry began. "Everything you need is right on campus."
On the first night, Larry and Clara dined at TusCA Ristorante, where they could meet Josh and Julie from Twisted Roots for a wine tasting followed by dinner that was such a great time. The Hyatt's featured restaurant is a perfect place to relax and enjoy a meal. It has something for every taste. Plus, it's nice to settle into your hotel room, which is within walking distance to dinner.
Larry made special note of meeting their Special Meet the Farmer:  a honey purveyor from Carmel Honey Company, which was started by Jake Reisdorf, a 13-year-old that needed a school project! This is such a special story that it deserves its own story—a future feature article perhaps? If you can't wait and would like to read about it now, go to their website at carmelhoneycompany.com.
After dinner, you can sit in their open bar area with a wonderful fireplace and enjoy live music (on this night it was jazz).
One of the other perfect reasons to stay at the Hyatt at old Del Monte during your Monterey visit is that you have golf, spa, restaurants, a pool and hot tub, as well as beautifully landscaped grounds to wander in, not to mention the proximity to Monterey's famous Fisherman's Wharf and Cannery Row. Right here you have a full weekend, or even a week! Depending on your schedule.
We then have the coup de gras—the Monterey Bay Aquarium. This diamond on the peninsula gets thousands of visitors each week to see and educate themselves about our vast ocean. If you have never been to this showstopper, be sure to schedule at least a full day or two. There is so much to see and learn about—the pictures in this feature only prick the surface of what you will see at the Aquarium.
The exhibits are always updating and changing, so be sure to check out their website to see new features that you might not know about before you decide you don't need to go (presuming that you've been there before).
A rare treat was awaiting Larry and Clara when they were able to attend a private art gallery reception and wine tasting at Patricia Quails Contemporary Art Gallery. Patricia has a unique story; she got started in art as an avenue to get away from the stress of her job as a psychoanalyst (which she now does not practice) and to assist in the education of her son that had a learning disability. To learn more, go to her website at patriciaqualls.com.
If you're planning a vacation to the Monterey Peninsula, please check to see what else might be happening during your stay. This area has so many festivals, art shows, events, and fundraisers that your trip could take on an entirely different path than what you originally had planned.
Here are some websites to help you plan your trip: (I have also included two inns in Carmel, in case your trip has you exploring past Monterey.)
www.monterey.hyatt.com
www.seemonterey.com
Things to see and do in Monterey and Carmel:
Kayaking
Snorkeling
Paddle boarding
Hiking
Shopping
Art Galleries
Wine Tasting (that rivals Napa!)
Whale Watching
Trolley Rides
Biking along the many trails
Frolicking with the dogs at Ocean Beach in Carmel
You must see and hear the Barking Sea Lions at Coast Guard Pier
17 Mile Drive
Pacific Monterey Monarch Butterfly Sanctuary
National Steinbeck Center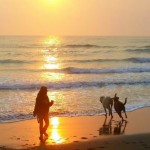 Deanna Troupe and Ben, her Australian Shepherd, love following the road less traveled. Her love of home, family, and friends keeps her grounded and Deanna's husband, John and their two Irish Wolfhounds, Reagan and Devlin are always by her side.