Solano County is comprised of many bustling communities, full of economic development that will keep business thriving here for generations to come. It is also home to some of the most majestic landscapes in the Greater San Francisco Bay Area and the Solano Land Trust aims to keep it that way.
Since 1986 the Solano Land Trust has been actively protecting and preserving Solano County's farmland, ranch land and open space. Changing its name from Solano County Farmlands and Open Space Foundation in 2004, the Solano Land Trust has permanently protected 22,161 acres of natural areas and agricultural lands over its nearly 30-year career.
Just last year, the Land Trust Accreditation Commission finally awarded its national accreditation to the Solano Land Trust. "We're really proud of being in that group of land trusts across the nation that is meeting and exceeding the best management practices," says Nicole Byrd, Executive Director of the Solano Land Trust. "We promise to do things forever—to care for these lands forever, to be the stewards of these conservation agreements forever—so we're always striving to meet really high standards to make sure that we sustain ourselves and can do what we said we're going to do."
The Solano Land Trust is in charge of Jepson Prairie, King-Swett Ranches, Lynch Canyon, Rockville Trails Preserve and Rush Ranch. Their most recent undertaking is the Rockville Trails Preserve, which turned out to be a pretty popular endeavor. "It had substantially more community involvement than any other project we've worked on," says Byrd. "The majority of funds came from grants, but about $650,000 came in from individual donors. That has never happened before."
Additionally, they had an unprecedented amount of volunteers come in to help with the fundraising and acquisition of the Rockville Trails Preserve, and the Solano Land Trust has continued to work with them. "Since we bought Rockville they have continued to volunteer and kind of shape what the natural park will look like in the future," says Byrd. "The next thing is getting Rockville open to the public."
In order to develop Rockville Trails the Solano Land Trust is currently working through the process of the California Environmental Quality Act (CEQA). "They require that if you are changing the environment you've got to look at the impacts and provide opportunity for the public to comment," Byrd explains. "We're currently raising funds to build an entrance and a parking lot, a staging area, trails, bathrooms—things to turn it into a natural park." They've already had help from a team of community volunteers to envision the future of Rockville Trails, offering a lot of input and design. They'll offer the public an opportunity to comment again as part of that process as production continues.
Now, if you're reading this thinking, "Wait a tick … I've already been to Rockville Park!" remain calm. You have. Rockville Trails Preserve is located right across the street from the currently operational Rockville Hills Regional Park in Green Valley. "The development was called Rockville Trails Estate, we just shortened it to Rockville Trails and that's what we've been calling it, but we do need a new name," said Byrd. "That's another project on my radar to engage the community in helping us find a new name for Rockville Trails."
The Solano Land Trust is also responsible for one of the most exciting events in Solano County: The Lynch Canyon Trail Run. The 7th annual event takes (or took) place on June 7th of this year. "More and more people have started to come from all over the Bay Area, Sacramento, they fly in from out of state … it's really popular," says Byrd. The weather tends to change from year to year so veteran runners always have plenty to talk about. "There are a lot of stories about the year you came when it was really hot, or the year you came when there was a monsoon in June." Monsoon? "Yeah. I was there," says Byrd. "It was pouring. Just crazy weather, rain and wind … it seemed like a monsoon to me. And people were having a great time!" The Lynch Canyon Trail Run has become known as one of the most challenging runs in our region, and one of the most beautiful as well. "It's gorgeous," says Byrd. "Sometimes, if it's really clear, you can see the Golden Gate Bridge, the Bay Bridge, the marsh, the Napa River, a little into Napa Valley … it's another way that I think we've really raised the perception of Solano County, how we're more than just I-80. We have some really beautiful, special places."
For Solano Land Trust's second annual fundraiser, mark your calendars for August 16 to attend their fourth annual Aim for Ag & Open Space Sporting Clay Shoot. Held at Birds Landing, this clay shoot event is a nice homage to the hunters who have helped keep this land sacred over the years. "The Suisun Marsh was protected by hunters in the first place," says Byrd. "They've definitely left their mark in terms of conservation here in Solano County and are partners in taking care of preserving the land out there in the marsh." In addition to the clay shoot, expect a fantastic BBQ lunch provided by your neighborhood farmers. "We always feature local food," says Byrd. "We'll partner with a local rancher and the meat we'll serve will come from right here in Solano County. We always try and bring that aspect into our events." You may even have the opportunity to meet the farmer who grows your food.
It is quite an undertaking to manage all of these land areas, especially with a team of just 12 people. "Solano County doesn't have a parks district, so the Land Trust is trying to fill that role," says Byrd. "We have a lot of partners in doing that, lots of volunteer organizations and Solano County Parks, but it's really expensive to maintain big natural parks for the community to enjoy; so that is a challenge." Be sure to attend their two big fundraisers every year if you can, or at least spread the word. Also, though not a fundraising event, the Lynch Canyon Kite Festival is something else to look forward to next year. If nothing else, try and offer your efforts as a volunteer.
"We have over 400 people that volunteer at different capacities," says Byrd. "We're able to be a big presence and really be a huge community asset because we've got all these volunteers supporting what we do. It's pretty amazing actually."
Aside from maintaining these lands, the Solano Land Trust is heavily involved with the schools, youth organizations and colleges in the area. "We make sure we understand the curriculum for a specific grade so we can help bring their kids out on a field trip and meet some of the standards that the students require at the same time," says Byrd. There's also numerous scientific research studies being conducted on a regular basis.
"In terms of taking care of our lands, we partner with the UC Davis Natural Reserve System out at Jepsen Prairie," says Byrd. "They've got long-term research going on related to vernal pools and adaptation to drought response." At Rush Ranch they partner with the San Francisco Bay National Estuarine Research Reserve (SF Bay NERR) who are part of NOAA, the National Oceanic and Atmospheric Administration. "Rush Ranch has been identified as a key property serving as a window into the health of the marsh, so the SF Bay NERR researchers are performing intricate research projects on all aspects of the marsh and the Bay out at Rush Ranch, looking at data from high and low tide, salinity, how much matter is moving around the marsh, which tells us how parts of the marsh are getting shallower or deeper; they call it 'mud on the move'." The Solano Land Trust is constantly working with graduate students and professors and they have some really interesting projects going on that are worth inquiring about, especially if you're an agricultural aficionado.
As if there are any skeptics, let it be known that the Solano Land Trust is here to help. "There are places to build and there are places to protect," Byrd explains. "The Land Trust is not about stopping development. We are focused on protecting the places that make our community unique." And the support from that community only strengthens their efforts. "People in Solano County really appreciate and value the way that our community looks and the quality of life that we have—a lot of that is based on having all this working agriculture here and having all these beautiful hills. We want to be able to pass that on to the next generation."
For more information on the Solano Land Trust, to research which properties of theirs to visit, to donate your services, to attend their events—to get involved—please call (707) 432-0150 or visit www.solanolandtrust.org.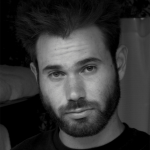 Native to Vallejo, Matt Larson is living in Greater LA to pursue all that is good in the entertainment world. Support his career and follow him on Twitter @mattnstuff.