The V Marketplace in Yountville isn't really a shopping mall. It's a bit more eclectic and unique than that. It's a destination. Originally, the property was owned by German immigrant Gottleib Groezinger, who started a winery there in 1870. One of the first wineries in the valley, it grew to include a creamery, a brandy distillery, a mansion (now across the street) and a large brick winery building which now houses the shops of the V Marketplace. Groezinger sold the winery a few years after a fire consumed the brandy distillery. The winery continued operating until the mid fifties, eventually falling into abandonment and disrepair. When the historic winery buildings were in line for demolition (their antique bricks to be sold for re-use) a group of investors saw the historic value of the buildings and their ideal location. The property was bought and structures remodeled, opening as a retail location in 1968.
When you pass through the arched entry to V Marketplace, the columns are emblazoned with the names of celebrity chef Michael Chiarello's rustic Italian-style restaurant Bottega and his NapaStyle boutique which includes a wine bar, café and a considerable selection of goods for the kitchen. Chiarello, known for his television appearances in addition to his command of the kitchen, provides world-class cuisine at Bottega. The restaurant, well reviewed and recently nominated as a semi-finalist for a James Beard Award as "best new restaurant", is sure to please. And the selection of goods and kitchen gadgets available at NapaStyle is expansive, plus the place has a wine bar and serves Panini. And while the influence of Chiarello provides something of an anchor for the marketplace, it is the numerous independent vendors that complete a varied mosaic of unique and charming commerce. Small galleries, independently operated vendors of fine goods and wine and confectionary treats make V Marketplace a unique and playful representation of Yountville and the wine country. A lot of the shops undoubtedly carry high end merchandise, and can certainly cater to a clientele with disposable income, but the casual purchase is equally welcome. Exclusive but without excluding. So, here is a sampling of just a few of the twenty-some-odd shops you can visit.
V Wine Cellars
"We seek to make ourselves different from other wine shops in the Napa area," says V Wine Cellars Proprietor Scott Lewis and Manager Carlos Falla. While they are right in the heart of the Napa Valley, Lewis, Falla and sommelier staff Christina Wehry choose to carry a selection of wines from Napa producers as well as other regions of California and the globe. "For me, local means California, really," says Falla, explaining that he features a wide selection of Napa wines as well as Pinots from Sonoma Coves, Russian River and Santa Barbara, and Zinfandels from small producers in Dry Creek and Andersen Valley.
One can find a very drinkable $20 Zinfandel from Australia or drop a thousand or more dollars on a bottle of Screaming Eagle Cabernet Sauvignon at V Wine Cellars.
I ask Falla and Wehry to pose for a snap with a bottle each wants to highlight. He picks up a bottle with a burgundy label sporting the name Balius and a horse's head in gold. A local example produced right in Yountville ($24). "Oh my God, are you serious?" quips Wehry. "You hold that. I'm going to hold something else!" she says, reaching for a magnum of Grands Echezeaux from France (worth hundreds).
"Christina, you forget. There's a reason for everything. This is a good example of a label that nobody knows anything about. We're talking about small production. Price friendly. Quality fruit. And that's what we carry a lot of in the store."
"I know. I know," says Wehry, cocking her head slightly, posing and holding the expensive Grands Echezeaux playfully towards Falla who raises an eyebrow sternly. At first I laugh at the exchange, but then the slightly discordant notes of jazz playing in the background make me think that the wispy blond Wehry and the stocky bald Falla make a perfect duo. One seeking to unearth hidden values, and the other embracing the more expensive and celebrated producers. Either way, V Wine Cellars is certain to provide a bottle you will enjoy at a price that suits your budget.
Soluna Boutique Salon
This small specialty shop is our editor, Deanna's, favorite place to hang her hat since she just loves the owner, Aurelia Villegas. Her warm personality and quick wit make this a favorite place of many of the shopkeepers. Here you can get your hair styled, cut and colored in the latest trends. Waxing, make-up, eyelash extensions and esthetic services are also on site to make sure that you are ready for any special event you might have.
The fun doesn't stop there; she offers an eclectic assortment of fashions for your entire local and travel needs. Her prices are great and almost everything is suited for a "real" woman's body.
Contact Aurelia and her team of professionals at (707) 944-8589 or Solunaspa@vpweb.com
Kollar Chocolates
For a tasty and unusual bite, or an edible gift that's sure to please Kollar Chocolates is a winner. Their goods are crafted right on the premises in small batches right behind a glass enclosure. Kollar sources various fresh herbs and lets the flavors steep for twenty-four hours in fresh cream before mixing into Valrhona chocolate produced in France.
One of the more unusual chocolates offered contains fennel pollen. A rich chocolate drop with a mild floral anise dash at the end. And a competition gold medal winner! Yum!
Gallery 1870
This family owned gallery offers fine art from the heart of the Napa Valley. They have the largest collection of wine-related art in the Napa and Sonoma valleys. Original compositions and private commissions are also available by master artists, something that is not often seen in a small gallery such as this. Limited edition by world recognized artists is also something that this customer service oriented gallery offers.
Special events and shows are also something that you will want to make sure that you are on the guest list for since they definitely know how to feature their artists. Contact the Gallery 1870 at (707) 944-9670, www.gallery1870.com.
Sisters Boutique
This small boutique offers much more than what meets the eye. Yes, you might see that they have contemporary apparel for women and men, unique jewelry and gifts but they have much more on their menu of services. Waxing, hair and makeup for special occasion and bridal, eyebrow design, facials (including chemical peels and microdermabrasion). If you need a unique service don't be shy, ask them since you might be surprised that they offer it!
Contact Michelle and her competent staff at (707) 944-8400 or sistersnapavalley.com.
Montecristi Panama Hats
So it turns out Panama hats are not from Panama. According to Montecristi proprietors Mercedes Anda and her husband Fabian, the whole Panama Hat naming chaos is the fault of President Teddy The Rough Rider Roosevelt. Aside from leading his Rough Riders in the battle of San Juan Hill, Roosevelt was a big proponent of the construction of the Panama Canal which is located in a temperate and sunny region. During inspections of the project, the President wore a form of headwear unexcelled for both durability and protection: The Ecuadorian Hat.
However, some member of the press corps took the liberty of re-christening the President's hat after the canal and the Panama Hat was born. Ironically, the traditional straws used to make the iconic hats only grow in Ecuador. Boy…they sure drew the short…nevermind.
Montecristi Panama Hats have traditional and more modern-styled hats ranging in price from $80 to $1,600. "It takes eight months to make this one," says Mercedes Anda, holding forth one example on the high end. Amazingly, the better Ecuadorian Hats (just go with it) have remarkable properties of flexibility and shape memory. They are shipped rolled up in rectangular wood boxes and spring into perfect shape almost instantly. This is one reason they have been traditionally favored by explorers and adventurers.
Whether you're up for an adventure, or just a hat fit for an adventure, Mercedes and Fabian likely have something for you.
Dennis Rae Fine Art
Featuring the Art of Dr. Seuss
Casey Brown is enthusiastic about Dr. Seuss. He practically bubbles over with enthusiasm as he explains that the small gallery on the second floor of the marketplace carries the work of Dr. Seuss and only Dr. Seuss. "We have a lot of really talented stereograph and lithograph artists that hand screen these to look exactly like the one-of-a-kind originals that are hanging in museums all around the world," explains Brown shortly after I introduce myself.
The reproductions are made in limited quantities and are sanctioned by the estate of the late Dr. Seuss aka Theodor Geisel. The gallery features a number of works not from Geisel's renowned children's books but are just as charming and whimsical. Casey Brown himself reminds me a little of The Cat in the Hat – sort of charming and whimsical himself and a bit over the top. "They're all really cool," he says beaming, "and no paintings of wine bottles!" We both laugh.
Lemondrops Children's Boutique and Toys
Got kids? This is your next stop then. Lemondrops offers a unique selection of infant and children's clothes, toys, bedding and fabulous accessories that any person with a pulse would find enchanting. If you don't have children, this is the store where you will find the perfect gift for your niece, nephew, or friends' baby shower. I have to admit I even found myself looking at the colorful selections that I am sure were not available when I was just a wee one.
You can reach the customer service oriented staff of Lemondrops at (707) 947-7057 or lemondropsboutique.com.
The V Marketplace reminds me of a small village filled with unique and somewhat quirky residents. There are a lot more shops and services that they offer than I can possibly cover in this article, but whether you are looking for upscale cuisine at Bottega, a cup of Java and a crepe at the Coffee Caboose or "Maverick" American cuisine at Pacific Blues; a wine to suit your budget from V Wine Cellars, or a chocolate treat from Kollar Chocolates, there are plenty of indulgences for all.
Be sure to visit these other shops at V Marketplace:
A Little Romance-gifts and linens, California and Vine-wine country themed gifts, Domain Home and Garden-decorative accessories, i.elle-womens' clothing, Kāne-resort wear, Tay & Grace-womens' novelty clothing, Vianett-bridal and evening wear, Blue Heron Gallery-wine country art, North Bay Gallery-handcrafted art and Adventures Aloft-hot air ballooning.
The V Marketplace is located at 6525 Washington St., Yountville CA 94599. You may contact them by phone at (707) 944-2451or online www.vmarketplace.com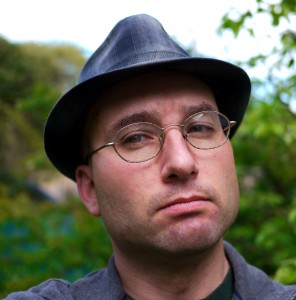 Marc Garman is a watch repairer and videographer who lives in Vallejo, CA.  He grew up crewing on and racing sailboats in upstate New York, mostly on the Hudson River.