From last year forth, every first weekend of October is to be known throughout the Bay Area as the Vallejo Waterfront Weekend. The goal for the event is simple: unite the Vallejo community, showcase local nonprofits to the public, and financially assist with the rehabilitation of the Mira Community Cultural Center. Over a dozen local organizations have come together to make this weekend happen, jam packed with a wide variety of fun and entertaining events including a Celebrity Dunk Tank, Waterfront Glow Run, Classic Car Show, Chili Cook-Off, Whale Boat Regatta and much more.
"We wanted to bring back some of the cornerstone events that used to be so popular on the waterfront," said Jon Riley, chairperson for the Vallejo Waterfront Weekend event. "We wanted to get an opportunity to showcase what Vallejo has to offer." So they have a weekend full of as many events as they could squeeze in to really show off Vallejo at it's finest. "Our city is moving in a positive direction. We're trying to attract investors in economic development and what better way to do that than to show that the city can come together? And proceeds go to a very worthy cause — the Mira Theater."
The Mira Theater, aka the Mira Community Cultural Center, aka the Bay Terrace Theater, has a lot of history in Vallejo and will again be the beneficiary of the Vallejo Waterfront Weekend. "It's an historic building, it's in my neighborhood, my father and uncles went to grammar school there … we were able to get everybody to agree that it is a worthy cause," said Riley. "We want to make the Mira the jewel that people see when they come into Vallejo off of 37. It's something that everyone wanted to get behind."
This theater has actually been a community project for some time. "Initially it needed a roof and had been trying to raise money for about 10 years or longer," said Riley. "So we got a bunch of folks together in the community—some roofing unions, contractors, engineers—taking a look at the roof. In the process, we identified the fact that if we want to make this a jewel and really invest it in the community, we're going to have to broaden the scope of the project." Rebuilding Together Solano County, a housing nonprofit organization, has taken on Mira as a project. "We'd like to do a full-around facelift on the building so that it will be that jewel that catches people's eye when they come into the city."
So the plan is to finish the Mira, no matter how long it takes. "The committee has agreed and they're very supportive of the fact that the proceeds for the Waterfront Weekend will continue to go to the Mira until we're done with that project. Until we get it done," said Riley. "Then we'll set our sites on a different project."
While the Vallejo Waterfront Weekend is a major fundraiser, it is a free event. "We're going to be raising money through our sponsorships," said Riley. "Also, what we offer is an umbrella for nonprofits that want to raise money for their particular organization." They can become involved in the event so long as they agree to give 50 percent of their net proceeds to the Mira Theater, keeping the remaining 50 percent for themselves. For example: "The Straits of Mare Island Rowing Association can raise money for their club and give 50% to Mira, though last year they gave 100% of their proceeds," said Riley. Other nonprofits, including Better Vallejo with the Dunk Tank and Foster Greatness with the Glow Run, did the same for Mira last year. The whole community is really on board with making this decade-long dream of restoring the Mira a reality.
"[Mira is] moving into a community center kind of model," said Riley. "They'll offer the amenities that a community center would offer, as well as the theater. I'm really looking forward to seeing what kind of potential we can realize with the project."
The Whale Boat Regatta is one of the main events to look forward to at the Vallejo Waterfront Weekend. It used to be a pretty big deal in Vallejo during the 70s, 80s and 90s. It came back for a couple years in 2004 with the beginning of the Vallejo Waterfront Weekend, then that recession thing happened. "We brought it back last year in 2014 and it was a huge success," said Riley. "Now it will be a yearly event." There's going to be live music in two different locations for the weekend, activities galore, there's a lot of local happenings coming to Vallejo this first weekend of October and we suggest you don't miss out. The weekend is being carefully planned out.
"We hold these meetings … there's 25 people representing 25 organizations that show up every week," said Riley. "Every entity that's been involved has been very supportive. It's amazing what you can get accomplished when everybody is working toward the same goal." Last year the Weekend didn't seem possible until they decided to go for it in April, giving them only 6 months to prepare. "This year we're hoping to double in size, activity, money, the whole 9 yards."
Something different you'll see this year is that they're moving all of the festivities down to the waterfront, with some other small tweaks to you may notice at some of the events. "Last year the Glow Run was a 5k/10k, this year we've made it a 5k walk/run; it's going to be a costume event, animals and pets are encouraged, so that's one change," said Riley. "Sunday morning we're going to have a triathlon." The first-ever Vallejo Kayak Race was held at the event last year. "In the spirit of the kayak/watersport community in Vallejo there will be kayak races during the whale boat races, as well as a kayak division in the Sunday morning triathlon." So many things, and so much time, really. Vallejo is going to keep you entertained from beginning to end this Weekend.
"We're really focusing on the whale boats," said Riley. "We really want to encourage people to get those friendly rivalries that we used to have back in motion and make this huge. There used to be 150 teams in the Whale Boat Regatta back in the day," he said. "Last year I think we had 25, so we're shooting to try to get 50." They want to get a competitive atmosphere surrounding the event which made it so exciting before. "We want to reintroduce another generation to the whale boat community."
An exciting component for the event is that SolTrans is going to expand the bus tour. "It'll go over to Mare Island, stop at the coal shed, historic museum, the chapel, people can explore Mare Island and explore downtown," said Riley. And to make it an official tour, "we're going to have actors actually on the bus giving the history."
Another new facet is an interactive art project called Trolls Under the Bridge. Underneath the Mare Island causeway there are pillars holding it up that will soon be decorated—with trolls! "They're going to put trolls on the bridge," said Riley. "It'll be done offsite, installed under the bridge as a tourist attraction." The Vallejo Times-Herald, GVRD and the local school district are running an essay contest for the youth to decide what the "legend" of the trolls under the bridge will be, with prizes being awarded across three separate grade divisions. The top three essay submissions from each category will be published in the Vallejo Times-Herald for the public to vote one, with one winner being selected in each category. The deadline to submit was July 24th, but look for submissions on the Times-Herald website!
"The Vallejo Waterfront Weekend will continue to grow, but our goal this year is to fine tune what was successful last year and make it bigger and better," said Riley. "The car exhibit last year was great, this year it'll be better. More and more people now want to come in and we're really looking forward to making that waterfront the place to be for two days, every first weekend of October."
Vallejo has big plans with this Weekend, so prepare now to start making it a yearly tradition. "It's an awesome event," Riley says. "There's something for family members of all ages, it'll go to support a great cause, and it'll be an opportunity for people to see what Vallejo really has to offer—our waterfront, our historic Mare Island, our downtown area—it's just a nice place for everybody to come out."
The Vallejo Waterfront Weekend is to be held on October 3rd and 4th, the first weekend of the month. For information on all the different events and to find out how you can get involved, visit www.vallejowaterfrontweekend.com.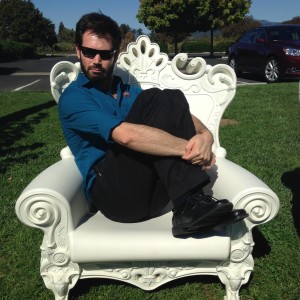 Matt Larson is a writer/actor/comedian native to Vallejo who travels back and forth from Los Angeles way too much. He's desperate for attention and urges you to follow him on all social medias @MarsLegstrong. He lives for likes, please keep him health