Getting personal with one of Vallejo's greatest assets
What makes Vallejo great? Common testimonials include our beautiful waterfront, historic Mare Island, the thrills of Six Flags Discovery Kingdom, any one of three colleges within our city limits, and of course all the fun local happenings! But when it comes right down to it, it's the people that make this city great. Out of over 100,000 individuals in this bustling community, we'd like to highlight one very special person who has dedicated his life to making Vallejo a better place.
For those who don't know, Rich Curtola is the current President and CEO of the Vallejo Chamber of Commerce. He began working for them as Director of Sales and Membership over six years ago, and has been at his current position for the past four years. Before that he worked for St. Patrick-St. Vincent High School as their Director of Development for 20 years. He was also the owner of Swensen's in Vallejo for nine years. If you name a board in town he's probably sat on it. If you name a person in town he's probably influenced them, whether they know it or not.\
He was born and raised in Vallejo and spent his career here. Today, Curtola has become one of Vallejo's greatest advocates. Whenever he hears anybody say anything negative about his beloved hometown, he'll call them on it immediately. If you don't like a particular street because of road conditions, or something specific like that, he'll let you slide. But any general put downs will not be tolerated. "If I'm having a cocktail with somebody, lunch, chatting on the phone, and they say something disparaging about my town, one of those blanket statements, I call them on it right off the bat," he said. "I try to do that on a regular basis."
No matter where you live in any city in the world, there's going to be problems. For some reason, despite all the hugely positive attributes Vallejo has to offer, negativity is what many choose to focus on. Curtola has been actively doing his part to change that. "I hope that if anything I've at least participated in that effort to stop the name calling," he said. "To hold people accountable for what they say about this community." By now you might be wondering, what does he tell the naysayers to make them think otherwise? His response:
"The reality," he said. "We're a community of 130 or so thousand people. I try to remind them of that." Many longtime residents may remember Vallejo being deemed the most diverse city in America; if you Google it you'll find plenty of articles. Curtola sees that diversity on a deeper level. "I do recognize that our community is extremely diverse, and I think that's wonderful," he said. "I think that's an asset to our community." As far as most diverse city in America … "When we make a statement like that, most people are immediately thinking of the color wheel. We are the most diverse by race. I say that crosses boundaries of race and socio-economic status: We have some people that are very poor and we have some people that are very wealthy, and in that bell curve is the spice of life."
So imagine the Vallejo community as a bell curve, some people at the top, some people at the bottom, and everything in between. "In the national change of things there is a bell curve, and Vallejo has a wonderful one," said Curtola. "We are a community of diverse people racially, socioeconomically—in all aspects—and that is the strength of the community if we own it. That's the tough part. We gotta own it, and we've got to build on it." And that's how you help make a community great. Embracing it's strengths and envisioning it's future through that lens of positivity.
Community service runs in Curtola's family. You may certainly recognize his name from driving on Curtola Pkwy, named after his brother who was mayor of Vallejo from the 70s into the 80s who believed that a roadway connecting 780 to downtown was critical. His father also served as a city council member and vice mayor in the 50s, and Curtola himself served on the Vallejo Chamber of Commerce board back in the late 70s and early 80s. While yes, service to others is indeed in his blood, it wasn't until he joined Vallejo Rotary 35 years ago when he truly saw the light. "Their motto is 'Service Above Self'. When I read that it resonated with me," he said. "I've always tried to live that. It's not about me—it's about service. If we all work to make the community better—it gets better!"
Curtola is very proud of his time with Vallejo Rotary, and served as president in the late 80s. And it's thanks to Rotary that he found his calling as an auctioneer. It began as a joke, offering to be the auctioneer for a Rotary fundraiser, but Curtola was a natural and has been auctioneering ever since. "It's similar to drinking tequila," he said, trying to explain his experience auctioning on stage. "I would get so stressed, but whenever the event starts this switch clicks on and I am literally not in control." Suffice it to say, Curtola can't auction and drive. But as a service auctioneer he's helped organizations like the Solano Association of Realtors and his alma mater St. Patrick-St. Vincent high school raise thousands upon thousands of dollars over the years.
Fun fact about St. Patrick-St. Vincent high school, Curtola would also act as announcer for their football games. "I don't mind getting on a mic and chatting it up," he said. And anyone who's ever met him would probably respond, "Since when do you need a mic for that?" Anyway, it wasn't long before Curtola was referred to as The Voice of Dante Magnani Field. What we're getting at here is that if you've lived in Vallejo at any point in the last 40 years, chances are you've crossed paths by the man of the hour, er, article.
When he's not advocating for Vallejo or volunteering yet again for another community event, Curtola and his wife Ronda like to spend time in their cabin in the mountains or cruising in their 30-foot pontoon boat topping speeds of 14 mph. "I have this group of friends and we've been houseboating on Shasta the same week every year for 42 years," he said. That's longer than most marriages last! Speaking of which, he and his wife are celebrating their 40th wedding anniversary this September.
Speaking of time … all good things must come to an end, right? Curtola has decided that it's time to retire from the Vallejo Chamber of Commerce at the end of the year, and the community is seeing him off with a very appropriate roast, Comedy Central style, with the aptly named event Rich on a Spit, held at McCormack Hall at the Solano County Fairgrounds on Friday, October 7th. Cocktails at 6, dinner and program at 7. $80 per person, price including open bar, food and dessert by Gracie's BBQ. To see the man up close and personal get your tickets now at www.vallejochamber.com or call (707) 644-5551.
Normally people would be terrified at getting roasted by one's own peers, and subordinates, but Curtola's been preparing for this his whole life. "In order to give it, you gotta be able to take it," he explains. "I am notorious for giving it, so I have no problem taking it. There is nothing sacred when it comes to roasting me." So we'd like to take this opportunity to announce to all participating roasters: No holds barred.
After a full career serving his local community, we asked him why; most people don't get involved, so why does he think it's so important? "You need to be involved because I think you owe it to your community," he said. "Your experiences in the community formed who and what you are in your journey. I think you owe it to those that have provided you with those experiences." He acknowledges the difficulty in doing so, as others may not always agree with you on your philosophy for change, no matter how passionate you are. "If we can just open doors in communication we can all work together and make the pace even better than it is, but we've got to use the ears more and the mouth less," he laments. Either way, he reminds us, "The reality is it's still the same thing—they're just trying to make the community better." So come see him off in October if you can, or lead by his example and get out of the house and into your local community!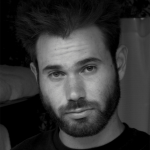 Matt Larson is a writer/actor/comedian native to Vallejo who travels back and forth from Los Angeles way too much. He's desperate for attention and urges you to follow him on all social medias@MarsLegstrong. He lives for likes, please keep him healthy.