… Join the dedication for Vallejo's newest tourist attraction.
Downtown Vallejo is on the upswing, right along with the rest of the city. Lots of exciting and wonderful things are happening in our community and now is the time to get involved—support everything you can that's going on, especially the arts. Currently the Vallejo Community Arts Foundation (VCAF) is part of a major new development downtown that is to be known as the Art & Architecture Walk, which will be educating and inspiring Vallejo's citizens and visitors for years to come.
The Art and Architecture Walk will be dedicated on May 30th, but it is slated to be a permanent addition to the downtown Vallejo culture. "The dedication's just going to be the beginning of it, really," said Tom Arie Donch, volunteer for the Vallejo Community Arts Foundation, artist known locally for his work at Children's Wonderland, and owner of Interplay Design, Inc. in Vallejo. There will be some permanent sculptures as well as other locations that will be on a rotation schedule every couple years or so. To begin the walk you'll head to the Vallejo Ferry Terminal and look for their sign with a QR code. Using your smartphone you'll be able to guide yourself through the attraction.
Donch is convinced that by invigorating the arts in downtown Vallejo that it will henceforth invigorate the rest of the city. "In most cities the arts have led the way," he said. "I saw it happen in Denver, I've seen it happen in Seattle and many other places. Being a Vallejo resident—I'd like to see that happen for Vallejo."
Numerous community organizations are involved with making this Art & Architecture Walk a possibility, including the Vallejo Naval & Historical Museum, Central Core Restoration Corporation, Vallejo Main Street, Vallejo Community Arts Foundation, and more. "There's quite a few different people wanting to see this kind of physical manifestation of the Arts & Entertainment District," Donch said. "In Vallejo we have this wonderful architecture here that we really want to celebrate."
Some of you community voters out there may recall the Participatory Budgeting vote that Vallejo recently held. For those that voted for the ABC grant (ABC: Arts, Beautification and Community Events), which did get voted in for funding, this Art & Architecture Walk is a direct result of those Participatory Budgeting funds. The Walk is one of two projects in the works from these funds. "The first of two projects that we're doing as part of that is the art utility boxes—we have a call for artists who will be paid to create an original design for art utility boxes," said Donch. "Also we're hiring a videographer so when you come up to a piece of artwork with your phone there will be a sign with a QR code and it'll pop up a video showing the artists making the work and talking about the artwork; why they did it and what it is." This will also be the case when approaching an historic building on the art walk. "If they come up to a building it'll be talking about why the building is particularly gorgeous. To start out there will be a total of 24 videos along this Art & Architecture Walk, highlighting different parts of it." This is all just getting started so make sure to keep your eyes open and attend the dedication to stay in the loop.
The dedication will be at about 5 o' clock in the evening on May 30th. There will be a few other events during the day, such as artists starting work on the utility boxes, maybe even some street painting at Georgia and Marin streets, details are yet to be finalized at this writing.
"Up until now we've had very little artwork in the downtown," said Donch. "We have this Arts & Entertainment District but there's almost no public art. What we're kicking off on the 30th is really changing that to make the Arts & Entertainment District look like an Arts & Entertainment District by having public art and by showcasing the galleries, the museum, and other things that we have in Downtown Vallejo." The whole city is on the up and up and it's time to really bring out the creative artists to the forefront.
"It's about quality of life; to celebrate the creativity of so many of the artists and so much of the Arts & Entertainment District that already exists, it's really like coming out of the closet, if you will," said Donch. "The thing about art, and public art particularly, is that it humanizes an environment." Creating a more visually stunning arts district will only mean bigger and better things for the downtown, as doing so has been so successful in other communities as he mentioned before. By creating a more visually stunning arts district, he says, "It tends to draw businesses and people into a place." That's the goal is to create a more vibrant, lively downtown experience.
"With the grant in process we're just starting to get our contracts with the city," said Donch. "We will be doing a total of almost 20 projects over the next year, so it's going to be pretty significant in terms of how much happens over the next year in the arts." It's going to be exciting to watch, and no one really knows what to expect. "I don't really know what those pieces are going to be yet; that's what's special about public art is the surprise. I'm certainly looking forward to the new work by Vallejo artists coming in and I'm just hoping to see it grow into something really exciting for Vallejo."
Join the Art & Architecture dedication at 5 p.m. on May 30th to be a part of Vallejo's history. Try and come earlier in the day to see if anything else is going on. Remain posted at www.artsvallejo.com.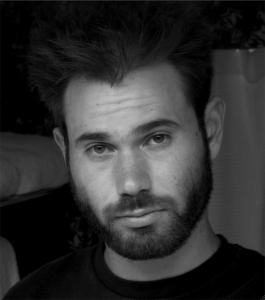 Matt Larson is a writer/actor/comedian who shamelessly promotes his Vallejo Comedy shows in his byline. He encourages you to visit www.vallejocomedy.com. Woot!