"Any child with the commitment and desire to sing can be in VOENA," says Annabelle Marie, the director of one of the most accomplished children's choirs in the country. In 1994, the energetic musician founded VOENA in Benicia, California.
About 150 singers and musicians who range in age from 6 to 18 participate in VOENA. Rehearsals take place in Benicia, Yountville and Santa Rosa. The children perform wearing unique costumes that add splashes of color to their angelic voices. Multiple percussion instruments, dance and theatrical elements add to the sound and drama, as their songs embrace cultural differences and similarities.
VOENA has performed for Pope John Paul II at the Vatican, and for Presidents Bill Clinton and George Bush at the White House. The choir has appeared on stage at the Mondavi Music Festival, San Francisco's Davies Hall, New York City's Carnegie Hall, the London Olympics, and venues in China, Mexico, Italy, Greece and Japan.
Looking back at 2013, Annabelle and the VOENA choir members remember their performance at the Crossroads Music Festival in Nashville. The highlight of the adventure was performing on stage at the iconic Grand Ole Opry.
Also, VOENA members will travel to Italy's Amalfi Coast to perform at the Ravello Music Festival in the last weeks of July 2014. The choir will help open the festival, and will sing at three ancient churches.
Annabelle's success in leading VOENA has not come from selecting only the most naturally gifted singers. Instead, the truth is that no one is ever denied a chance to sing in this choir. While maintaining a strict policy of no auditions, VOENA has gained the admiration and applause of audiences worldwide.
Her mantra is simple. "Every child can be taught to sing," says Annabelle, "Especially when they have the desire." She explains, "If you can talk, you can sing." In keeping with her philosophy that she can teach anyone to sing, all interested children may join VOENA for the spring and fall sessions without an audition.
She says, "If the ear is properly educated, anyone can sing." The tuition for one year is $800.00. Scholarships are available. "Singing is our birthright," says Annabelle.
Children have so much competition in their lives says Annabelle. She prefers not to have them compete to join VOENA. However, there are competitions within the choir for performing solo. "That's one of the carrots," says Annabelle. Trying out for solo spots motivates some children to muster self-discipline and helps them hone their craft.
The next open enrollment period for youth interested in VOENA will take place before the February start of the spring semester. Prospective choir members are welcome to attend a rehearsal in February to see if they're interested in joining VOENA.
Jacqueline Kennedy Onassis once named three keys to success. She recommended having a quest for the best, wisdom, and a plan to get there. Similar to the former first lady, Annabelle teaches members of the VOENA children's choir to practice three ideals. Anyone attending a rehearsal might hear the choir members echoing the "Big Three" ideas in this manner:
Annabelle calls out, "Number one."
They call out, "Accept the challenge."
She says, "Number two."
The choir members say, "Have self-motivation."
Annabelle challenges, "Number three."
The children say, "Have a hard work ethic."
She advises the choir members, "If you apply all three principles to anything you do in life, you will be able to accomplish your dreams."
VOENA receives grants from SYAR Corporation, the Sato Foundation, Valero, and the City of Benicia Arts and Culture Commission. Grant funds help pay for scholarships and fund music programs at two Benicia elementary schools.
Currently, the program called VOENA in the Schools brings singing lessons to children at Robert Semple and Mary Farmar Elementary Schools. Annabelle says she works at getting children excited about music. Through music of many countries and cultures, she helps children take pride in the ethnicity or ancestry they bring to our common culture. "People talk about tolerating cultural differences. I'm about celebrating them."
VOENA annually performs a series of concerts during the holiday season. The concerts feature traditional spiritual favorites such as "O' Holy Night" and secular numbers such as "Jingle Bells".
The VOENA Performance at the Raymond Vineyard includes three concerts on Saturday, December 7th scheduled at 12:00 p.m., 1:00 p.m., and 2:00 p.m.
The choir has four divisions: preparatory, intermediate, concert, and concert ensemble. At the holiday performances, all levels perform. The Voena Voices of the Seasons Concert series offers performances in the Napa Valley and San Francisco.
The first Napa Valley concert is set for Sunday, December 8th at 4:00 p.m. at the Lincoln Theater on the grounds of the Yountville Veterans Home in Yountville. The venue phone number is 707-944-9900. Tickets may be obtained for the Yountville performance at www.lincolntheater.com or by visiting www.voena.org.
The other Napa Valley performance will be held at the Napa Valley Opera House at 7:30 p.m. on December 21st. Tickets may be purchased at the Opera House (info@nvoh.org) or through the VOENA website.
The San Francisco concert is scheduled for 7 p.m. on December 18th, at Yoshi's at 1330 Fillmore Street. The box office phone number is 415-655-5600. Tickets may be purchased for the San Francisco concert through the box office or via the VOENA website at voena.org.
Attending a VOENA performance is a holiday tradition for many families and individuals. Benicia resident Nan Chandler attended a holiday concert last year with a group of friends as a birthday celebration. She said, "They have angelic voices and lovely costumers. Attending a VOENA concert is certainly a memorable and uplifting experience."
Annabelle is a past recipient of KPIX Television's Jefferson Award for community service.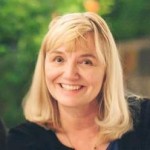 Kristine Mietzner is a writer who lives in northern California.