A glimpse into the local paranormal, and how you can see it for yourself
Ghosts are among us! Don't believe it? Just ask Paranormal Investigator Devin Sisk. He's been featured on Haunted Bay Area, KPIX 5 Eye on the Bay, Animal Planet, Discovery Channel and co-hosted Haunted Encounters TV. He's also worked on over 350 paranormal investigations.
Sisk is the go-to ghost hunter in Solano and Napa counties. If there's a ghost walk or tour anywhere around here, there's a good chance Sisk is involved with it. Sure, it sounds a little scary, but it is our Halloween issue after all. We'll be interviewing Sisk about some of the experiences he's had on the tours in our area, including the Benicia Main Street Ghost Walk, the Napa City Ghosts & Legends Walking Tour and the Suisun City Ghost Walk, as well as a new one just getting started this September at Castello di Amorosa.
Now if you're not too keen on getting creeped out, don't turn the page just yet. "Scary is not what we're really going for," says Sisk. "It's more of a genuine feeling of communicating and being interactive with the paranormal—we don't have things jumping out at us." Some ghost walkers do experience some pretty intense feelings at times, and some have claimed to have seen … things … and some have even walked off, but generally it's not too scary of an experience. "When spirits start coming through, people don't realize how sensitive or psychic they are." Attending a ghost walk is a great way to test your sixth sense. "We have had scary experiences, I'm not going to say that we haven't," said Sisk. "But for the most part we try to take the fear factor out of it and try to help people realize that it's a natural thing."
"It's more than just the paranormal, it's also a history of Benicia," said Nancy Martinez, Executive Director of Benicia Main Street, the organization that sponsors the ghost walk. "It's very fascinating." Though it is a "ghost walk," Martinez has taken the tour and doesn't think it's too scary for the average tourist. "Everybody has a different level of getting scared," she said. "But I just think Devin does such a great job with breaking it down that no, I don't think it's scary."
One of the best parts of the ghost tours with Sisk is that you get to interact with the paranormal yourself. "We give people a chance to work with some of the tools that we use in the field," he says. "For instance, we use K2 meters and dowsing rods to let us know if there's a spirit or ghost nearby that wants to communicate with us. People get a chance to get a taste of what it's like to be a paranormal investigator. The only difference is—most of the work has already been done."
When the ghost hunters go out to research a new, potentially haunted area, sometimes it takes hours and hours before they find anything. "I tell people ghost hunting is a lot like fishing," said Sisk. "You can go hours with nothing happening and then all of a sudden there's a small moment of craziness."
An example of a "small moment of craziness" occurred on the Benicia ghost walk with a tour of about 30 people. "We were going up the street and out of the corner of my eye I saw a white thing low to the ground," Sisk recalls. "I thought it was a fluffy dog, but as we were walking up the street the entire back end of the tour starts screaming." Sisk turned around and suddenly couldn't see the back end of the tour as they were all sort of fogged out, like they were surrounded by smoke. After consulting with them Sisk got two stories: "They either saw an old lady all in white who was soaking wet saying she'd been chased, or they just saw this heavy mist go around the group. That was a pretty good mass sighting."
Sisk's favorite spirit is named Carl, an old riverboat gambler who can be found on the Benicia tour. "One of his favorite things to do is show up in front of drunk people," Sisk laughs. "I think that's hilarious. How funny is that to be a ghost and show up in front of somebody who's wasted? That's exactly what I would do." Carl's been known to show up on occasion, especially if there are lots of women on the tour. You'll be walking around and all of a sudden you'll smell his cigar.
In Suisun, a regular visitor on the tour is a 7-year-old girl named Mary. "She's quite a little character," says Sisk. "She likes to interact with the group … I'll just put it that way." Laura Cole-Rowe, contract employee for the Suisun City Historic Waterfront Business Improvement District, has encountered Mary herself. "The little girl on the porch of the Lawler House was interesting for me," she says. "When I got on the porch the rods went from being parallel to wrapping around me."
The Suisun City ghost walk tours the Lawler House, which was a house in the unincorporated area of Solano County that was moved to Suisun by barge around the late 70s. It's a three-story building that is home to numerous businesses, and employees have always claimed to hear or see something unusual there. "They leave for the day and they come back and things are all disarranged, particularly in the gallery (pictures on the floor that weren't on the floor beforehand and there wasn't an earthquake), you can hear water running, there is a spot on the second floor that is of a totally different temperature than the rest of the hallway," says Cole-Rowe. "The gallery artists have mentioned this for years."
One of Sisk's favorite encounters happened in Napa. "We used to stop at the mortar and pestle over by the courthouse," he says. "We did an experiment: We were sitting there just having everybody be quiet and all of a sudden, on a busy, busy Saturday night, we start hearing Indian chanting." Now this was above the ambient noise of downtown, the music and partying of a Saturday night. "Above everything else we could hear this chanting," he says. "It was the most incredible thing. It was like, almost above the trees, but everybody could hear it. That was a pretty intense moment. Everybody just sat there amazed."
In case you have any doubts to Sisk's expertise, he may be more experienced than you realize. "I got into the paranormal by having a near-death experience," he says. "I ended up walking around the ER room … I could see everybody, I could see everything that was happening around me, but nobody would interact with me. Nobody would communicate with me. Nobody could hear me. Nobody could see me. Nobody could feel me … and that's what it feels like to be a ghost. It was a horrible, horrible experience." A lot of times when people have encounters with a ghost they'll claim the ghost was yelling or screaming. "They're yelling and screaming because they're trying so desperately to get a hold of somebody," Sisk explains. "Sometimes we're the first people that these entities will talk to in 200-300 years. Once you get them to calm down (though not in all cases) usually they'll start communicating with you."
There is a new ghost tour that just started in September at Castello di Amorosa in Calistoga. "I know people are going to go: 'How can it be so haunted it's a brand new building!' But the stones are old," Sisk explains. "There are certain elements of the building that have been taken from other castles and monasteries in Europe. It's incredibly haunted."
"We just had an experience in the castle with this one lady who was a plague victim," he continues. Employees of the castle are well aware of this woman's presence, so much so that they bid farewell to her at night. "The lady we were working with there said, 'Every night I come through here to lock up, I say goodnight to her,' so she knows she's there. Once we started communicating with her it was amazing the hits we were getting on the K2 and how she was coming through … it was almost frantic. We've run into that a lot because they're trying so desperately to have somebody visit them."
Sisk invites you on any one of these tours, "To open your mind and experience the paranormal in a safe, entertaining environment," he says. "With trained professionals, of course." And if you're still skeptical, that's all the more reason you should go. "We absolutely adore a skeptic," says Sisk. "We very honestly do. It's very difficult for us to say that a building is haunted—we go through a lot—so we're very skeptical ourselves."
Benicia Main Street Ghost Walk
First & Third Fridays of the Month
$25 per person.
Reservations required.
Call (707) 745-9791 or visit www.beniciamainstreet.org
Napa City Ghosts & Legends Walking Tour
Thursday & Saturday nights
Reservations required.
Email napaghosts@gmail.com for reservations and availability.
$25 per person.
Call (707) 363-6890 or visit www.napaghosts.com
Suisun City Ghost Walk
Second & Fourth Fridays of the Month
$25 per person.
Reservations required.
Email info@suisunwaterfront.com or visit www.suisunwaterfront.com
Keep informed with all the Devin Sisk is doing in the paranormal area, including the new tour at Castello di Amorosa, at his Facebook page for his side project North Bay R.I.P. (Research and Investigation of the Paranormal) at www.facebook.com/NBRIP.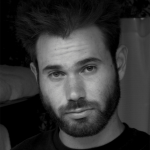 Native to Vallejo, Matt Larson is living in Greater LA to pursue all that is good in the entertainment world. Support his career and follow him on Twitter @mattnstuff.