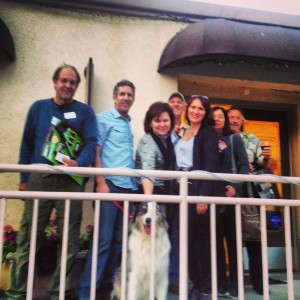 Early morning yesterday, Ben and I were in Lafayette, Danville and ended the day in Benicia at the Benicia Chamber of Commerce Mixer. (Everyone wanted to take a picture with Ben!) Whew! Long day but we were able to end it with dinner at our favorite sushi restaurant in Benicia. Visiting with old and new friends was great and then Ben and I were able to get to bed somewhat early so we could start all over again today.
LONG day today with lots of calls and appointments and ends with Ben and I having an evening of community fun tonight as well as tomorrow night. No rest for the us.
BIG Stretches, feed and long walk with Ben, and off we go. . .